I was recently using pop_os and decided to switch to manjaro for a change, and also because I was tired with gnome. I'm not much of a gamer, but sometimes run emulated games on retroarch/dolphin-emu.
My laptop (Thinkpad P50) has a dual GPUs. See below:
Graphics:  Device-1: Intel HD Graphics 530 driver: i915 v: kernel
           Device-2: NVIDIA GM107GLM [Quadro M1000M] driver: nvidia v: 465.31
           Device-3: Chicony Integrated Camera type: USB driver: uvcvideo
           Display: x11 server: X.Org 1.20.11 driver: loaded: modesetting,nvidia resolution: 1: 1920x1080~60Hz
           2: 1920x1080~60Hz
           OpenGL: renderer: Mesa Intel HD Graphics 530 (SKL GT2) v: 4.6 Mesa 21.1.2

Pop_os has a GPU switch that allows the user to easily switch the gpu mode to intel only, nvidia only, or hybrid mode. I was mostly running on hybrid mode but noticed that gaming performance was worse when compared to what I was experiencing on windows. I switched to nvidia only and got comparable performance to windows.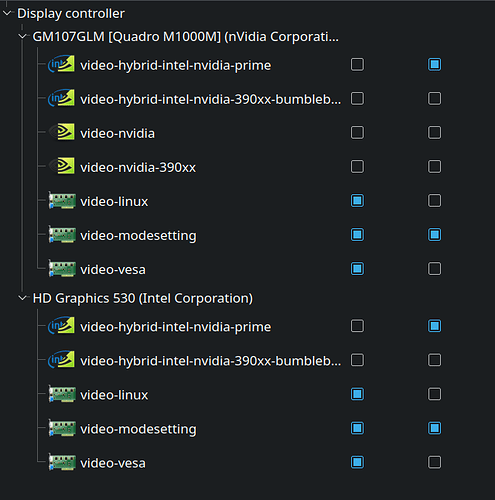 Now that I'm using Manjaro and having installed the proprietary nvidia drivers, gaming performance is back to being poor (fps is almost halved) while I'm on hybrid mode despite launching games with prime-run dolphin-emu. I'm wondering if it's possible:
Keep using hybrid mode and improve gaming performance. I would prefer this option because KDE on nvidia-only mode is quite janky. Also, why should gpu performance take such a hit while running on hybrid mode ?

If the first option is not possible, is there an easy way to select to run on nvidia only mode (disable the built-in intel gpu) ?