Hello,
I usually use my pinebook pro with an SD card.
A few days ago I installed manjaro on emmc with manjaro-arm-installer.
After reboot I have the u-boot splash screen, which I have never seen before, then the OS boots up to the login screen, freezes then shuts down.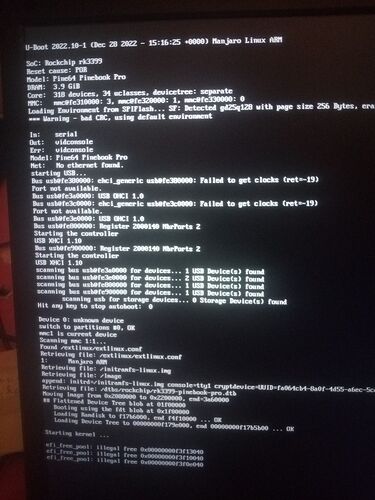 With the sd card inserted, linux fails to find mmcblk1 and therefore cannot boot the operating system from the sd card, and provides an emergency shell.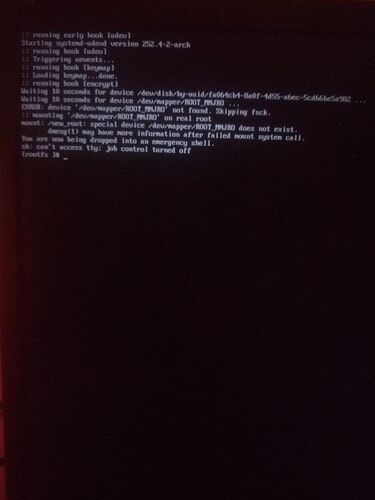 On the emergency shell, it is possible to boot a dysfunctional operating system on a USB key, without wifi and without kernel modules.
I asked for help on forum.pine64.org, and wdt replied that u-boot was at fault and that it had to be replaced.
He didn't tell me exactly what to do.
I found the uboot-pinebookpro page on manjaro's gitlab, and in the uboot-pinebookpro.install file it says:
New version of U-Boot firmware can be flashed to your microSD card (mmcblk1)
or eMMC module (mmcblk2). You can do that by running these two commands:
# dd if=/boot/idbloader.img of=/dev/mmcblkX seek=64 conv=notrunc,fsync
# dd if=/boot/u-boot.itb of=/dev/mmcblkX seek=16384 conv=notrunc,fsync

I wish confirmation that the problem came from u-boot.
I wish confirmation that the indications contained in uboot-pinebookpro.install are correct.
I also wish to know if these commands would make all the data on mmcblk2 inaccessible, or if this operation would just replace u-boot without touching the rest.