Hi there,
Yesterday I've installed a new system update via the package manager, as usual.
I believe it included a new plasma update as well as a linux update, among many other things.
Upon restarting, my framerate was about 1fps.
The PC resources wasn't in intense use, and the tasks seems to happen at regular speed, it's just that the frame rate is a constant slideshow - not in the login screen, only after login to user, and also not including the cursor movement.
after some tinkering I've arrived to the compositor settings, and realised that the the problem exists when "Rendering backend" is set to OpenGL, either 2.0 which it was on, or 3.1.
Upon using the XRender option the frame rate instantly bounces back up to normal, but now I have a serious Tearing issue (horizontal cuts along frames), so system is only partially usable.
The laptop model is Dell Inspiron 15 5567 from aroud 2017.
According to specs the Grapichs Proccessor is "AMD Radeon R7 M445", PC does have a "Radeon Graphics" sticker on it.
This is the state of the Display Drivers, to the best of my knowledge -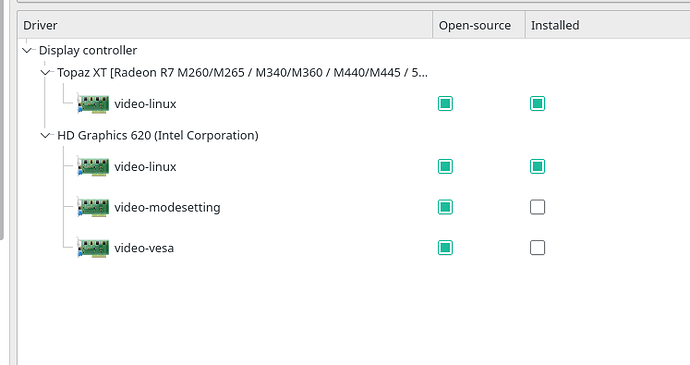 Edit: if it is somewhat relevant - I still have this issue also persisting.
Also, I am using both laptop monitor and an external one.
Thanks in advance for any help!