Hi,
Installed KDE and replaced the pre-existing gnome 4. I followed the tutorial here
But something is messed up with my KDE, when I open a file dialogue, I cannot read the text contents, such name or the location. This issue is repeating when I try to save something and few other place. I tried to change different color theme, different Kvantum themes and different global themes but the issue persists.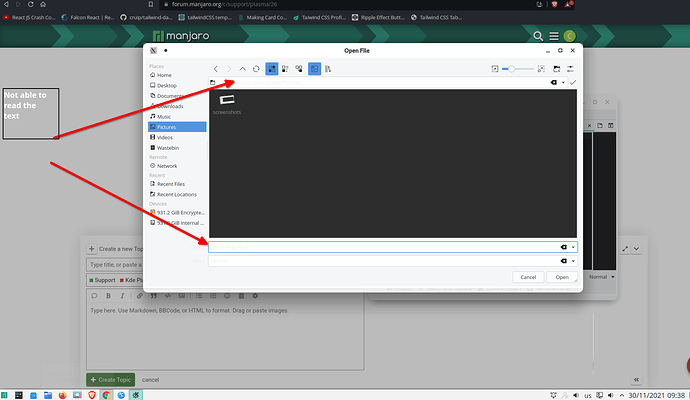 any help would be really appreciated.
My system details -
Host: HP EliteDesk 800 G1 SFF
Kernel: 5.10.79-1-MANJARO
Uptime: 2 hours, 6 mins
Packages: 1887 (pacman)
Shell: bash 5.1.8
Resolution: 1920x1080
DE: Plasma 5.23.3
WM: KWin
WM Theme: Orchis
Theme: Breath2 2021 Dark [Plasma], Adapta-Maia [GTK2/3]
Icons: [Plasma], breeze [GTK2/3]
Terminal: konsole
CPU: Intel i5-4590 (4) @ 3.700GHz
GPU: Intel HD Graphics
Memory: 3252MiB / 15913MiB