Hey folks! I'm confused as heck. I have an ASUS Scar 17 SE laptop (G733CX-LL016W) which has an RTX 3080 Ti mobile graphics card. I'm not 100% sure if this is an Optimus card or not. What baffles me is that even after installing Nvidia drivers, Manjaro Cinnamon's system info tells me this:
Shouldn't it state the name of my graphics card there? If it's not an Optimus card, shouldn't there be only one card listed here? And it it's an Optimus card, shouldn't nvidia-settings offer me the option to switch? This is all I get: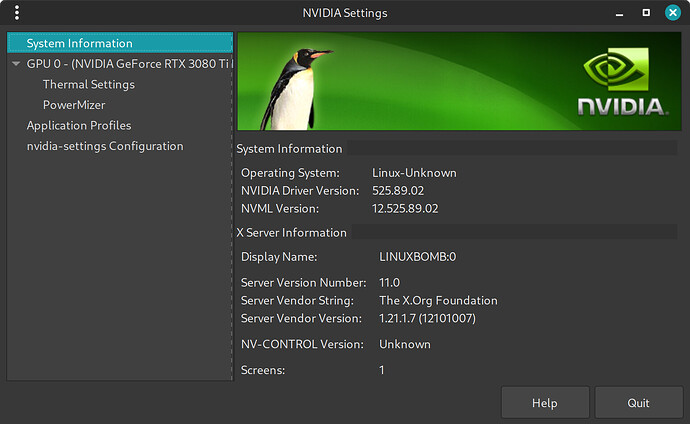 Now, I have a theory. I think the two graphics cards are (1) the Nvidia card and (2) one embedded in the CPU. My full system report suggests this, and also, it suggests the Intel thingy is the one in use:
I tried installing optimus-manager-qt, but that led to a boot freeze and, being new to Manjaro, the only recourse I saw was to reinstall the system. So I'm wary about touching that again.
I can say for sure that performance seems a bit choppy even just in normal desktop mode, e.g. when I trigger the window spread, the animation is slightly choppy while it's buttery smooth on my 8 year old desktop with a 1080 Ti.
So my questions are:
How do I know if this even is an Optimus card?
Why does the System Info not recognize/show the card's name?
Why won't nvidia-settings let me switch graphics adapters?
4. Most importantly, how do I tell Manjaro to use the 3080 Ti?
Output of lspci: 0000:00:00.0 Host bridge: Intel Corporation Device 4637 (rev 02) DeviceName: O - Pastebin.com
System report: System: Kernel: 6.1.12-1-MANJARO arch: x86_64 bits: 64 compiler: gcc v: 12.2. - Pastebin.com
Terminal output while installing Nvidia driver: $ sudo mhwd -a pci nonfree 0300[sudo] password for thebrightside: > Using co - Pastebin.com
Any thoughts on this would be greatly appreciated! I'm out of ideas.