@linux-aarhus
Error File Not Found

on minimal .iso links i mean
I was probably a tad to quick to hit Create topic as the file was not fully uploaded. Should be there now.
Holy crap.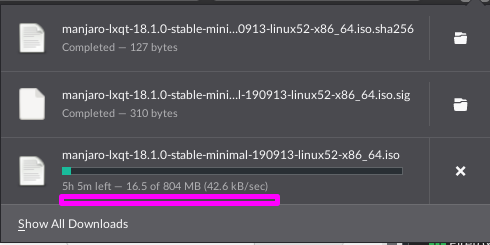 Torrent is 10 hours away

might be faster to have it mailed

Yeah - it is slight over 1GB - as I said I was not aware the file was not fully uploaded.
Tis now 6 hr 35'. Does someone have an unlicenced singularity point here. Ffs put it away, wouldya!
I would recommend discarding it and starting over. The singularity is sucking your bandwidth.
how about the Chinese translation?

if it's fine now...i will try...
Damn unauthorised event horizons.
I revisited that one a couple of days ago ... still good.
Sassen frassen rassen. The 2nd attempt "went" much faster, apart from the minor detail that once FF said it had finished, there was nothing in my Downloads directory... & then FF started the d/l all over again ... still going now.
I knew i picked the wrong week to go sailing thru the Bermuda Triangle.
I'm sorry.... I'm trying to destroy the universe(s)



Was this on your haunted machine or the other one?
Hey, not fair. My Tower is now, for a few months, proudly an Ex Haunted Machine, i'll have you know! Who knew that a BIOS update to my erstwhile PG was like NaCl to slugs & snails?

PG was last seen playing merrily with one of @Sinister's boxes, albeit maybe now has had to move on again to some other owner?

I sent it back.
Wonder if there's a new BIOS for your machine.

Dude, there's sth wrong with your fonts..
I gave up on KDE.. Not that I didn't like it but sth about it just didn't feel right.. IDk what but.. Anyways, I am now going on board with LXDE and I plan to settle there. Maybe I will Try Plasma again when ver 6.0 comes out..