I have recently aquired a Lenovo Thinkpad E14 laptop with no OS preinstalled. I decided to install Manjaro XFCE (minimal) on it. As soon as I booted the live install environment, I saw that something was not right: I couldn'nt connect to my home network via WLAN. I told myself that it would maybe work after the installation had finished, but no. As it stands, I am unable to establish a connection to my home network via WLAN. When I try that, the window for the password entry just pops up again and again, seemingly my password doesn't go anywhere. I have of course verified multiple times that the password is correct.
Interestingly I can connect my laptop to a wireless hotspot provided by my Android phone just fine.
For the installation and also now for writing this help request, I use(d) a wired connection, an ethernet cable plugged directly into my router. This connection is also somewhat unreliable, most of the time it doesn't work when I start the laptop. Fortunately, it seems to help to pull out the plugs on both ends and inserting them again.
I have tried all sorts of things to make my internet connections work, but all has failed till now. I tried to solve the problem with the tutorial under Realtek WiFi Driver Installation (AUR) - Tutorials - Manjaro Linux Forum, but that didn't change anything.
I have noticed that Manjaro seems to have found a driver for ethernet, but not for wireless: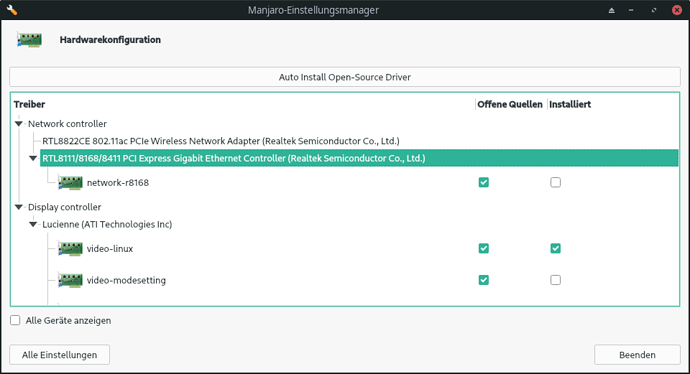 Here are the outputs of the diagnostic commands recommended by the aforementioned tutorial (I have the ethernet connected because I couldn't write this post otherwise):