I am doing web development particularly React and NodeJs, and I am having very problematic issues on my development. The laptop just freezes at random times and I had to reboot the system forcibly since I can't access even the Tty.
Here's an htop screenshot last time: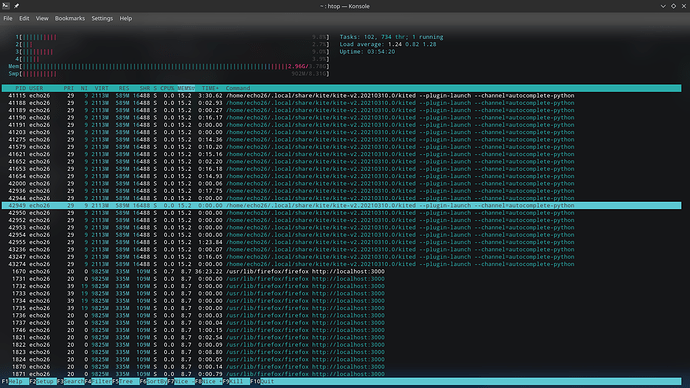 The memory is getting bugged and I am unable to work properly, is there anything that I can do. Upgrading Ram isn't an option right now unfortunately.
inxi -Fazy
System:
  Kernel: 5.4.105-1-MANJARO x86_64 bits: 64 compiler: gcc v: 10.2.0 
  parameters: BOOT_IMAGE=/boot/vmlinuz-5.4-x86_64 
  root=UUID=8d3c71fe-2d9a-4aa7-9fd0-0de4dae0023e rw quiet acpi_backlight=none 
  apparmor=1 security=apparmor 
  resume=UUID=012b2228-da15-4a81-861d-f61455e3e0d2 udev.log_priority=3 
  Desktop: KDE Plasma 5.21.3 tk: Qt 5.15.2 wm: kwin_x11 vt: 1 dm: SDDM 
  Distro: Manjaro Linux base: Arch Linux 
Machine:
  Type: Laptop System: Hewlett-Packard product: HP EliteBook 8470p 
  v: A1029D1102 serial: <filter> Chassis: type: 10 serial: <filter> 
  Mobo: Hewlett-Packard model: 179B v: KBC Version 42.38 serial: <filter> 
  UEFI: Hewlett-Packard v: 68ICF Ver. F.74 date: 04/11/2019 
CPU:
  Info: Dual Core model: Intel Core i5-3320M bits: 64 type: MT MCP 
  arch: Ivy Bridge family: 6 model-id: 3A (58) stepping: 9 microcode: 21 
  cache: L2: 3 MiB 
  flags: avx lm nx pae sse sse2 sse3 sse4_1 sse4_2 ssse3 vmx bogomips: 20760 
  Speed: 1197 MHz min/max: 1200/3300 MHz Core speeds (MHz): 1: 1197 2: 1198 
  3: 1197 4: 1196 
  Vulnerabilities: Type: itlb_multihit status: KVM: Split huge pages 
  Type: l1tf 
  mitigation: PTE Inversion; VMX: conditional cache flushes, SMT vulnerable 
  Type: mds mitigation: Clear CPU buffers; SMT vulnerable 
  Type: meltdown mitigation: PTI 
  Type: spec_store_bypass 
  mitigation: Speculative Store Bypass disabled via prctl and seccomp 
  Type: spectre_v1 
  mitigation: usercopy/swapgs barriers and __user pointer sanitization 
  Type: spectre_v2 mitigation: Full generic retpoline, IBPB: conditional, 
  IBRS_FW, STIBP: conditional, RSB filling 
  Type: srbds status: Vulnerable: No microcode 
  Type: tsx_async_abort status: Not affected 
Graphics:
  Device-1: AMD Thames [Radeon HD 7550M/7570M/7650M] vendor: Hewlett-Packard 
  driver: radeon v: kernel bus-ID: 01:00.0 chip-ID: 1002:6841 class-ID: 0300 
  Device-2: Primax HP HD Webcam [Fixed] type: USB driver: uvcvideo 
  bus-ID: 1-1.3:4 chip-ID: 0461:4dfe class-ID: 0e02 serial: <filter> 
  Display: x11 server: X.Org 1.20.10 compositor: kwin_x11 driver: 
  loaded: ati,radeon unloaded: modesetting alternate: fbdev,vesa 
  display-ID: :0 screens: 1 
  Screen-1: 0 s-res: 1600x900 s-dpi: 96 s-size: 423x238mm (16.7x9.4") 
  s-diag: 485mm (19.1") 
  Monitor-1: LVDS res: 1600x900 hz: 60 dpi: 131 size: 310x174mm (12.2x6.9") 
  diag: 355mm (14") 
  OpenGL: renderer: AMD TURKS (DRM 2.50.0 / 5.4.105-1-MANJARO LLVM 11.1.0) 
  v: 3.3 Mesa 20.3.4 compat-v: 3.1 direct render: Yes 
Audio:
  Device-1: Intel 7 Series/C216 Family High Definition Audio 
  vendor: Hewlett-Packard driver: snd_hda_intel v: kernel bus-ID: 00:1b.0 
  chip-ID: 8086:1e20 class-ID: 0403 
  Device-2: AMD Turks HDMI Audio [Radeon HD 6500/6600 / 6700M Series] 
  vendor: Hewlett-Packard driver: snd_hda_intel v: kernel bus-ID: 01:00.1 
  chip-ID: 1002:aa90 class-ID: 0403 
  Sound Server-1: ALSA v: k5.4.105-1-MANJARO running: yes 
  Sound Server-2: JACK v: 0.125.0 running: no 
  Sound Server-3: PulseAudio v: 14.2 running: yes 
  Sound Server-4: PipeWire v: 0.3.23 running: no 
Network:
  Device-1: Intel 82579LM Gigabit Network vendor: Hewlett-Packard 
  driver: e1000e v: 3.8.7-NAPI port: 5020 bus-ID: 00:19.0 chip-ID: 8086:1502 
  class-ID: 0200 
  IF: eth0 state: down mac: <filter> 
  Device-2: Intel Centrino Advanced-N 6205 [Taylor Peak] driver: iwlwifi 
  v: kernel port: 4000 bus-ID: 25:00.0 chip-ID: 8086:0085 class-ID: 0280 
  IF: wlan0 state: up mac: <filter> 
Bluetooth:
  Device-1: Broadcom HP Portable SoftSailing type: USB driver: btusb v: 0.8 
  bus-ID: 3-1.6:3 chip-ID: 0a5c:21e1 class-ID: fe01 serial: <filter> 
  Report: This feature requires one of these tools: hciconfig/bt-adapter 
Drives:
  Local Storage: total: 298.09 GiB used: 65.28 GiB (21.9%) 
  SMART Message: Unable to run smartctl. Root privileges required. 
  ID-1: /dev/sda maj-min: 8:0 vendor: Western Digital 
  model: WD3200LPVX-22V0TT0 size: 298.09 GiB block-size: physical: 4096 B 
  logical: 512 B speed: 6.0 Gb/s rotation: 5400 rpm serial: <filter> rev: 1A01 
  scheme: GPT 
Partition:
  ID-1: / raw-size: 289.49 GiB size: 283.94 GiB (98.09%) 
  used: 64.92 GiB (22.9%) fs: ext4 dev: /dev/sda2 maj-min: 8:2 
  ID-2: /boot/efi raw-size: 300 MiB size: 299.4 MiB (99.80%) 
  used: 312 KiB (0.1%) fs: vfat dev: /dev/sda1 maj-min: 8:1 
Swap:
  Kernel: swappiness: 60 (default) cache-pressure: 100 (default) 
  ID-1: swap-1 type: partition size: 8.31 GiB used: 363.4 MiB (4.3%) 
  priority: -2 dev: /dev/sda3 maj-min: 8:3 
Sensors:
  System Temperatures: cpu: 58.0 C mobo: 53.0 C gpu: radeon temp: 53.5 C 
  Fan Speeds (RPM): N/A 
Info:
  Processes: 198 Uptime: 7h 40m wakeups: 1 Memory: 3.78 GiB 
  used: 1.21 GiB (32.1%) Init: systemd v: 247 tool: systemctl Compilers: 
  gcc: 10.2.0 clang: 11.1.0 Packages: 1529 pacman: 1519 lib: 431 flatpak: 6 
  snap: 4 Shell: Bash v: 5.1.0 running-in: konsole inxi: 3.3.03