Hello,
After the last major update (v.21) I'm facing some random error that freezes my PC, forces log out, pixel-ed the screen and finally made the system nonoperational requiring me to reset from the case bottom. I post in the announcements thread but for sure there are other priorities. So I decided to try to investigate it myself, regardless I'm still noob with Linux, to find at least some tips about what is happening, the first think It came in my mind is to check system LOGS witch leads me to the ksystemlog tool
For a while, I wasn't able to find proper issue log, but I found that my system is presenting just some log options, they are:
All the other log options in the ksystemlog are indicated in the configure options as they are missing , see the list below:
Acpid log
Apache log (this is ok because apache server isn't installed)
Cron log
Cups log
Daemons' log
Samba log (this is ok because samba server isn't installed)
Postfix log
System log
X Session log
See attached picture for instance about the system log missing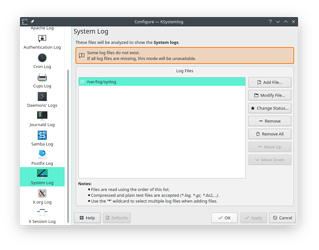 I have the impression that probably KDE and/or Manjaro devs disabled those log options for any reason in the default installation, maybe to avoid performance reduction, I don't know just guessing. But how can I enable them properly? I tried to read KDE documentation but didn't found any explanation how to do it. Maybe it's simple as creating a log file and link it in the configure option.
Below the doc I was reading
https://docs.kde.org/stable5/en/ksystemlog/ksystemlog/using_ksystemlog.html