When asking questions in the forum it is most helpful to everyone for you to provide some basic information.


When sharing information to either give or receive assistance, please be aware of the following:
1 ) In almost every situation not explicitly involving appearance, Text is preferred over Images.

2 ) When providing code or text output, please format it so the content is easy to read.
How to Format "Code" in the Forum
Its easy to make your text and code easy on the eyes
First copy and paste your text/terminal/code into the post.
Then select the text/code and click the post edit toolbar button </>.
Another handy way is to use 3 backticks ` at the start and 3 more at the end of the text like this:

Paste text or code here


System Information ( inxi )
First no matter what the problem , provide the hardware and software with inxi -Fazy
Please open a terminal and type the commands as below. (Do Not type the $)
$ inxi -Fazy
After executing the command with Enter you should see output similar to this:
System:    Kernel: 5.6.8-1-MANJARO x86_64 bits: 64 compiler: gcc v: 9.3.0 Desktop: Gnome 3.36.2 wm: gnome-shell dm: GDM 3.34.1 
           Distro: Manjaro Linux 
Machine:   Type: Vmware System: VMware product: VMware7,1 v: N/A serial: <filter> Chassis: No Enclosure type: 1 
           serial: <filter> 
           Mobo: Intel model: 440BX Desktop Reference Platform serial: <filter> UEFI: VMware 
           v: VMW71.00V.14410784.B64.1908150010 date: 08/15/2019 
Memory:    RAM: total: 2.89 GiB used: 1.35 GiB (46.7%) 
           RAM Report: permissions: Unable to run dmidecode. Root privileges required. 
CPU:       Topology: 2x Single Core model: Intel Core i7-7700K bits: 64 type: SMP arch: Kaby Lake rev: 9 L2 cache: 16.0 MiB 
           bogomips: 16804 
           Speed: 4200 MHz min/max: N/A Core speeds (MHz): 1: 4200 2: 4200 
           Flags: 3dnowprefetch abm adx aes apic arat arch_capabilities arch_perfmon avx avx2 bmi1 bmi2 clflush clflushopt 
           cmov constant_tsc cpuid cpuid_fault cx16 cx8 de f16c flush_l1d fma fpu fsgsbase fxsr hypervisor ibpb ibrs invpcid 
           invpcid_single lahf_lm lm mca mce md_clear mmx movbe msr mtrr nonstop_tsc nopl nx pae pat pcid pclmulqdq pdpe1gb 
           pge pni popcnt pse pse36 pti rdrand rdseed rdtscp sep smap smep ss ssbd sse sse2 sse4_1 sse4_2 ssse3 stibp syscall 
           tsc tsc_adjust tsc_deadline_timer tsc_reliable vme x2apic xsave xsavec xsaveopt xsaves xtopology 
Graphics:  Device-1: VMware SVGA II Adapter driver: vmwgfx v: 2.17.0.0 bus ID: 00:0f.0 chip ID: 15ad:0405 
           Display: x11 server: X.org 1.20.8 driver: vmwgfx compositor: gnome-shell resolution: <xdpyinfo missing> 
           OpenGL: renderer: llvmpipe (LLVM 10.0.0 256 bits) v: 3.3 Mesa 20.0.6 compat-v: 3.1 direct render: Yes 
Audio:     Device-1: Ensoniq ES1371/ES1373 / Creative Labs CT2518 driver: snd_ens1371 v: kernel bus ID: 02:02.0 
           chip ID: 1274:1371 
           Sound Server: ALSA v: k5.6.8-1-MANJARO 
Network:   Device-1: Intel 82371AB/EB/MB PIIX4 ACPI vendor: VMware Virtual Machine type: network bridge driver: N/A port: 2150 
           bus ID: 00:07.3 chip ID: 8086:7113 
           Device-2: Intel 82545EM Gigabit Ethernet vendor: VMware PRO/1000 MT Single Port driver: e1000 v: 7.3.21-k8-NAPI 
           port: 1040 bus ID: 02:01.0 chip ID: 8086:100f 
           IF: ens33 state: up speed: 1000 Mbps duplex: full mac: <filter> 
           IP v4: <filter> type: dynamic noprefixroute scope: global broadcast: <filter> 
           IP v6: <filter> type: noprefixroute scope: link 
           WAN IP: <filter> 
Drives:    Local Storage: total: 25.00 GiB used: 271.49 GiB (1086.0%) 
           ID-1: /dev/sda vendor: VMware model: Virtual S size: 25.00 GiB serial: N/A rev: 1.0 scheme: GPT 
           Optical-1: /dev/sr0 vendor: NECVMWar model: VMware IDE CDR10 rev: 1.00 dev-links: cdrom 
           Features: speed: 1 multisession: yes audio: yes dvd: yes rw: cd-r,cd-rw,dvd-r,dvd-ram state: running 
RAID:      Message: No RAID data was found. 
Partition: ID-1: / size: 24.19 GiB used: 10.15 GiB (42.0%) fs: ext4 dev: /dev/sda2 label: N/A 
           uuid: 84ef5c14-5b87-41fa-b405-b9b5988c56dd 
           ID-2: /boot/efi size: 299.4 MiB used: 280 KiB (0.1%) fs: vfat dev: /dev/sda1 label: N/A uuid: D3E4-4CF2 
           ID-3: /home/<filter>/Shares size: 465.63 GiB used: 261.34 GiB (56.1%) fs: fuse.vmhgfs-fuse source: ERR-102 
           label: N/A uuid: N/A 
Unmounted: Message: No unmounted partitions found. 
USB:       Hub: 1-0:1 info: Full speed (or root) Hub ports: 6 rev: 2.0 speed: 480 Mb/s chip ID: 1d6b:0002 
           Device-1: 1-1:2 info: VMware VMware Virtual USB Video Device type: Video driver: uvcvideo interfaces: 2 rev: 2.0 
           speed: 480 Mb/s chip ID: 0e0f:000b 
           Hub: 2-0:1 info: Full speed (or root) Hub ports: 2 rev: 1.1 speed: 12 Mb/s chip ID: 1d6b:0001 
           Device-2: 2-1:2 info: VMware Virtual Mouse type: Mouse driver: hid-generic,usbhid interfaces: 1 rev: 1.1 
           speed: 12 Mb/s chip ID: 0e0f:0003 
           Hub: 2-2:3 info: VMware Virtual USB Hub ports: 7 rev: 1.1 speed: 12 Mb/s chip ID: 0e0f:0002 
           Device-3: 2-2.1:4 info: VMware VMware Virtual USB Mouse type: Bluetooth driver: btusb interfaces: 2 rev: 2.0 
           speed: 12 Mb/s chip ID: 0e0f:0008 serial: <filter> 
Sensors:   Message: No sensors data was found. Is sensors configured? 
Info:      Processes: 200 Uptime: 3m Init: systemd v: 244 Compilers: gcc: 9.3.0 Shell: bash v: 5.0.16 
           running in: gnome-terminal inxi: 3.0.37 


System Logs ( dmesg , journalctl , /var/log/ )
These commands can be used to find errors and troubleshoot
This command is used to get examine kernel ring buffer logs like hardware errors.
Use examples:
$ sudo dmesg | less
Pipe command to less so output is scrollable with arrow keys.
$ sudo dmesg | grep usb
Get info on usb devices
$ sudo dmesg -l emerg,alert,crit,err,warn
Print only emergency, alert, critical, error, warn messages.
This command is used to query the (systemd) journal logs, as documented here.
Use examples:
$ journalctl -x -p3 -b1
The flags correspond to explanatory output, priority level, and which boot to pull logs from.
journalctl -f
Live printing of the journal.
This directory can contain logs from a number of sources.
Use examples:
$ cat /var/log/Xorg.0.log
Print Xorg log from the current session.
$ cat /var/log/Xorg.0.log.old
Print Xorg log from the previous successful session.
$ cat /var/log/Xorg.1.log
Print Xorg log from after the last suspend.
$ cat/var/log/pacman.log
Print pacman (and pamac) log to view package management history.
Manjaro Log Helper (automated log generator GUI)
manjaro-log-helper package can make generating and sharing information evan easier
Simply install the package and follow the prompts:
$ pamac install manjaro-log-helper
or
$ sudo pacman -S manjaro-log-helper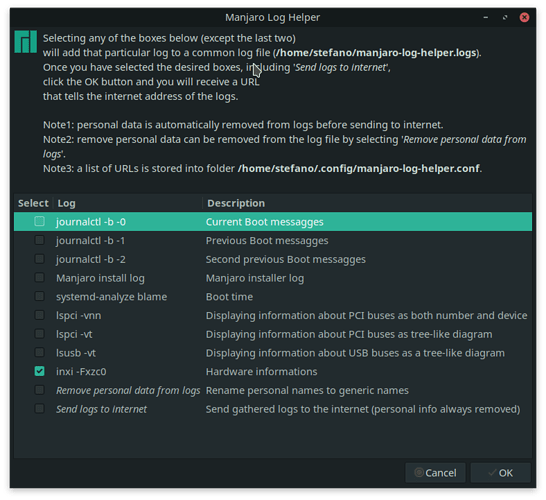 Mask username and hostname
Ensure anonymity when sharing information
You can add the following pipe to the end of these and other commands for security purposes:
| sed -e "s/$HOSTNAME/HOST/gI" -e "s/$USER/USER/gI"
Use example:
$ journalctl -x -p3 -b1 | sed -e "s/$HOSTNAME/HOST/gI" -e "s/$USER/USER/gI"
Note

This Post is still under construction.
Adapted from original by @anika200