It has been reported in Manjaro Forums that Cheese has no option to change its settings in non-GNOME DEs. Even GTK based DEs like XFCE and Cinnamon are affected.

This has been reported upstream, and someone sent a pull request with a patch. However, the patch has not been accepted despite users verifying that it fixes the issue.

Solution
AUR package to enable CSD menu in Cheese
I have made an AUR package incorporating the patch, and I have tested that it works in Manjaro Cinnamon.
pamac install cheese-csd-headerbar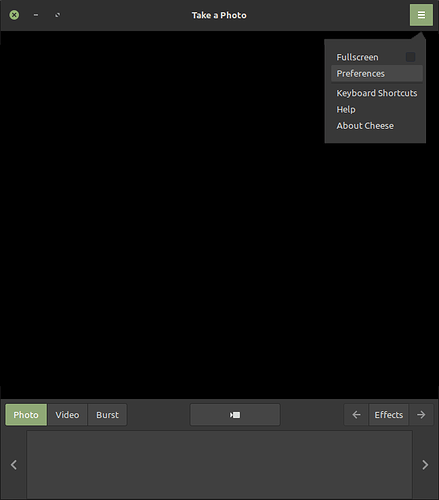 (This is my first AUR, any feedback would be appreciated. Thanks to all the people who helped to create it)
Using dconf-editor to change settings (without AUR)
Install dconf-editor. Open configuration settings for org/gnome/cheese and change settings appropriately.