tl;dr Question: How does one restore a snapshot via Timeshift, when using Manjaro with full disk encryption?
I've been very happy with timeshift on previous machines, so it'd be nice to continue using it (instead of, eg clonezilla). I basically have the exact same issue described by this post: Timeshift error to restore snapshot on fully encrypted installation (but that post never got resolved).
the error in timeshift
transcribing from a screenshot i've taken of the "target" screen's default values
An encrypted device is selected for the root file system (/). The boot directory (/boot) must be mounted on a non-encrypted device for the system to boot successfully.

Either select a non-encrypted device for boot directory or select a non-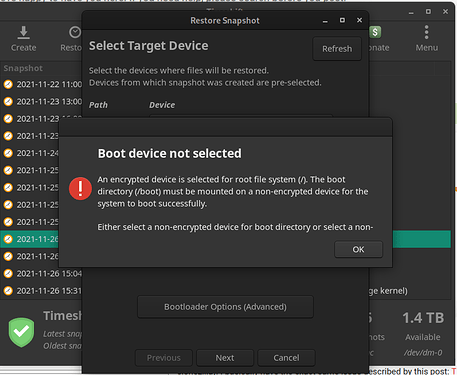 manjaro's setup for context
edit: here's what lsblk says my disk layout looks like today (I have an extra 1TB ssd, but otherwise this is what most vanilla manjaro Full Disk Encrtyption installations would look like I'm guessing):
$ lsblk
NAME                                          MAJ:MIN RM   SIZE RO TYPE  MOUNTPOINTS
sda                                             8:0    0 931.5G  0 disk  
└─sda1                                          8:1    0 931.5G  0 part  
nvme0n1                                       259:0    0   1.8T  0 disk  
├─nvme0n1p1                                   259:1    0   300M  0 part  /boot/efi
├─nvme0n1p2                                   259:2    0   1.8T  0 part  
│ └─luks-SOME_REALLY_LONG_HASH_STRING_HERE    254:0    0   1.8T  0 crypt /run/timeshift/backup
│                                                                        /
└─nvme0n1p3                                   259:3    0  34.3G  0 part  
  └─luks-SOME_OTHER_LONG_HASH_STRING_HERE     254:1    0  34.3G  0 crypt [SWAP]


---
I'm sure this is really a bug in timeshift, but I figure I should post here because I never hit this issue with my non-manjaro installations (like Debian).