Thanks everyone! It worked, but the manjaro updater now has no icon… how can I fix this?
Ensure you have Enabled the Pamac Updater in Tweaks - Extensions.
Yes. I can click on it, and it says system is up to date, but there is no icon.
How strange! I shall defer to the many proper Gnomers here [me being a total amateur with it] who i hope might be able to help you. For me, my cute little red icon works well in the SysTray, & it has a fabulous dropdown list of the individual packages to update… i like this even better than how it works in Plasma. Good luck!
What extension are you using? I might as well test it!
just came across this thread that seems to be the same issue, depending on what icon pack you use

Sorry, i might be misunderstanding you… but in the Stable Update thread i posted a picture showing all my current Extensions. Does that help at all?
Given mine is not 100% GNOME, but 50% GNOME & 50% KDE, maybe my G SysTray Pamac icon is better-behaved than yours as some kind of legacy interaction with KDE? Dunno, just guessing.
OT - just saw a bug. See the pic's date & time? Wrong; it's actually 13:16 on 1 April here. Hmmmmm.
it's not playing nice with certain icon themes
OK ta.
Hahaha this is too funny. Note in my pic above, there's 10 updates [Unstable VM]. I've now done them & rebooted, then tried twice to login to G. However…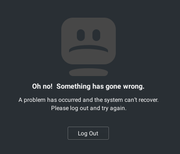 If this was my real OS rather than just a play-thing, i'd probably not be laughing so much.
---
EDIT: Now fixed; it was a mesa bug… Mesa 19.0.1-0.2 issues
check the dip gyro and the flux capacitor extensions
Will do, but what's your opinion on me crossing the streams?
no no, one must never do that.

Aww. If that's Gnome's crash screen, I love the picture. It's sooo cuuute!
That's what you get by using Manjaro= fake Arch Linux Lol








■■■■ off you ■■■■■■■ irritating odious little ■■■■■■■
Have a nice day. Would you like fries with that?
Even more kind words Yep your in love that's for sure