Some tabs of the gnome control center are empty since the upgrade to gnome 42.
I've tried some fixes and waited a couple updates, but the problem still remains.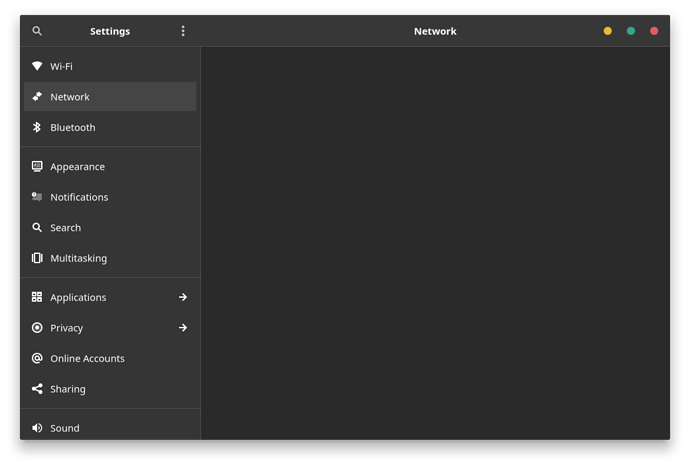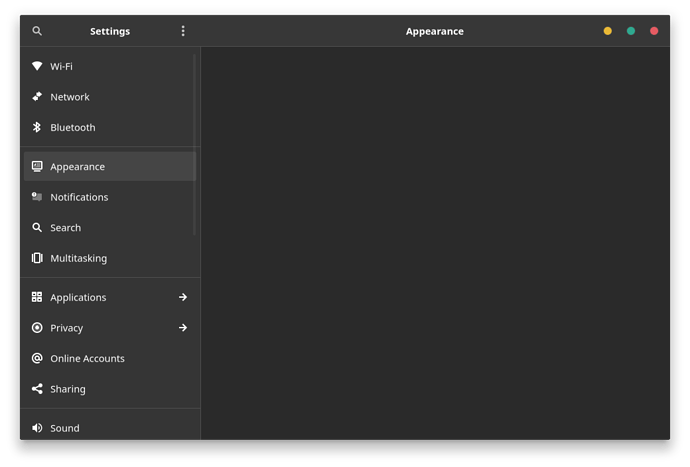 The three categories are Network, Bluetooth and Appearance, shown above.
Here's my system info:
System:
  Kernel: 5.15.49-1-MANJARO arch: x86_64 bits: 64 compiler: gcc v: 12.1.0
    Console: pty pts/0 Distro: Manjaro Linux base: Arch Linux
Machine:
  Type: Laptop System: LENOVO product: 20TA002CSP v: ThinkPad E14 Gen 2
    serial: <filter>
  Mobo: LENOVO model: 20TA002CSP v: SDK0J40697 WIN serial: <filter>
    UEFI: LENOVO v: R1EET47W(1.47 ) date: 01/21/2022
Battery:
  ID-1: BAT0 charge: 39.4 Wh (94.7%) condition: 41.6/45.0 Wh (92.5%)
    volts: 12.2 min: 11.1 model: Sunwoda 5B10X025 status: not charging
CPU:
  Info: quad core model: 11th Gen Intel Core i5-1135G7 bits: 64 type: MT MCP
    arch: Tiger Lake rev: 1 cache: L1: 320 KiB L2: 5 MiB L3: 8 MiB
  Speed (MHz): avg: 958 high: 1145 min/max: 400/4200 cores: 1: 734 2: 691
    3: 1010 4: 1145 5: 1117 6: 1081 7: 831 8: 1057 bogomips: 38720
  Flags: avx avx2 ht lm nx pae sse sse2 sse3 sse4_1 sse4_2 ssse3 vmx
Graphics:
  Device-1: Intel TigerLake-LP GT2 [Iris Xe Graphics] vendor: Lenovo
    driver: i915 v: kernel arch: Gen12.1 bus-ID: 00:02.0
  Device-2: Chicony Integrated Camera type: USB driver: uvcvideo
    bus-ID: 3-8:2
  Display: server: X.Org v: 22.1.2 with: Xwayland v: 22.1.2 driver: X:
    loaded: modesetting gpu: i915 resolution: 1920x1080~60Hz
  OpenGL: renderer: Mesa Intel Xe Graphics (TGL GT2) v: 4.6 Mesa 22.1.2
    direct render: Yes
Audio:
  Device-1: Intel Tiger Lake-LP Smart Sound Audio vendor: Lenovo
    driver: sof-audio-pci-intel-tgl bus-ID: 00:1f.3
  Sound Server-1: ALSA v: k5.15.49-1-MANJARO running: yes
  Sound Server-2: JACK v: 1.9.21 running: no
  Sound Server-3: PulseAudio v: 16.1 running: yes
  Sound Server-4: PipeWire v: 0.3.52 running: yes
Network:
  Device-1: Intel Wi-Fi 6 AX201 driver: iwlwifi v: kernel bus-ID: 00:14.3
  IF: wlp0s20f3 state: up mac: <filter>
  Device-2: Realtek RTL8111/8168/8411 PCI Express Gigabit Ethernet
    vendor: Lenovo driver: r8169 v: kernel port: 3000 bus-ID: 04:00.0
  IF: enp4s0 state: down mac: <filter>
  IF-ID-1: virbr0 state: down mac: <filter>
Bluetooth:
  Device-1: Intel AX201 Bluetooth type: USB driver: btusb v: 0.8
    bus-ID: 3-10:4
  Report: bt-adapter ID: hci0 rfk-id: 2 state: down
    bt-service: enabled,running rfk-block: hardware: no software: no
    address: <filter>
Drives:
  Local Storage: total: 1.14 TiB used: 607.53 GiB (51.9%)
  ID-1: /dev/nvme0n1 vendor: Samsung model: SSD 970 EVO Plus 1TB
    size: 931.51 GiB temp: 42.9 C
  ID-2: /dev/nvme1n1 vendor: Lenovo model: UMIS RPJTJ256MEE1OWX
    size: 238.47 GiB temp: 30.9 C
Partition:
  ID-1: / size: 86.27 GiB used: 61.78 GiB (71.6%) fs: ext4
    dev: /dev/nvme1n1p5
  ID-2: /boot/efi size: 259.8 MiB used: 45 MiB (17.3%) fs: vfat
    dev: /dev/nvme1n1p1
Swap:
  ID-1: swap-1 type: partition size: 7.81 GiB used: 0 KiB (0.0%)
    dev: /dev/nvme1n1p7
Sensors:
  System Temperatures: cpu: 49.0 C mobo: N/A
  Fan Speeds (RPM): fan-1: 0
Info:
  Processes: 301 Uptime: 6m Memory: 31.06 GiB used: 3.33 GiB (10.7%)
  Init: systemd Compilers: gcc: 12.1.0 clang: 13.0.1 Packages: 1829
  Shell: Zsh v: 5.9 inxi: 3.3.19


Gnome-shell --version gives 42.2
Things I've tried so far:
Reinstall gnome-control-center.
Install gnome-control-center-x11-scaling just in case, but nothing changed, so I reverted back to the original package.
Set the color scheme to default with:
gsettings set org.gnome.desktop.interface color-scheme default
Reset the desktop config with dconf:
dconf reset -f /org/gnome/
At this point I'm out of ideas.