I wanted to check what was mostly using my cache, and so i analyzed ~/.cache in filelight, but it gave me a weird result. It shows there are /6.805 files, of average size 29.6KiB for a total of 196.6MiB.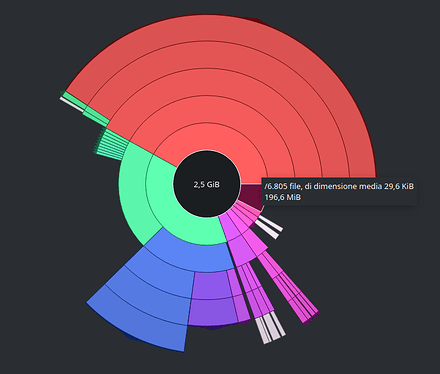 Now it's not really a big deal, i still have plenty fo space left. but i was curious as to what all of those files where and if my filesystem was somehow corrupted;
i did run ls -a | wc -l and it returned 70, which minus . and .. is what i actually see in terms of folders and files;
If i run ncdu those files are nowhere to be found, but Total disk usage is 2.6GiB whilest Apparent size is 2.4GiB, this would account for the missing ~200MiB.
I also did boot from a live image and run check and repair with Gparted (couldn't be bothered to risk ■■■■■■■ up suck a critical command on my /home) and there are absolutely no lost+found files…
Shutting down does not change this, sync does nothing too.
Online i couldn't find anything, so here i am asking if someone has any idea of what those ghost files are, where they are, and if it's possible to delete them.
No, there are no mounts possibly covering existing files.