Hi Everyone!
I just installed Manjaro today and have encountered a really weird problem I've never seen before.
Basically many non-default file types such as .vbox, .vdi, .AppImage are associated as SGI video types for some random reason.
As shown by the image below, all these file types appear as video files in the icon.
(It's not just VirtualBox file types, I'm just using this folder as an example.)


When I double click on any of these files it tries to open with whichever application is associated as x-sgi-movie types.

Weirdly I've noticed that by default "*.*" is an associated filename pattern for this mime type. Seems like this is the culprit?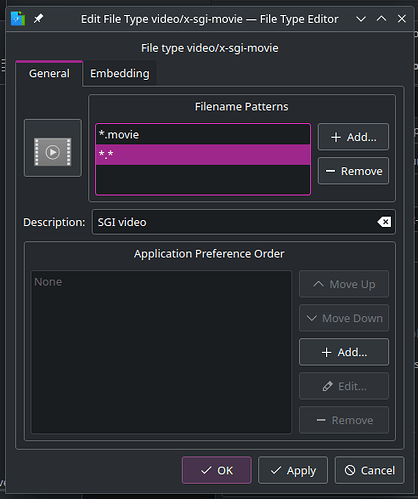 Unfortunately even after removing that specific pattern and saving the changes, it hasn't made any difference.
Does anyone had any ideas? This problem is super annoying and it feels like I'm hitting a brick wall