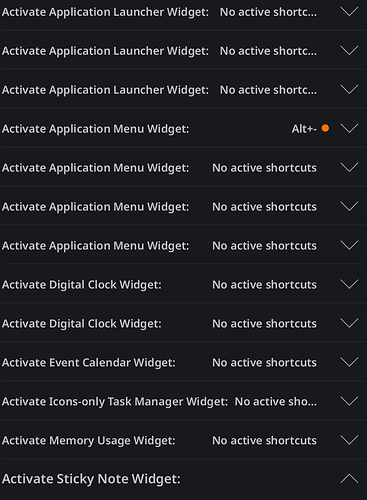 Here is the entries in ~/.config/kglobalshortcutsrc
There are several Activate Application Menu Widget
The only one working is the following one.
activate widget 236=Alt±,none,Activate Application Menu Widget
Are the rest of them from old versions of plasma so that they have different widget numbers?
the sticky not shortcut will make a difference for any keybinding I set up.
A different but relevant question: how to add an entry so that I can set the shortcut to launch the 11th app on the task manager. There are entries for app from 1 to 10 but not anymore. Simply adding an entry in ~/.config/kglobalshortcutsrc.
Any idea? Thanks.
activate widget 142=none,none,Activate Application Menu Widget
activate widget 147=none,none,Activate Digital Clock Widget
activate widget 232=none,none,Activate Icons-only Task Manager Widget
activate widget 236=Alt±,none,Activate Application Menu Widget
activate widget 258=,none,Activate Application Launcher Widget
activate widget 261=,none,Activate Application Launcher Widget
activate widget 27=none,none,Activate Sticky Note Widget
activate widget 282=,none,Activate Application Launcher Widget
activate widget 320=none,none,Activate Application Menu Widget
activate widget 328=none,none,Activate Analog Clock Widget
activate widget 352=none,none,Activate Event Calendar Widget
activate widget 353=none,none,Activate Application Menu Widget
activate widget 355=none,none,Activate Digital Clock Widget
activate widget 37=none,none,Activate Weather Report Widget
activate widget 42=none,none,Activate Memory Usage Widget