Currently, I have a desktop using an EVGA RTX 2080 GPU. My setup is one monitor connected to its only HDMI port, and a Dell S2417 using one of the card's Displayport inputs. Over the last few days, I had noticed the Dell monitor would not work after waking up from sleep mode, but rebooting would bring it back. To that end, I bought a replacement cable hoping for an easy solution.
Today, however, the Dell monitor altogether has not displayed anything after boot. The best results I have gotten were when it would display the KDE login screen and a loading screen after a login, then it would stop displaying altogether.
Further, the Manjaro display settings menu recognizes both monitors, however I cannot enable the Dell monitor, shown below.
Steps I have taken:
in my Windows partition, I disabled G-SYNC on the monitor (and updated drivers, which I understand is not directly related)
reinstalled the "video-nvidia" display controller drivers within the Hardware configuration hardware panel.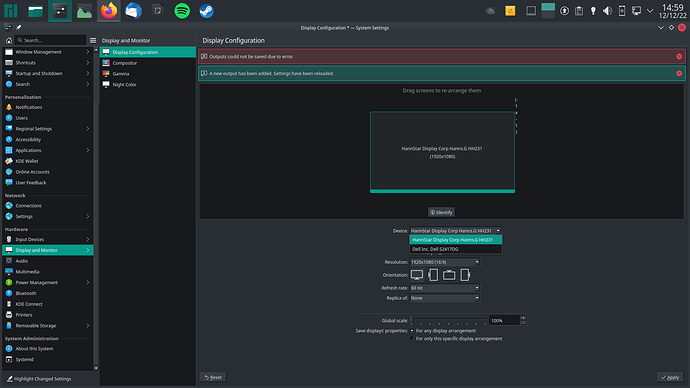 Output from xrandr:
xrandr: Output DP-4 is not disconnected but has no modes
Screen 0: minimum 8 x 8, current 1920 x 1080, maximum 32767 x 32767
DP-0 disconnected (normal left inverted right x axis y axis)
DP-1 disconnected (normal left inverted right x axis y axis)
HDMI-0 connected primary 1920x1080+0+0 (normal left inverted right x axis y axis) 509mm x 286mm
   1920x1080     60.00*+  59.94    50.00  
   1680x1050     59.95  
   1600x1200     60.00  
   1400x1050     59.98  
   1280x1024     75.02    60.02  
   1280x720      59.94    50.00  
   1024x768      75.03    60.00  
   800x600       75.00    60.32  
   720x576       50.00  
   720x480       59.94  
   640x480       75.00    59.94    59.93  
DP-2 disconnected (normal left inverted right x axis y axis)
DP-3 disconnected (normal left inverted right x axis y axis)
DP-4 connected (normal left inverted right x axis y axis)
DP-5 disconnected (normal left inverted right x axis y axis)
USB-C-0 disconnected (normal left inverted right x axis y axis)

Output from inxi --admin --verbosity=7 --filter --no-host --width
System:
  Kernel: 5.15.81-1-MANJARO arch: x86_64 bits: 64 compiler: gcc v: 12.2.0
    parameters: BOOT_IMAGE=/boot/vmlinuz-5.15-x86_64
    root=UUID=c61012ef-9afb-4ec1-bdd9-1048913a8f5b rw quiet apparmor=1
    security=apparmor udev.log_priority=3
  Desktop: KDE Plasma v: 5.26.4 tk: Qt v: 5.15.7 wm: kwin_x11 vt: 1 dm: SDDM
    Distro: Manjaro Linux base: Arch Linux
Machine:
  Type: Desktop System: Micro-Star product: MS-7C02 v: 1.0
    serial: <superuser required>
  Mobo: Micro-Star model: B450 TOMAHAWK (MS-7C02) v: 1.0
    serial: <superuser required> UEFI: American Megatrends v: 1.E0
    date: 06/09/2020
Memory:
  RAM: total: 15.57 GiB used: 2.24 GiB (14.4%)
  RAM Report: permissions: Unable to run dmidecode. Root privileges required.
CPU:
  Info: model: AMD Ryzen 5 2600 bits: 64 type: MT MCP arch: Zen+ gen: 2
    level: v3 note: check built: 2018-21 process: GF 12nm family: 0x17 (23)
    model-id: 8 stepping: 2 microcode: 0x800820D
  Topology: cpus: 1x cores: 6 tpc: 2 threads: 12 smt: enabled cache:
    L1: 576 KiB desc: d-6x32 KiB; i-6x64 KiB L2: 3 MiB desc: 6x512 KiB L3: 16 MiB
    desc: 2x8 MiB
  Speed (MHz): avg: 1552 high: 2446 min/max: 1550/3400 boost: enabled
    scaling: driver: acpi-cpufreq governor: schedutil cores: 1: 2428 2: 1333
    3: 1363 4: 1377 5: 1377 6: 1377 7: 2446 8: 1331 9: 1301 10: 1377 11: 1374
    12: 1548 bogomips: 81618
  Flags: 3dnowprefetch abm adx aes aperfmperf apic arat avic avx avx2 bmi1
    bmi2 bpext clflush clflushopt clzero cmov cmp_legacy constant_tsc cpb
    cpuid cr8_legacy cx16 cx8 de decodeassists extapic extd_apicid f16c
    flushbyasid fma fpu fsgsbase fxsr fxsr_opt ht hw_pstate ibpb irperf
    lahf_lm lbrv lm mca mce misalignsse mmx mmxext monitor movbe msr mtrr
    mwaitx nonstop_tsc nopl npt nrip_save nx osvw overflow_recov pae pat
    pausefilter pclmulqdq pdpe1gb perfctr_core perfctr_llc perfctr_nb
    pfthreshold pge pni popcnt pse pse36 rapl rdrand rdseed rdtscp rep_good
    sep sev sev_es sha_ni skinit smap smca sme smep ssbd sse sse2 sse4_1
    sse4_2 sse4a ssse3 succor svm svm_lock syscall tce topoext tsc tsc_scale
    v_vmsave_vmload vgif vmcb_clean vme vmmcall wdt xgetbv1 xsave xsavec
    xsaveerptr xsaveopt xsaves
  Vulnerabilities:
  Type: itlb_multihit status: Not affected
  Type: l1tf status: Not affected
  Type: mds status: Not affected
  Type: meltdown status: Not affected
  Type: mmio_stale_data status: Not affected
  Type: retbleed mitigation: untrained return thunk; SMT vulnerable
  Type: spec_store_bypass mitigation: Speculative Store Bypass disabled via
    prctl and seccomp
  Type: spectre_v1 mitigation: usercopy/swapgs barriers and __user pointer
    sanitization
  Type: spectre_v2 mitigation: Retpolines, IBPB: conditional, STIBP:
    disabled, RSB filling, PBRSB-eIBRS: Not affected
  Type: srbds status: Not affected
  Type: tsx_async_abort status: Not affected
Graphics:
  Device-1: NVIDIA TU104 [GeForce RTX 2080 Rev. A] vendor: eVga.com.
    driver: nvidia v: 525.60.11 alternate: nouveau,nvidia_drm non-free: 525.xx+
    status: current (as of 2022-12) arch: Turing code: TUxxx
    process: TSMC 12nm FF built: 2018-22 pcie: gen: 3 speed: 8 GT/s lanes: 16
    bus-ID: 26:00.0 chip-ID: 10de:1e87 class-ID: 0300
  Display: x11 server: X.Org v: 21.1.4 compositor: kwin_x11 driver: N/A
    display-ID: :0 screens: 1
  Screen-1: 0 s-res: 1920x1080 s-dpi: 94 s-size: 518x291mm (20.39x11.46")
    s-diag: 594mm (23.39")
  Monitor-1: DP-0 size-res: N/A modes: N/A
  Monitor-2: HDMI-0 pos: primary res: 1920x1080 hz: 60 dpi: 96
    size: 509x286mm (20.04x11.26") diag: 584mm (22.99") modes: N/A
  API: OpenGL v: 4.6.0 NVIDIA 525.60.11 renderer: NVIDIA GeForce RTX
    2080/PCIe/SSE2 direct render: Yes
Audio:
  Device-1: NVIDIA TU104 HD Audio vendor: eVga.com. driver: snd_hda_intel
    bus-ID: 5-1:2 v: kernel chip-ID: 1b1c:0a3b pcie: class-ID: 0300 gen: 3
    speed: 8 GT/s serial: <filter> lanes: 16 bus-ID: 26:00.1 chip-ID: 10de:10f8
    class-ID: 0403
  Device-2: AMD Family 17h HD Audio vendor: Micro-Star MSI
    driver: snd_hda_intel v: kernel pcie: gen: 3 speed: 8 GT/s lanes: 16
    bus-ID: 28:00.3 chip-ID: 1022:1457 class-ID: 0403
  Device-3: Corsair HS60 Surround Adapter type: USB
    driver: hid-generic,snd-usb-audio,usbhid
  Sound API: ALSA v: k5.15.81-1-MANJARO running: yes
  Sound Server-1: JACK v: 1.9.21 running: no
  Sound Server-2: PulseAudio v: 16.1 running: yes
  Sound Server-3: PipeWire v: 0.3.61 running: yes
Network:
  Device-1: Intel Wireless 7265 driver: iwlwifi v: kernel pcie: gen: 1
    speed: 2.5 GT/s lanes: 1 bus-ID: 21:00.0 chip-ID: 8086:095a class-ID: 0280
  IF: wlo1 state: up mac: <filter>
  IP v4: <filter> type: dynamic noprefixroute scope: global
    broadcast: <filter>
  IP v6: <filter> type: noprefixroute scope: link
  Device-2: Realtek RTL8111/8168/8411 PCI Express Gigabit Ethernet
    vendor: Micro-Star MSI driver: r8169 v: kernel pcie: gen: 1 speed: 2.5 GT/s
    lanes: 1 port: f000 bus-ID: 22:00.0 chip-ID: 10ec:8168 class-ID: 0200
  IF: enp34s0 state: up speed: 1000 Mbps duplex: full mac: <filter>
  IP v4: <filter> type: dynamic noprefixroute scope: global
    broadcast: <filter>
  IP v6: <filter> type: noprefixroute scope: link
  WAN IP: <filter>
Bluetooth:
  Message: No bluetooth data found.
Logical:
  Message: No logical block device data found.
RAID:
  Message: No RAID data found.
Drives:
  Local Storage: total: 3.18 TiB used: 1.23 TiB (38.6%)
  SMART Message: Unable to run smartctl. Root privileges required.
  ID-1: /dev/sda maj-min: 8:0 vendor: Seagate model: ST2000LX001-1RG174
    size: 1.82 TiB block-size: physical: 4096 B logical: 512 B speed: 6.0 Gb/s
    type: HDD rpm: 5400 serial: <filter> rev: SDM1 scheme: GPT
  ID-2: /dev/sdb maj-min: 8:16 vendor: Western Digital
    model: WD10EZEX-22MFCA0 size: 931.51 GiB block-size: physical: 4096 B
    logical: 512 B speed: 6.0 Gb/s type: HDD rpm: 7200 serial: <filter>
    rev: 1A01 scheme: GPT
  ID-3: /dev/sdc maj-min: 8:32 vendor: Western Digital
    model: WDS500G2B0B-00YS70 size: 465.76 GiB block-size: physical: 512 B
    logical: 512 B speed: 6.0 Gb/s type: SSD serial: <filter> rev: 00WD
    scheme: GPT
  Optical-1: /dev/sr0 vendor: ASUS model: DRW-24B3ST j rev: 1.11
    dev-links: cdrom
  Features: speed: 48 multisession: yes audio: yes dvd: yes
    rw: cd-r,cd-rw,dvd-r state: running
Partition:
  ID-1: / raw-size: 1.82 TiB size: 1.79 TiB (98.37%) used: 1.23 TiB (68.7%)
    fs: ext4 dev: /dev/sda2 maj-min: 8:2 label: N/A
    uuid: c61012ef-9afb-4ec1-bdd9-1048913a8f5b
  ID-2: /boot/efi raw-size: 300 MiB size: 299.4 MiB (99.80%)
    used: 288 KiB (0.1%) fs: vfat dev: /dev/sda1 maj-min: 8:1 label: NO_LABEL
    uuid: 8C80-EA1D
Swap:
  Alert: No swap data was found.
Unmounted:
  ID-1: /dev/sdb1 maj-min: 8:17 size: 16 MiB fs: <superuser required>
    label: N/A uuid: N/A
  ID-2: /dev/sdb2 maj-min: 8:18 size: 931.5 GiB fs: <superuser required>
    label: N/A uuid: N/A
  ID-3: /dev/sdc1 maj-min: 8:33 size: 499 MiB fs: ntfs label: Recovery
    uuid: 26DA08A9DA087779
  ID-4: /dev/sdc2 maj-min: 8:34 size: 99 MiB fs: vfat label: N/A
    uuid: 5E09-638D
  ID-5: /dev/sdc3 maj-min: 8:35 size: 16 MiB fs: <superuser required>
    label: N/A uuid: N/A
  ID-6: /dev/sdc4 maj-min: 8:36 size: 465.16 GiB fs: ntfs label: Turbo
    uuid: 38320AD2320A94D2
USB:
  Hub-1: 1-0:1 info: Hi-speed hub with single TT ports: 10 rev: 2.0
    speed: 480 Mb/s chip-ID: 1d6b:0002 class-ID: 0900
  Device-1: 1-8:2 info: Corsair Harpoon Wireless Mouse type: HID
    driver: hid-generic,usbhid interfaces: 3 rev: 2.0 speed: 12 Mb/s power: 500mA
    chip-ID: 1b1c:1b5e class-ID: 0300 serial: <filter>
  Device-2: 1-9:3 info: Areson Corp Keyboard type: Keyboard,Mouse
    driver: hid-generic,usbhid interfaces: 2 rev: 1.1 speed: 12 Mb/s power: 498mA
    chip-ID: 25a7:fa71 class-ID: 0301
  Hub-2: 2-0:1 info: Super-speed hub ports: 4 rev: 3.1 speed: 10 Gb/s
    chip-ID: 1d6b:0003 class-ID: 0900
  Hub-3: 3-0:1 info: Hi-speed hub with single TT ports: 2 rev: 2.0
    speed: 480 Mb/s chip-ID: 1d6b:0002 class-ID: 0900
  Hub-4: 4-0:1 info: Super-speed hub ports: 4 rev: 3.1 speed: 10 Gb/s
    chip-ID: 1d6b:0003 class-ID: 0900
  Hub-5: 5-0:1 info: Hi-speed hub with single TT ports: 4 rev: 2.0
    speed: 480 Mb/s chip-ID: 1d6b:0002 class-ID: 0900
  Device-1: 5-1:2 info: Corsair HS60 Surround Adapter type: Audio,HID
    driver: hid-generic,snd-usb-audio,usbhid interfaces: 4 rev: 1.1
    speed: 12 Mb/s power: 500mA chip-ID: 1b1c:0a3b class-ID: 0300
    serial: <filter>
  Hub-6: 6-0:1 info: Super-speed hub ports: 4 rev: 3.0 speed: 5 Gb/s
    chip-ID: 1d6b:0003 class-ID: 0900
Sensors:
  System Temperatures: cpu: 33.0 C mobo: N/A gpu: nvidia temp: 38 C
  Fan Speeds (RPM): N/A gpu: nvidia fan: 0%
^[[A^[[BInfo:
  Processes: 308 Uptime: 7m wakeups: 1 Init: systemd v: 251 default: graphical
  tool: systemctl Compilers: gcc: 12.2.0 clang: 14.0.6 Packages: 1709
  pm: pacman pkgs: 1651 libs: 414 tools: pamac pm: flatpak pkgs: 58 Shell: Zsh
  v: 5.9 default: Bash v: 5.1.16 running-in: yakuake inxi: 3.3.24

---
Moderator edit: In the future, please use proper formatting: [HowTo] Post command output and file content as formatted text