I have installed amdgpu-pro driver, overall it seems to work fine, but i have a problem in Davinci Resolve:
When i run resolve (i use progl to force amdgpu-pro to resolve) it detects 2 gpu (i have 1):


One of them labeled as Main Display or smth and has 0 GB of memory, other one is unlabeled but shows 8GB of vram.
If i select gpu with 8GB of ram an error appears every time i'm trying to open video file inside resolve: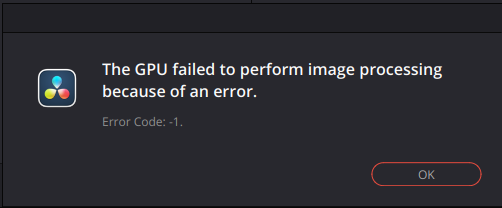 And if i choose gpu with 0GB of ram, it just says that "no memory left".
Is it normal or there should be no duplication in gpu list?
Resolve also gives one error in console:
dlerror: libamdocl-orca64.so: cannot open shared object file: No such file or directory
clinfo: dlerror: libamdocl-orca64.so: cannot open shared object file: No such file or di - Pastebin.com
system info:
OS: Manjaro Linux x86_64
Kernel: 6.2.7-2-MANJARO
DE: Xfce 4.18 (X11)
CPU: AMD Ryzen 5 5600G with Radeon Graphics (12) @ 3.900GHz
GPU: AMD ATI Radeon Vega Series / Radeon Vega Mobile Series
Memory: 5483MiB / 15813MiB