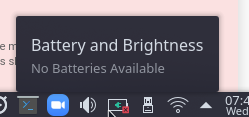 I have fairly new laptop with KDE Manjaro installed in it. But the battery is not being detected for some reason. I'm very sure it's still working because when I pull out the charger, the computer doesn't go off. Typing in acpi in terminal yields:

Any thoughts on what could be the problem? The laptop also dies a lot faster than it should.
I also ran inxi --full --verbosity=7 --filter --no-host. Here's the output.