How do I Enable Menubar in Manjaro, to access File, View Help, To change kcalc preferences from NORM mode?
bash321
Do you have global menu enabled? Because I cannot find any option to disable KCalc's menu bar. BTW, you can access the Preferences with Ctrl+Shift+,, KCalc Handbook with F1, and 'What's This' with Shift+F1.
The default shortcuts are: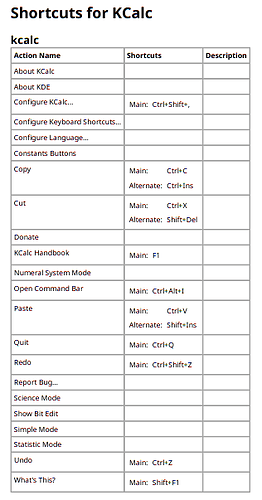 Hi shirshendu,
No, I don't have global menu enabled.
Thank you for the screenshot of shortcuts.
I opened the command bar using the keyboard shortcut CTRL+ALT+I, and selected science mode for the calculator, which allows me to calculate power numbers.
Kcalc is now working.
Challenge to change modes, but it does work.
bash321.
Yes i tried CTRL+M no response from the app.
@bash321 From the Command Bar, you can open Configure Keyboard Shortcuts and there you can assign custom shortcuts for the modes you use.

This topic was automatically closed 15 days after the last reply. New replies are no longer allowed.