Hey there.
I'm back in the Forum with another problem I have and I don't know where else to ask for help.
TL;DR: Basically I'm trying to change the Rendering Backend of my Manjaro KDE - Installation due to problems it may cause with my OBS replay buffer.
However: This option simply does not exist.
I can't change it in my system settings under the compositor nor is the option even a thing it the the config file in .config/kwinrc.
The situation is that I'd like to use OBS as an Instant Replay tool. I know that Replay Sourcery exists. But this only clips the last 30 seconds. And I'd like to have a little more.
Besides, I can clip the sound from each channel (5.1 configuration) with OBS. And of course OBS can use NVENC.
( To be fair, I haven't spend any time trying Replay Sourcery at all so all of this may not even be true.
But I think that I shouldn't have to use a different programm just because the one I'd like to use doesn't work because of… I don't know, magic maybe?)
The underlying issue is that the video file that gets recorded has what I assume is the Vsync blanking intervall as a black line visible in the top of the screen. If it's happy I just have tearing where the upper part of the video is behind by an average of about .5 seconds.
(I may add a link to a clip that I upload to YouTube later here if I didn't delete them)
I've tried a lot to fix that. Even distro hopped with different DE's I liked. But I'd like to stay with Manjaro KDE because it's the only one with the very specific function I'd like to have, at least KDE Plasma has. But that's off topic.
These are the worarounds that I've tried and that did more or less nothing:
disabled flipping. Didn't do anything.
enabled the "force composition pipeline" as well as the "force full composition pipeline" setting. That somewhat fixed it in DOOM 2016, it's still there just hard to notice. But for nothing else as far as my testing vent.
installed the older versions of the NVidia drivers. WIth the 390xx, games refuse to start and the 470xx works but has the exact same problem.
During this testing, it clicked that this must be an issue with Vsync.
I use it in games because I hate the tearing effect in games. Disabling that as well does help somewhat, it's still noticable in the recording because now the game itself is tearing.
In the system settings I've played a little with the options I have for the Compositor. The only thing that also seemed to fix it was the box "allow applications to block Compositor".
The issue with it is that part of the Desktop "blinks" through the game screen.
Basically it's an issue that could be resolved with just either not using OBS, not having an NVIdia graphics card or just knowing what the issue is and what to do…
I didn't want to make a new post about a topic that exists already numerous times about this issue with OBS so I just added all of the infos I could.
The latest change from me was the installation of the "video-nvidia" that was installed originally.
Here is my system info:
Operating System: Manjaro Linux
KDE Plasma Version: 5.24.4
KDE Frameworks Version: 5.92.0
Qt Version: 5.15.3
Kernel Version: 5.15.32-1-MANJARO (64-bit)
Graphics Platform: X11
Processors: 12 × AMD Ryzen 5 3600 6-Core Processor
Memory: 15.6 GiB of RAM
Graphics Processor: NVIDIA GeForce GTX 1060 6GB/PCIe/SSE2

Here's a screenshot from the Compositor. (keep in mind that it's in German):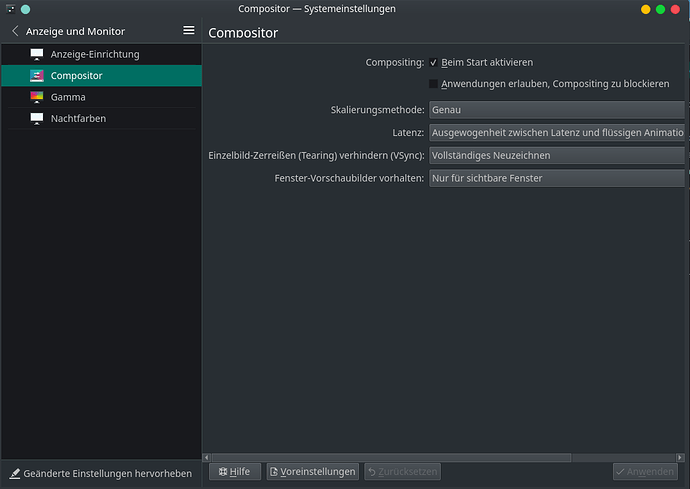 Sidenote: I've changed the Vsync setting back to Automatic since the set option likely causes weird performance issues.
And here is the output of cat .config/kwinrc:
cat kwinrc                                                                                                                           ✔ 
[$Version]
update_info=kwin.upd:replace-scalein-with-scale,kwin.upd:port-minimizeanimation-effect-to-js,kwin.upd:port-scale-effect-to-js,kwin.upd:port-dimscreen-effect-to-js,kwin.upd:auto-bordersize,kwin.upd:animation-speed,kwin.upd:desktop-grid-click-behavior,kwin.upd:no-swap-encourage,kwin.upd:make-translucency-effect-disabled-by-default,kwin.upd:remove-flip-switch-effect,kwin.upd:remove-cover-switch-effect,kwin.upd:remove-cubeslide-effect,kwin.upd:remove-xrender-backend,kwin.upd:enable-scale-effect-by-default

[Compositing]
OpenGLIsUnsafe=false
WindowsBlockCompositing=false

[Desktops]
Id_1=12d25c8b-fee8-49fb-9dad-f11133746049
Id_2=f6f5deb6-ec11-4e20-afd7-857256b7a16c
Rows=2

[Effect-PresentWindows]
BorderActivateAll=9

[Effect-Wobbly]
AdvancedMode=true
Drag=59
MoveFactor=17
Stiffness=10

[Plugins]
fallapartEnabled=true
kwin4_effect_dimscreenEnabled=true
kwin4_effect_squashEnabled=false
kwin4_effect_translucencyEnabled=true
magiclampEnabled=true
wobblywindowsEnabled=true

[org.kde.kdecoration2]
library=org.kde.kwin.aurorae
theme=__aurorae__svg__Breezemite_dark


Either there's something I'm missing or I ended up breaking something again… Wouldn't be the first time

Anyways: If you need anything, just ask. I'll provide everything I can.
I didn't know where else to put it, but the reason why I'd wanted to try this in the first place is because of some comment about how there might be a performance improvement when using XRender instead of OpenGL, howver I cannot find the page I've got it from
Right now it's working-ish so I thought of posting it and maybe resolving it later, I'm not yet depended on Manjaro as my daily driver… Not yet anywas.
And as one last question: What about the open source drivers? Would they be any good for playing games and recording them at te same time? I doubt it and with my luck I brick the OS, that's why I didn't touch them yet.