Hello, just yesterday my audio still working fine. I turned off the computer, go to sleep, and today it does not detect any output device.
Gnome audio configuration only shows Dummy Audio.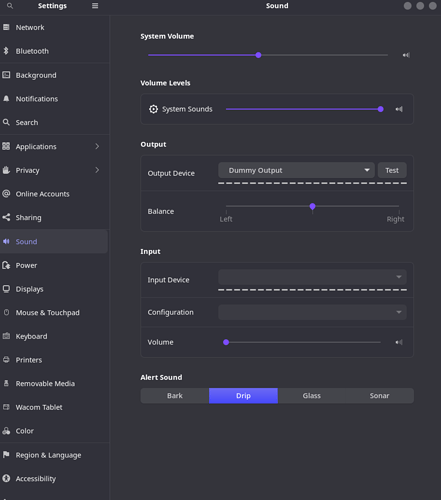 I already restart, turned off but audio still not going back.
I'm dualbooting with windows, and in windows the audio is also broken.
This PC is new. I also tried to plug in different speakers, still no sound.
Then I went and update my system, reboot, but sound still not coming back.
I also have mic plugged in, looks like it also not working. However microphone from USB webcam does get detected.
But, if I used USB sound card then plug my headphone and mic there, it's not detected T.T.
also tried rm -r ~/.config/pulse; pulseaudio -k
I wonder what went wrong. Is my motherboard sound broken?
inxi -Fazy

System:
  Kernel: 5.13.19-2-MANJARO x86_64 bits: 64 compiler: gcc v: 11.1.0
  parameters: BOOT_IMAGE=/boot/vmlinuz-5.13-x86_64
  root=UUID=3d035187-d032-4650-946e-a07db114a455 rw quiet splash apparmor=1
  security=apparmor resume=UUID=a744f76f-4318-41b8-8117-a8299568048d
  udev.log_priority=3
  Desktop: GNOME 40.5 tk: GTK 3.24.30 info: plank wm: gnome-shell dm: GDM 40.1
  Distro: Manjaro Linux base: Arch Linux
Machine:
  Type: Desktop Mobo: ASRock model: B450M-HDV R4.0 serial: <filter>
  UEFI: American Megatrends v: P4.30 date: 11/25/2020
Battery:
  Device-1: hidpp_battery_0 model: Logitech Wireless Mouse B330/M330/M331
  serial: <filter> charge: 55% (should be ignored) rechargeable: yes
  status: Discharging
CPU:
  Info: 6-Core model: AMD Ryzen 5 3500 bits: 64 type: MCP arch: Zen 2
  family: 17 (23) model-id: 71 (113) stepping: 0 microcode: 8701021 cache:
  L2: 3 MiB
  flags: avx avx2 lm nx pae sse sse2 sse3 sse4_1 sse4_2 sse4a ssse3 svm
  bogomips: 43212
  Speed: 2305 MHz min/max: 2200/3600 MHz boost: enabled Core speeds (MHz):
  1: 2305 2: 2185 3: 2092 4: 2074 5: 2599 6: 2053
  Vulnerabilities: Type: itlb_multihit status: Not affected
  Type: l1tf status: Not affected
  Type: mds status: Not affected
  Type: meltdown status: Not affected
  Type: spec_store_bypass
  mitigation: Speculative Store Bypass disabled via prctl and seccomp
  Type: spectre_v1
  mitigation: usercopy/swapgs barriers and __user pointer sanitization
  Type: spectre_v2 mitigation: Full AMD retpoline, IBPB: conditional, STIBP:
  disabled, RSB filling
  Type: srbds status: Not affected
  Type: tsx_async_abort status: Not affected
Graphics:
  Device-1: NVIDIA TU117 [GeForce GTX 1650] driver: nvidia v: 470.63.01
  alternate: nouveau,nvidia_drm bus-ID: 09:00.0 chip-ID: 10de:1f82
  class-ID: 0300
  Display: x11 server: X.org 1.20.13 compositor: gnome-shell driver:
  loaded: nvidia resolution: <missing: xdpyinfo>
  OpenGL: renderer: NVIDIA GeForce GTX 1650/PCIe/SSE2
  v: 4.6.0 NVIDIA 470.63.01 direct render: Yes
Audio:
  Device-1: NVIDIA driver: snd_hda_intel v: kernel bus-ID: 09:00.1
  chip-ID: 10de:10fa class-ID: 0403
  Device-2: AMD Starship/Matisse HD Audio vendor: ASRock driver: snd_hda_intel
  v: kernel bus-ID: 0b:00.4 chip-ID: 1022:1487 class-ID: 0403
  Sound Server-1: ALSA v: k5.13.19-2-MANJARO running: yes
  Sound Server-2: sndio v: N/A running: no
  Sound Server-3: JACK v: 1.9.19 running: no
  Sound Server-4: PulseAudio v: 15.0 running: yes
  Sound Server-5: PipeWire v: 0.3.38 running: no
Network:
  Device-1: Realtek RTL8111/8168/8411 PCI Express Gigabit Ethernet
  vendor: ASRock driver: r8169 v: kernel port: f000 bus-ID: 08:00.0
  chip-ID: 10ec:8168 class-ID: 0200
  IF: enp8s0 state: up speed: 1000 Mbps duplex: full mac: <filter>
Drives:
  Local Storage: total: 2.96 TiB used: 791.06 GiB (26.1%)
  SMART Message: Required tool smartctl not installed. Check --recommends
  ID-1: /dev/nvme0n1 maj-min: 259:0 vendor: Samsung
  model: SSD 970 EVO Plus 1TB size: 931.51 GiB block-size: physical: 512 B
  logical: 512 B speed: 31.6 Gb/s lanes: 4 type: SSD serial: <filter>
  rev: 3B2QEXM7 temp: 38.9 C scheme: GPT
  ID-2: /dev/sda maj-min: 8:0 vendor: V-Gen model: 01SM21NT256MT
  size: 238.47 GiB block-size: physical: 512 B logical: 512 B speed: 6.0 Gb/s
  type: SSD serial: <filter> rev: 5A0 scheme: GPT
  ID-3: /dev/sdb maj-min: 8:16 vendor: Seagate model: ST2000VX008-2E3164
  size: 1.82 TiB block-size: physical: 4096 B logical: 512 B speed: 6.0 Gb/s
  type: HDD rpm: 5900 serial: <filter> rev: CV12 scheme: GPT
Partition:
  ID-1: / raw-size: 97.66 GiB size: 95.56 GiB (97.86%) used: 33.54 GiB (35.1%)
  fs: ext4 dev: /dev/nvme0n1p5 maj-min: 259:5
  ID-2: /boot/efi raw-size: 1000 MiB size: 996 MiB (99.60%)
  used: 25.5 MiB (2.6%) fs: vfat dev: /dev/nvme0n1p1 maj-min: 259:1
  ID-3: /home raw-size: 390.62 GiB size: 383.49 GiB (98.17%)
  used: 20.5 GiB (5.3%) fs: ext4 dev: /dev/nvme0n1p7 maj-min: 259:7
Swap:
  Kernel: swappiness: 60 (default) cache-pressure: 100 (default)
  ID-1: swap-1 type: partition size: 11.72 GiB used: 0 KiB (0.0%) priority: -2
  dev: /dev/nvme0n1p6 maj-min: 259:6
Sensors:
  System Temperatures: cpu: 61.6 C mobo: N/A gpu: nvidia temp: 52 C
  Fan Speeds (RPM): N/A gpu: nvidia fan: 0%
Info:
  Processes: 277 Uptime: 10m wakeups: 2 Memory: 15.55 GiB
  used: 3.46 GiB (22.2%) Init: systemd v: 249 tool: systemctl Compilers:
  gcc: 11.1.0 clang: 12.0.1 Packages: 1714 pacman: 1706 lib: 493 flatpak: 8
  Shell: Zsh v: 5.8 running-in: gnome-terminal inxi: 3.3.07


inxi --admin --verbosity=7 --filter --no-host --width

System:
  Kernel: 5.13.19-2-MANJARO x86_64 bits: 64 compiler: gcc v: 11.1.0
  parameters: BOOT_IMAGE=/boot/vmlinuz-5.13-x86_64
  root=UUID=3d035187-d032-4650-946e-a07db114a455 rw quiet splash apparmor=1
  security=apparmor resume=UUID=a744f76f-4318-41b8-8117-a8299568048d
  udev.log_priority=3
  Desktop: GNOME 40.5 tk: GTK 3.24.30 info: plank wm: gnome-shell dm: GDM 40.1
  Distro: Manjaro Linux base: Arch Linux
Machine:
  Type: Desktop Mobo: ASRock model: B450M-HDV R4.0 serial: <filter>
  UEFI: American Megatrends v: P4.30 date: 11/25/2020
Battery:
  Device-1: hidpp_battery_0 model: Logitech Wireless Mouse B330/M330/M331
  serial: <filter> charge: 55% (should be ignored) rechargeable: yes
  status: Discharging
Memory:
  RAM: total: 15.55 GiB used: 3.1 GiB (19.9%)
  RAM Report: permissions: Unable to run dmidecode. Root privileges required.
CPU:
  Info: 6-Core model: AMD Ryzen 5 3500 bits: 64 type: MCP arch: Zen 2
  family: 17 (23) model-id: 71 (113) stepping: 0 microcode: 8701021 cache:
  L2: 3 MiB bogomips: 43212
  Speed: 2209 MHz min/max: 2200/3600 MHz boost: enabled Core speeds (MHz):
  1: 2209 2: 2050 3: 2088 4: 2072 5: 2560 6: 2093
  Flags: 3dnowprefetch abm adx aes aperfmperf apic arat avic avx avx2 bmi1
  bmi2 bpext cat_l3 cdp_l3 clflush clflushopt clwb clzero cmov cmp_legacy
  constant_tsc cpb cpuid cqm cqm_llc cqm_mbm_local cqm_mbm_total cqm_occup_llc
  cr8_legacy cx16 cx8 de decodeassists extapic extd_apicid f16c flushbyasid
  fma fpu fsgsbase fxsr fxsr_opt ht hw_pstate ibpb ibs irperf lahf_lm lbrv lm
  mba mca mce misalignsse mmx mmxext monitor movbe msr mtrr mwaitx nonstop_tsc
  nopl npt nrip_save nx osvw overflow_recov pae pat pausefilter pclmulqdq
  pdpe1gb perfctr_core perfctr_llc perfctr_nb pfthreshold pge pni popcnt pse
  pse36 rdpid rdpru rdrand rdseed rdt_a rdtscp rep_good sep sev sev_es sha_ni
  skinit smap smca sme smep ssbd sse sse2 sse4_1 sse4_2 sse4a ssse3 stibp
  succor svm svm_lock syscall tce topoext tsc tsc_scale umip v_spec_ctrl
  v_vmsave_vmload vgif vmcb_clean vme vmmcall wbnoinvd wdt xgetbv1 xsave
  xsavec xsaveerptr xsaveopt xsaves
  Vulnerabilities: Type: itlb_multihit status: Not affected
  Type: l1tf status: Not affected
  Type: mds status: Not affected
  Type: meltdown status: Not affected
  Type: spec_store_bypass
  mitigation: Speculative Store Bypass disabled via prctl and seccomp
  Type: spectre_v1
  mitigation: usercopy/swapgs barriers and __user pointer sanitization
  Type: spectre_v2 mitigation: Full AMD retpoline, IBPB: conditional, STIBP:
  disabled, RSB filling
  Type: srbds status: Not affected
  Type: tsx_async_abort status: Not affected
Graphics:
  Device-1: NVIDIA TU117 [GeForce GTX 1650] driver: nvidia v: 470.63.01
  alternate: nouveau,nvidia_drm bus-ID: 09:00.0 chip-ID: 10de:1f82
  class-ID: 0300
  Display: x11 server: X.org 1.20.13 compositor: gnome-shell driver:
  loaded: nvidia resolution: <missing: xdpyinfo>
  OpenGL: renderer: NVIDIA GeForce GTX 1650/PCIe/SSE2
  v: 4.6.0 NVIDIA 470.63.01 direct render: Yes
Audio:
  Device-1: NVIDIA driver: snd_hda_intel v: kernel bus-ID: 09:00.1
  chip-ID: 10de:10fa class-ID: 0403
  Device-2: AMD Starship/Matisse HD Audio vendor: ASRock driver: snd_hda_intel
  v: kernel bus-ID: 0b:00.4 chip-ID: 1022:1487 class-ID: 0403
  Sound Server-1: ALSA v: k5.13.19-2-MANJARO running: yes
  Sound Server-2: sndio v: N/A running: no
  Sound Server-3: JACK v: 1.9.19 running: no
  Sound Server-4: PulseAudio v: 15.0 running: yes
  Sound Server-5: PipeWire v: 0.3.38 running: no
Network:
  Device-1: Realtek RTL8111/8168/8411 PCI Express Gigabit Ethernet
  vendor: ASRock driver: r8169 v: kernel port: f000 bus-ID: 08:00.0
  chip-ID: 10ec:8168 class-ID: 0200
  IF: enp8s0 state: up speed: 1000 Mbps duplex: full mac: <filter>
  IP v4: <filter> type: dynamic noprefixroute scope: global
  broadcast: <filter>
  IP v6: <filter> type: noprefixroute scope: link
  WAN IP: <filter>
Bluetooth:
  Message: No bluetooth data found.
Logical:
  Message: No logical block device data found.
RAID:
  Message: No RAID data found.
Drives:
  Local Storage: total: 2.96 TiB used: 791.06 GiB (26.1%)
  SMART Message: Required tool smartctl not installed. Check --recommends
  ID-1: /dev/nvme0n1 maj-min: 259:0 vendor: Samsung
  model: SSD 970 EVO Plus 1TB size: 931.51 GiB block-size: physical: 512 B
  logical: 512 B speed: 31.6 Gb/s lanes: 4 type: SSD serial: <filter>
  rev: 3B2QEXM7 temp: 38.9 C scheme: GPT
  ID-2: /dev/sda maj-min: 8:0 vendor: V-Gen model: 01SM21NT256MT
  size: 238.47 GiB block-size: physical: 512 B logical: 512 B speed: 6.0 Gb/s
  type: SSD serial: <filter> rev: 5A0 scheme: GPT
  ID-3: /dev/sdb maj-min: 8:16 vendor: Seagate model: ST2000VX008-2E3164
  size: 1.82 TiB block-size: physical: 4096 B logical: 512 B speed: 6.0 Gb/s
  type: HDD rpm: 5900 serial: <filter> rev: CV12 scheme: GPT
  Message: No optical or floppy data found.
Partition:
  ID-1: / raw-size: 97.66 GiB size: 95.56 GiB (97.86%) used: 33.54 GiB (35.1%)
  fs: ext4 dev: /dev/nvme0n1p5 maj-min: 259:5 label: linux
  uuid: 3d035187-d032-4650-946e-a07db114a455
  ID-2: /boot/efi raw-size: 1000 MiB size: 996 MiB (99.60%)
  used: 25.5 MiB (2.6%) fs: vfat dev: /dev/nvme0n1p1 maj-min: 259:1 label: N/A
  uuid: D4F8-5870
  ID-3: /home raw-size: 390.62 GiB size: 383.49 GiB (98.17%)
  used: 20.5 GiB (5.3%) fs: ext4 dev: /dev/nvme0n1p7 maj-min: 259:7
  label: home uuid: 3b3e44b5-a833-4e09-b668-250413d14da3
  ID-4: /mnt/cross_apps raw-size: 332.88 GiB size: 332.88 GiB (100.00%)
  used: 97.25 GiB (29.2%) fs: ntfs dev: /dev/nvme0n1p8 maj-min: 259:8
  label: CrossApps uuid: 424EFD4D4EFD3A6D
  ID-5: /mnt/warehouse raw-size: 1.82 TiB size: 1.82 TiB (100.00%)
  used: 639.74 GiB (34.3%) fs: ntfs dev: /dev/sdb2 maj-min: 8:18
  label: Warehouse uuid: 9C5EDB7B5EDB4CA0
Swap:
  Kernel: swappiness: 60 (default) cache-pressure: 100 (default)
  ID-1: swap-1 type: partition size: 11.72 GiB used: 0 KiB (0.0%) priority: -2
  dev: /dev/nvme0n1p6 maj-min: 259:6 label: N/A
  uuid: a744f76f-4318-41b8-8117-a8299568048d
Unmounted:
  ID-1: /dev/nvme0n1p2 maj-min: 259:2 size: 16 MiB fs: <superuser required>
  label: N/A uuid: N/A
  ID-2: /dev/nvme0n1p3 maj-min: 259:3 size: 97.14 GiB fs: ntfs label: N/A
  uuid: 56B4F6A3B4F684B1
  ID-3: /dev/nvme0n1p4 maj-min: 259:4 size: 516 MiB fs: ntfs label: N/A
  uuid: 50642D1A642D03F6
  ID-4: /dev/sda1 maj-min: 8:1 size: 16 MiB fs: <superuser required>
  label: N/A uuid: N/A
  ID-5: /dev/sda2 maj-min: 8:2 size: 237.86 GiB fs: ntfs label: N/A
  uuid: 369020BA9020828B
  ID-6: /dev/sda3 maj-min: 8:3 size: 508 MiB fs: ntfs label: N/A
  uuid: CCDC6803DC67E5E4
  ID-7: /dev/sdb1 maj-min: 8:17 size: 16 MiB fs: <superuser required>
  label: N/A uuid: N/A
USB:
  Hub-1: 1-0:1 info: Full speed (or root) Hub ports: 10 rev: 2.0
  speed: 480 Mb/s chip-ID: 1d6b:0002 class-ID: 0900
  Hub-2: 1-2:2 info: VIA Labs VL813 Hub ports: 4 rev: 2.1 speed: 480 Mb/s
  chip-ID: 2109:2813 class-ID: 0900
  Device-1: 1-2.1:3 info: Logitech Unifying Receiver type: Mouse,HID
  driver: logitech-djreceiver,usbhid interfaces: 2 rev: 2.0 speed: 12 Mb/s
  power: 98mA chip-ID: 046d:c52f class-ID: 0300
  Hub-3: 2-0:1 info: Full speed (or root) Hub ports: 4 rev: 3.1 speed: 10 Gb/s
  chip-ID: 1d6b:0003 class-ID: 0900
  Hub-4: 3-0:1 info: Full speed (or root) Hub ports: 4 rev: 2.0
  speed: 480 Mb/s chip-ID: 1d6b:0002 class-ID: 0900
  Device-1: 3-3:2 info: Holtek USB-HID Keyboard type: Keyboard,HID
  driver: hid-generic,usbhid interfaces: 3 rev: 2.0 speed: 12 Mb/s
  power: 100mA chip-ID: 04d9:0344 class-ID: 0300
  Device-2: 3-4:3 info: Wacom Wacom One Pen Display 13 type: HID
  driver: usbhid,wacom interfaces: 2 rev: 2.0 speed: 12 Mb/s
  chip-ID: 056a:03a6 class-ID: 0300 serial: <filter>
  Hub-5: 4-0:1 info: Full speed (or root) Hub ports: 4 rev: 3.1 speed: 10 Gb/s
  chip-ID: 1d6b:0003 class-ID: 0900
Sensors:
  System Temperatures: cpu: 62.0 C mobo: N/A gpu: nvidia temp: 52 C
  Fan Speeds (RPM): N/A gpu: nvidia fan: 0%
Info:
  Processes: 287 Uptime: 2m wakeups: 2 Init: systemd v: 249 tool: systemctl
  Compilers: gcc: 11.1.0 clang: 12.0.1 Packages: 1714 pacman: 1706 lib: 493
  flatpak: 8 Shell: Zsh v: 5.8 running-in: gnome-terminal inxi: 3.3.07


$> pa-info

________________
> pulseaudio_ps_do
friska       872  0.1  0.0 2523284 15236 ?       S<sl 16:21   0:00 /usr/bin/pulseaudio --daemonize=no --log-target=journal
friska      5513  0.0  0.0   3256  1668 pts/1    S+   16:27   0:00 grep pulseaudio
________________
> which pulseaudio
/usr/bin/pulseaudio
________________
> pidof pulseaudio
872
________________
> pulseaudio --version
pulseaudio 15.0
________________
> pactl info
Server String: /run/user/1000/pulse/native
Library Protocol Version: 35
Server Protocol Version: 35
Is Local: yes
Client Index: 16
Tile Size: 65472
User Name: friska
Host Name: Everlight
Server Name: pulseaudio
Server Version: 15.0
Default Sample Specification: s16le 2ch 44100Hz
Default Channel Map: front-left,front-right
Default Sink: auto_null
Default Source: auto_null.monitor
Cookie: c500:e2d9
________________
> pactl list
Module #0
	Name: module-device-restore
	Argument: 
	Usage counter: n/a
	Properties:
		module.author = "Lennart Poettering"
		module.description = "Automatically restore the volume/mute state of devices"
		module.version = "15.0"

Module #1
	Name: module-stream-restore
	Argument: 
	Usage counter: n/a
	Properties:
		module.author = "Lennart Poettering"
		module.description = "Automatically restore the volume/mute/device state of streams"
		module.version = "15.0"

Module #2
	Name: module-card-restore
	Argument: 
	Usage counter: n/a
	Properties:
		module.author = "Lennart Poettering"
		module.description = "Automatically restore profile of cards"
		module.version = "15.0"

Module #3
	Name: module-augment-properties
	Argument: 
	Usage counter: n/a
	Properties:
		module.author = "Lennart Poettering"
		module.description = "Augment the property sets of streams with additional static information"
		module.version = "15.0"

Module #4
	Name: module-switch-on-port-available
	Argument: 
	Usage counter: n/a
	Properties:
		module.author = "David Henningsson"
		module.description = "Switches ports and profiles when devices are plugged/unplugged"
		module.version = "15.0"

Module #5
	Name: module-udev-detect
	Argument: 
	Usage counter: n/a
	Properties:
		module.author = "Lennart Poettering"
		module.description = "Detect available audio hardware and load matching drivers"
		module.version = "15.0"

Module #6
	Name: module-alsa-card
	Argument: device_id="0" name="pci-0000_09_00.1" card_name="alsa_card.pci-0000_09_00.1" namereg_fail=false tsched=yes fixed_latency_range=no ignore_dB=no deferred_volume=yes use_ucm=yes avoid_resampling=no card_properties="module-udev-detect.discovered=1"
	Usage counter: 0
	Properties:
		module.author = "Lennart Poettering"
		module.description = "ALSA Card"
		module.version = "15.0"

Module #7
	Name: module-alsa-card
	Argument: device_id="1" name="pci-0000_0b_00.4" card_name="alsa_card.pci-0000_0b_00.4" namereg_fail=false tsched=yes fixed_latency_range=no ignore_dB=no deferred_volume=yes use_ucm=yes avoid_resampling=no card_properties="module-udev-detect.discovered=1"
	Usage counter: 0
	Properties:
		module.author = "Lennart Poettering"
		module.description = "ALSA Card"
		module.version = "15.0"

Module #8
	Name: module-jackdbus-detect
	Argument: channels=2
	Usage counter: n/a
	Properties:
		module.author = "David Henningsson"
		module.description = "Adds JACK sink/source ports when JACK is started"
		module.version = "15.0"

Module #9
	Name: module-bluetooth-policy
	Argument: 
	Usage counter: n/a
	Properties:
		module.author = "Frédéric Dalleau, Pali Rohár"
		module.description = "Policy module to make using bluetooth devices out-of-the-box easier"
		module.version = "15.0"

Module #10
	Name: module-bluetooth-discover
	Argument: 
	Usage counter: n/a
	Properties:
		module.author = "João Paulo Rechi Vita"
		module.description = "Detect available Bluetooth daemon and load the corresponding discovery module"
		module.version = "15.0"

Module #11
	Name: module-bluez5-discover
	Argument: 
	Usage counter: n/a
	Properties:
		module.author = "João Paulo Rechi Vita"
		module.description = "Detect available BlueZ 5 Bluetooth audio devices and load BlueZ 5 Bluetooth audio drivers"
		module.version = "15.0"

Module #12
	Name: module-dbus-protocol
	Argument: 
	Usage counter: n/a
	Properties:
		module.author = "Tanu Kaskinen"
		module.description = "D-Bus interface"
		module.version = "15.0"

Module #13
	Name: module-native-protocol-unix
	Argument: 
	Usage counter: n/a
	Properties:
		module.author = "Lennart Poettering"
		module.description = "Native protocol (UNIX sockets)"
		module.version = "15.0"

Module #14
	Name: module-gsettings
	Argument: 
	Usage counter: n/a
	Properties:
		module.author = "Sylvain Baubeau"
		module.description = "GSettings Adapter"
		module.version = "15.0"

Module #15
	Name: module-default-device-restore
	Argument: 
	Usage counter: n/a
	Properties:
		module.author = "Lennart Poettering"
		module.description = "Automatically restore the default sink and source"
		module.version = "15.0"

Module #16
	Name: module-always-sink
	Argument: 
	Usage counter: n/a
	Properties:
		module.author = "Colin Guthrie"
		module.description = "Always keeps at least one sink loaded even if it's a null one"
		module.version = "15.0"

Module #17
	Name: module-null-sink
	Argument: sink_name=auto_null sink_properties='device.description="Dummy Output"'
	Usage counter: 0
	Properties:
		module.author = "Lennart Poettering"
		module.description = "Clocked NULL sink"
		module.version = "15.0"

Module #18
	Name: module-intended-roles
	Argument: 
	Usage counter: n/a
	Properties:
		module.author = "Lennart Poettering"
		module.description = "Automatically set device of streams based on intended roles of devices"
		module.version = "15.0"

Module #19
	Name: module-suspend-on-idle
	Argument: 
	Usage counter: n/a
	Properties:
		module.author = "Lennart Poettering"
		module.description = "When a sink/source is idle for too long, suspend it"
		module.version = "15.0"

Module #20
	Name: module-console-kit
	Argument: 
	Usage counter: n/a
	Properties:
		module.author = "Lennart Poettering"
		module.description = "Create a client for each ConsoleKit session of this user"
		module.version = "15.0"

Module #21
	Name: module-systemd-login
	Argument: 
	Usage counter: n/a
	Properties:
		module.author = "Lennart Poettering"
		module.description = "Create a client for each login session of this user"
		module.version = "15.0"

Module #22
	Name: module-position-event-sounds
	Argument: 
	Usage counter: n/a
	Properties:
		module.author = "Lennart Poettering"
		module.description = "Position event sounds between L and R depending on the position on screen of the widget triggering them."
		module.version = "15.0"

Module #23
	Name: module-role-cork
	Argument: 
	Usage counter: n/a
	Properties:
		module.author = "Lennart Poettering"
		module.description = "Mute & cork streams with certain roles while others exist"
		module.version = "15.0"

Module #24
	Name: module-filter-heuristics
	Argument: 
	Usage counter: n/a
	Properties:
		module.author = "Colin Guthrie"
		module.description = "Detect when various filters are desirable"
		module.version = "15.0"

Module #25
	Name: module-filter-apply
	Argument: 
	Usage counter: n/a
	Properties:
		module.author = "Colin Guthrie"
		module.description = "Load filter sinks automatically when needed"
		module.version = "15.0"

Sink #0
	State: SUSPENDED
	Name: auto_null
	Description: Dummy Output
	Driver: module-null-sink.c
	Sample Specification: s16le 2ch 44100Hz
	Channel Map: front-left,front-right
	Owner Module: 17
	Mute: no
	Volume: front-left: 30174 /  46% / -20.21 dB,   front-right: 30174 /  46% / -20.21 dB
	        balance 0.00
	Base Volume: 65536 / 100% / 0.00 dB
	Monitor Source: auto_null.monitor
	Latency: 0 usec, configured 0 usec
	Flags: DECIBEL_VOLUME LATENCY SET_FORMATS 
	Properties:
		device.description = "Dummy Output"
		device.class = "abstract"
		device.icon_name = "audio-card"
	Formats:
		pcm

Source #0
	State: SUSPENDED
	Name: auto_null.monitor
	Description: Monitor of Dummy Output
	Driver: module-null-sink.c
	Sample Specification: s16le 2ch 44100Hz
	Channel Map: front-left,front-right
	Owner Module: 17
	Mute: no
	Volume: front-left: 65536 / 100% / 0.00 dB,   front-right: 65536 / 100% / 0.00 dB
	        balance 0.00
	Base Volume: 65536 / 100% / 0.00 dB
	Monitor of Sink: auto_null
	Latency: 0 usec, configured 0 usec
	Flags: DECIBEL_VOLUME LATENCY 
	Properties:
		device.description = "Monitor of Dummy Output"
		device.class = "monitor"
		device.icon_name = "audio-input-microphone"
	Formats:
		pcm

Client #0
	Driver: module-systemd-login.c
	Owner Module: 21
	Properties:
		application.name = "Login Session 1"
		systemd-login.session = "1"

Client #1
	Driver: protocol-native.c
	Owner Module: 13
	Properties:
		application.name = "GNOME Shell Volume Control"
		native-protocol.peer = "UNIX socket client"
		native-protocol.version = "35"
		application.id = "org.gnome.VolumeControl"
		application.icon_name = "multimedia-volume-control"
		application.version = "40.5"
		application.process.id = "787"
		application.process.user = "friska"
		application.process.host = "Everlight"
		application.process.binary = "gnome-shell"
		application.language = "en_US.UTF-8"
		window.x11.display = ":0"
		application.process.machine_id = "0b4d42d6681540f19f0be81b1812c02c"

Client #2
	Driver: protocol-native.c
	Owner Module: 13
	Properties:
		application.name = "GNOME Volume Control Media Keys"
		native-protocol.peer = "UNIX socket client"
		native-protocol.version = "35"
		application.id = "org.gnome.VolumeControl"
		application.icon_name = "multimedia-volume-control"
		application.version = ""
		application.process.id = "1029"
		application.process.user = "friska"
		application.process.host = "Everlight"
		application.process.binary = "gsd-media-keys"
		application.language = "en_US.UTF-8"
		window.x11.display = ":0"
		application.process.machine_id = "0b4d42d6681540f19f0be81b1812c02c"

Client #3
	Driver: protocol-native.c
	Owner Module: 13
	Properties:
		application.name = "pa-applet"
		native-protocol.peer = "UNIX socket client"
		native-protocol.version = "35"
		application.process.id = "1150"
		application.process.user = "friska"
		application.process.host = "Everlight"
		application.process.binary = "pa-applet"
		application.language = "en_US.UTF-8"
		window.x11.display = ":0"
		application.process.machine_id = "0b4d42d6681540f19f0be81b1812c02c"

Client #4
	Driver: protocol-native.c
	Owner Module: 13
	Properties:
		application.name = "GSConnect"
		native-protocol.peer = "UNIX socket client"
		native-protocol.version = "35"
		application.id = "org.gnome.VolumeControl"
		application.icon_name = "multimedia-volume-control"
		application.version = "40.5"
		application.process.id = "1262"
		application.process.user = "friska"
		application.process.host = "Everlight"
		application.process.binary = "gjs-console"
		application.language = "en_US.UTF-8"
		window.x11.display = ":0"
		application.process.machine_id = "0b4d42d6681540f19f0be81b1812c02c"

Client #5
	Driver: protocol-native.c
	Owner Module: 13
	Properties:
		application.name = "WEBRTC VoiceEngine"
		native-protocol.peer = "UNIX socket client"
		native-protocol.version = "35"
		application.process.id = "1872"
		application.process.user = "friska"
		application.process.host = "Everlight"
		application.process.binary = "Discord"
		application.language = "en_US.UTF-8"
		window.x11.display = ":0"
		application.process.machine_id = "0b4d42d6681540f19f0be81b1812c02c"

Client #6
	Driver: protocol-native.c
	Owner Module: 13
	Properties:
		application.name = "Chromium input"
		native-protocol.peer = "UNIX socket client"
		native-protocol.version = "35"
		application.process.id = "1965"
		application.process.user = "friska"
		application.process.host = "Everlight"
		application.process.binary = "Discord"
		application.language = "en_US.UTF-8"
		window.x11.display = ":0"
		application.process.machine_id = "0b4d42d6681540f19f0be81b1812c02c"

Client #9
	Driver: protocol-native.c
	Owner Module: 13
	Properties:
		application.name = "Chromium input"
		native-protocol.peer = "UNIX socket client"
		native-protocol.version = "35"
		application.process.id = "2312"
		application.process.user = "friska"
		application.process.host = "Everlight"
		application.process.binary = "electron"
		application.language = "en_US.UTF-8"
		window.x11.display = ":0"
		application.process.machine_id = "0b4d42d6681540f19f0be81b1812c02c"

Client #11
	Driver: protocol-native.c
	Owner Module: 13
	Properties:
		application.name = "Mutter"
		native-protocol.peer = "UNIX socket client"
		native-protocol.version = "35"
		application.process.id = "787"
		application.process.user = "friska"
		application.process.host = "Everlight"
		application.process.binary = "gnome-shell"
		application.language = "en_US.UTF-8"
		window.x11.display = ":0"
		application.process.machine_id = "0b4d42d6681540f19f0be81b1812c02c"

Client #13
	Driver: protocol-native.c
	Owner Module: 13
	Properties:
		application.name = "Firefox"
		native-protocol.peer = "UNIX socket client"
		native-protocol.version = "35"
		application.process.id = "2625"
		application.process.user = "friska"
		application.process.host = "Everlight"
		application.process.binary = "firefox"
		application.language = "en_US.UTF-8"
		window.x11.display = ":0"
		application.process.machine_id = "0b4d42d6681540f19f0be81b1812c02c"
		application.icon_name = "firefox"

Client #17
	Driver: protocol-native.c
	Owner Module: 13
	Properties:
		application.name = "pactl"
		native-protocol.peer = "UNIX socket client"
		native-protocol.version = "35"
		application.process.id = "5518"
		application.process.user = "friska"
		application.process.host = "Everlight"
		application.process.binary = "pactl"
		application.language = "C"
		window.x11.display = ":0"
		application.process.machine_id = "0b4d42d6681540f19f0be81b1812c02c"

Card #0
	Name: alsa_card.pci-0000_09_00.1
	Driver: module-alsa-card.c
	Owner Module: 6
	Properties:
		alsa.card = "0"
		alsa.card_name = "HDA NVidia"
		alsa.long_card_name = "HDA NVidia at 0xfc080000 irq 88"
		alsa.driver_name = "snd_hda_intel"
		device.bus_path = "pci-0000:09:00.1"
		sysfs.path = "/devices/pci0000:00/0000:00:03.1/0000:09:00.1/sound/card0"
		device.bus = "pci"
		device.vendor.id = "10de"
		device.vendor.name = "NVIDIA Corporation"
		device.product.id = "10fa"
		device.string = "0"
		device.description = "HDA NVidia"
		module-udev-detect.discovered = "1"
		device.icon_name = "audio-card-pci"
	Profiles:
		output:hdmi-stereo: Digital Stereo (HDMI) Output (sinks: 1, sources: 0, priority: 5900, available: no)
		output:hdmi-surround: Digital Surround 5.1 (HDMI) Output (sinks: 1, sources: 0, priority: 800, available: no)
		output:hdmi-surround71: Digital Surround 7.1 (HDMI) Output (sinks: 1, sources: 0, priority: 800, available: no)
		output:hdmi-stereo-extra1: Digital Stereo (HDMI 2) Output (sinks: 1, sources: 0, priority: 5700, available: no)
		output:hdmi-surround-extra1: Digital Surround 5.1 (HDMI 2) Output (sinks: 1, sources: 0, priority: 600, available: no)
		output:hdmi-surround71-extra1: Digital Surround 7.1 (HDMI 2) Output (sinks: 1, sources: 0, priority: 600, available: no)
		output:hdmi-stereo-extra2: Digital Stereo (HDMI 3) Output (sinks: 1, sources: 0, priority: 5700, available: no)
		output:hdmi-surround-extra2: Digital Surround 5.1 (HDMI 3) Output (sinks: 1, sources: 0, priority: 600, available: no)
		output:hdmi-surround71-extra2: Digital Surround 7.1 (HDMI 3) Output (sinks: 1, sources: 0, priority: 600, available: no)
		output:hdmi-stereo-extra3: Digital Stereo (HDMI 4) Output (sinks: 1, sources: 0, priority: 5700, available: no)
		output:hdmi-surround-extra3: Digital Surround 5.1 (HDMI 4) Output (sinks: 1, sources: 0, priority: 600, available: no)
		output:hdmi-surround71-extra3: Digital Surround 7.1 (HDMI 4) Output (sinks: 1, sources: 0, priority: 600, available: no)
		output:hdmi-stereo-extra4: Digital Stereo (HDMI 5) Output (sinks: 1, sources: 0, priority: 5700, available: no)
		output:hdmi-surround-extra4: Digital Surround 5.1 (HDMI 5) Output (sinks: 1, sources: 0, priority: 600, available: no)
		output:hdmi-surround71-extra4: Digital Surround 7.1 (HDMI 5) Output (sinks: 1, sources: 0, priority: 600, available: no)
		output:hdmi-stereo-extra5: Digital Stereo (HDMI 6) Output (sinks: 1, sources: 0, priority: 5700, available: no)
		output:hdmi-surround-extra5: Digital Surround 5.1 (HDMI 6) Output (sinks: 1, sources: 0, priority: 600, available: no)
		output:hdmi-surround71-extra5: Digital Surround 7.1 (HDMI 6) Output (sinks: 1, sources: 0, priority: 600, available: no)
		off: Off (sinks: 0, sources: 0, priority: 0, available: yes)
	Active Profile: off
	Ports:
		hdmi-output-0: HDMI / DisplayPort (type: HDMI, priority: 5900, latency offset: 0 usec, not available)
			Properties:
				device.icon_name = "video-display"
			Part of profile(s): output:hdmi-stereo, output:hdmi-surround, output:hdmi-surround71
		hdmi-output-1: HDMI / DisplayPort 2 (type: HDMI, priority: 5800, latency offset: 0 usec, not available)
			Properties:
				device.icon_name = "video-display"
			Part of profile(s): output:hdmi-stereo-extra1, output:hdmi-surround-extra1, output:hdmi-surround71-extra1
		hdmi-output-2: HDMI / DisplayPort 3 (type: HDMI, priority: 5700, latency offset: 0 usec, not available)
			Properties:
				device.icon_name = "video-display"
			Part of profile(s): output:hdmi-stereo-extra2, output:hdmi-surround-extra2, output:hdmi-surround71-extra2
		hdmi-output-3: HDMI / DisplayPort 4 (type: HDMI, priority: 5600, latency offset: 0 usec, not available)
			Properties:
				device.icon_name = "video-display"
			Part of profile(s): output:hdmi-stereo-extra3, output:hdmi-surround-extra3, output:hdmi-surround71-extra3
		hdmi-output-4: HDMI / DisplayPort 5 (type: HDMI, priority: 5500, latency offset: 0 usec, not available)
			Properties:
				device.icon_name = "video-display"
			Part of profile(s): output:hdmi-stereo-extra4, output:hdmi-surround-extra4, output:hdmi-surround71-extra4
		hdmi-output-5: HDMI / DisplayPort 6 (type: HDMI, priority: 5400, latency offset: 0 usec, not available)
			Properties:
				device.icon_name = "video-display"
			Part of profile(s): output:hdmi-stereo-extra5, output:hdmi-surround-extra5, output:hdmi-surround71-extra5

Card #1
	Name: alsa_card.pci-0000_0b_00.4
	Driver: module-alsa-card.c
	Owner Module: 7
	Properties:
		alsa.card = "1"
		alsa.card_name = "HD-Audio Generic"
		alsa.long_card_name = "HD-Audio Generic at 0xfc400000 irq 90"
		alsa.driver_name = "snd_hda_intel"
		device.bus_path = "pci-0000:0b:00.4"
		sysfs.path = "/devices/pci0000:00/0000:00:08.1/0000:0b:00.4/sound/card1"
		device.bus = "pci"
		device.vendor.id = "1022"
		device.vendor.name = "Advanced Micro Devices, Inc. [AMD]"
		device.product.id = "1487"
		device.product.name = "Starship/Matisse HD Audio Controller"
		device.string = "1"
		device.description = "Starship/Matisse HD Audio Controller"
		module-udev-detect.discovered = "1"
		device.icon_name = "audio-card-pci"
	Profiles:
		input:analog-stereo: Analog Stereo Input (sinks: 0, sources: 1, priority: 65, available: no)
		output:analog-stereo: Analog Stereo Output (sinks: 1, sources: 0, priority: 6500, available: no)
		output:analog-stereo+input:analog-stereo: Analog Stereo Duplex (sinks: 1, sources: 1, priority: 6565, available: no)
		off: Off (sinks: 0, sources: 0, priority: 0, available: yes)
	Active Profile: off
	Ports:
		analog-input-front-mic: Front Microphone (type: Mic, priority: 8500, latency offset: 0 usec, not available)
			Properties:
				device.icon_name = "audio-input-microphone"
			Part of profile(s): input:analog-stereo, output:analog-stereo+input:analog-stereo
		analog-input-rear-mic: Rear Microphone (type: Mic, priority: 8200, latency offset: 0 usec, not available)
			Properties:
				device.icon_name = "audio-input-microphone"
			Part of profile(s): input:analog-stereo, output:analog-stereo+input:analog-stereo
		analog-input-linein: Line In (type: Line, priority: 8100, latency offset: 0 usec, not available)
			Part of profile(s): input:analog-stereo, output:analog-stereo+input:analog-stereo
		analog-output-lineout: Line Out (type: Line, priority: 9000, latency offset: 0 usec, not available)
			Part of profile(s): output:analog-stereo, output:analog-stereo+input:analog-stereo
		analog-output-headphones: Headphones (type: Headphones, priority: 9900, latency offset: 0 usec, not available)
			Properties:
				device.icon_name = "audio-headphones"
			Part of profile(s): output:analog-stereo, output:analog-stereo+input:analog-stereo
________________
> cat /etc/pulse/daemon.conf
# This file is part of PulseAudio.
#
# PulseAudio is free software; you can redistribute it and/or modify
# it under the terms of the GNU Lesser General Public License as published by
# the Free Software Foundation; either version 2 of the License, or
# (at your option) any later version.
#
# PulseAudio is distributed in the hope that it will be useful, but
# WITHOUT ANY WARRANTY; without even the implied warranty of
# MERCHANTABILITY or FITNESS FOR A PARTICULAR PURPOSE. See the GNU
# General Public License for more details.
#
# You should have received a copy of the GNU Lesser General Public License
# along with PulseAudio; if not, see <http://www.gnu.org/licenses/>.

## Configuration file for the PulseAudio daemon. See pulse-daemon.conf(5) for
## more information. Default values are commented out.  Use either ; or # for
## commenting.

; daemonize = no
; fail = yes
; allow-module-loading = yes
; allow-exit = yes
; use-pid-file = yes
; system-instance = no
; local-server-type = user
; enable-shm = yes
; enable-memfd = yes
; shm-size-bytes = 0 # setting this 0 will use the system-default, usually 64 MiB
; lock-memory = no
; cpu-limit = no

; high-priority = yes
; nice-level = -11

; realtime-scheduling = yes
; realtime-priority = 5

; exit-idle-time = 20
; scache-idle-time = 20

; dl-search-path = (depends on architecture)

; load-default-script-file = yes
; default-script-file = /etc/pulse/default.pa

; log-target = auto
; log-level = notice
; log-meta = no
; log-time = no
; log-backtrace = 0

; resample-method = speex-float-1
; avoid-resampling = false
; enable-remixing = yes
; remixing-use-all-sink-channels = yes
; remixing-produce-lfe = no
; remixing-consume-lfe = no
; lfe-crossover-freq = 0

; flat-volumes = no

; rescue-streams = yes

; rlimit-fsize = -1
; rlimit-data = -1
; rlimit-stack = -1
; rlimit-core = -1
; rlimit-as = -1
; rlimit-rss = -1
; rlimit-nproc = -1
; rlimit-nofile = 256
; rlimit-memlock = -1
; rlimit-locks = -1
; rlimit-sigpending = -1
; rlimit-msgqueue = -1
; rlimit-nice = 31
; rlimit-rtprio = 9
; rlimit-rttime = 200000

; default-sample-format = s16le
; default-sample-rate = 44100
; alternate-sample-rate = 48000
; default-sample-channels = 2
; default-channel-map = front-left,front-right

; default-fragments = 4
; default-fragment-size-msec = 25

; enable-deferred-volume = yes
; deferred-volume-safety-margin-usec = 8000
; deferred-volume-extra-delay-usec = 0
________________
> cat /etc/pulse/client.conf
# This file is part of PulseAudio.
#
# PulseAudio is free software; you can redistribute it and/or modify
# it under the terms of the GNU Lesser General Public License as published by
# the Free Software Foundation; either version 2 of the License, or
# (at your option) any later version.
#
# PulseAudio is distributed in the hope that it will be useful, but
# WITHOUT ANY WARRANTY; without even the implied warranty of
# MERCHANTABILITY or FITNESS FOR A PARTICULAR PURPOSE. See the GNU
# General Public License for more details.
#
# You should have received a copy of the GNU Lesser General Public License
# along with PulseAudio; if not, see <http://www.gnu.org/licenses/>.

## Configuration file for PulseAudio clients. See pulse-client.conf(5) for
## more information. Default values are commented out.  Use either ; or # for
## commenting.

; default-sink =
; default-source =
; default-server =
; default-dbus-server =

autospawn = no
; autospawn = yes
; daemon-binary = /usr/bin/pulseaudio
; extra-arguments = --log-target=syslog

; cookie-file =

; enable-shm = yes
; shm-size-bytes = 0 # setting this 0 will use the system-default, usually 64 MiB

; auto-connect-localhost = no
; auto-connect-display = no
________________
> cat /etc/pulse/default.pa
#!/usr/bin/pulseaudio -nF
#
# This file is part of PulseAudio.
#
# PulseAudio is free software; you can redistribute it and/or modify it
# under the terms of the GNU Lesser General Public License as published by
# the Free Software Foundation; either version 2 of the License, or
# (at your option) any later version.
#
# PulseAudio is distributed in the hope that it will be useful, but
# WITHOUT ANY WARRANTY; without even the implied warranty of
# MERCHANTABILITY or FITNESS FOR A PARTICULAR PURPOSE. See the GNU
# General Public License for more details.
#
# You should have received a copy of the GNU Lesser General Public License
# along with PulseAudio; if not, see <http://www.gnu.org/licenses/>.

# This startup script is used only if PulseAudio is started per-user
# (i.e. not in system mode)

.fail

### Automatically restore the volume of streams and devices
load-module module-device-restore
load-module module-stream-restore
load-module module-card-restore

### Automatically augment property information from .desktop files
### stored in /usr/share/application
load-module module-augment-properties

### Should be after module-*-restore but before module-*-detect
load-module module-switch-on-port-available

### Load audio drivers statically
### (it's probably better to not load these drivers manually, but instead
### use module-udev-detect -- see below -- for doing this automatically)
#load-module module-alsa-sink
#load-module module-alsa-source device=hw:1,0
#load-module module-oss device="/dev/dsp" sink_name=output source_name=input
#load-module module-oss-mmap device="/dev/dsp" sink_name=output source_name=input
#load-module module-null-sink
#load-module module-pipe-sink

### Automatically load driver modules depending on the hardware available
.ifexists module-udev-detect.so
load-module module-udev-detect
.else
### Use the static hardware detection module (for systems that lack udev support)
load-module module-detect
.endif

### Automatically connect sink and source if JACK server is present
.ifexists module-jackdbus-detect.so
.nofail
load-module module-jackdbus-detect channels=2
.fail
.endif

### Automatically load driver modules for Bluetooth hardware
.ifexists module-bluetooth-policy.so
load-module module-bluetooth-policy
.endif

.ifexists module-bluetooth-discover.so
load-module module-bluetooth-discover
.endif

### Load several protocols
load-module module-dbus-protocol
.ifexists module-esound-protocol-unix.so
load-module module-esound-protocol-unix
.endif
load-module module-native-protocol-unix

### Network access (may be configured with paprefs, so leave this commented
### here if you plan to use paprefs)
#load-module module-esound-protocol-tcp
#load-module module-native-protocol-tcp
#load-module module-zeroconf-publish

### Load the RTP receiver module (also configured via paprefs, see above)
#load-module module-rtp-recv

### Load the RTP sender module (also configured via paprefs, see above)
#load-module module-null-sink sink_name=rtp format=s16be channels=2 rate=44100 sink_properties="device.description='RTP Multicast Sink'"
#load-module module-rtp-send source=rtp.monitor

### Load additional modules from GSettings. This can be configured with the paprefs tool.
### Please keep in mind that the modules configured by paprefs might conflict with manually
### loaded modules.
.ifexists module-gsettings.so
.nofail
load-module module-gsettings
.fail
.endif

### Automatically restore the default sink/source when changed by the user
### during runtime
### NOTE: This should be loaded as early as possible so that subsequent modules
### that look up the default sink/source get the right value
load-module module-default-device-restore

### Make sure we always have a sink around, even if it is a null sink.
load-module module-always-sink

### Honour intended role device property
load-module module-intended-roles

### Automatically suspend sinks/sources that become idle for too long
load-module module-suspend-on-idle

### If autoexit on idle is enabled we want to make sure we only quit
### when no local session needs us anymore.
.ifexists module-console-kit.so
load-module module-console-kit
.endif
.ifexists module-systemd-login.so
load-module module-systemd-login
.endif

### Enable positioned event sounds
load-module module-position-event-sounds

### Cork music/video streams when a phone stream is active
load-module module-role-cork

### Modules to allow autoloading of filters (such as echo cancellation)
### on demand. module-filter-heuristics tries to determine what filters
### make sense, and module-filter-apply does the heavy-lifting of
### loading modules and rerouting streams.
load-module module-filter-heuristics
load-module module-filter-apply

### Make some devices default
#set-default-sink output
#set-default-source input

### Allow including a default.pa.d directory, which if present, can be used
### for additional configuration snippets.
.nofail
.include /etc/pulse/default.pa.d
________________
> cat /etc/pulse/system.pa
#!/usr/bin/pulseaudio -nF
#
# This file is part of PulseAudio.
#
# PulseAudio is free software; you can redistribute it and/or modify it
# under the terms of the GNU Lesser General Public License as published by
# the Free Software Foundation; either version 2 of the License, or
# (at your option) any later version.
#
# PulseAudio is distributed in the hope that it will be useful, but
# WITHOUT ANY WARRANTY; without even the implied warranty of
# MERCHANTABILITY or FITNESS FOR A PARTICULAR PURPOSE. See the GNU
# General Public License for more details.
#
# You should have received a copy of the GNU Lesser General Public License
# along with PulseAudio; if not, see <http://www.gnu.org/licenses/>.

# This startup script is used only if PulseAudio is started in system
# mode.

### Automatically restore the volume of streams and devices
load-module module-device-restore
load-module module-stream-restore
load-module module-card-restore

### Automatically load driver modules depending on the hardware available
.ifexists module-udev-detect.so
load-module module-udev-detect
.else
### Use the static hardware detection module (for systems that lack udev/hal support)
load-module module-detect
.endif

### Load several protocols
.ifexists module-esound-protocol-unix.so
load-module module-esound-protocol-unix
.endif
load-module module-native-protocol-unix

### Automatically restore the default sink/source when changed by the user
### during runtime
### NOTE: This should be loaded as early as possible so that subsequent modules
### that look up the default sink/source get the right value
load-module module-default-device-restore

### Make sure we always have a sink around, even if it is a null sink.
load-module module-always-sink

### Automatically suspend sinks/sources that become idle for too long
load-module module-suspend-on-idle

### Enable positioned event sounds
load-module module-position-event-sounds

### Allow including a system.pa.d directory, which if present, can be used
### for additional configuration snippets.
.nofail
.include /etc/pulse/system.pa.d
________________
> ls -alt /dev/snd/*
crw-rw----+ 1 root audio 116, 11 Oct 20 16:21 /dev/snd/pcmC1D0c
crw-rw----+ 1 root audio 116, 10 Oct 20 16:21 /dev/snd/pcmC1D0p
crw-rw----+ 1 root audio 116,  7 Oct 20 16:21 /dev/snd/pcmC0D11p
crw-rw----+ 1 root audio 116,  6 Oct 20 16:21 /dev/snd/pcmC0D10p
crw-rw----+ 1 root audio 116,  5 Oct 20 16:21 /dev/snd/pcmC0D9p
crw-rw----+ 1 root audio 116,  4 Oct 20 16:21 /dev/snd/pcmC0D8p
crw-rw----+ 1 root audio 116,  3 Oct 20 16:21 /dev/snd/pcmC0D7p
crw-rw----+ 1 root audio 116,  2 Oct 20 16:21 /dev/snd/pcmC0D3p
crw-rw----+ 1 root audio 116, 14 Oct 20 16:21 /dev/snd/controlC1
crw-rw----+ 1 root audio 116, 13 Oct 20 16:21 /dev/snd/hwC1D0
crw-rw----+ 1 root audio 116, 12 Oct 20 16:21 /dev/snd/pcmC1D2c
crw-rw----+ 1 root audio 116,  9 Oct 20 16:21 /dev/snd/controlC0
crw-rw----+ 1 root audio 116,  8 Oct 20 16:21 /dev/snd/hwC0D0
crw-rw----+ 1 root audio 116, 33 Oct 20 16:21 /dev/snd/timer
crw-rw----+ 1 root audio 116,  1 Oct 20 16:21 /dev/snd/seq

/dev/snd/by-path:
total 0
drwxr-xr-x 2 root root  80 Oct 20 16:21 .
lrwxrwxrwx 1 root root  12 Oct 20 16:21 pci-0000:0b:00.4 -> ../controlC1
drwxr-xr-x 3 root root 360 Oct 20 16:21 ..
lrwxrwxrwx 1 root root  12 Oct 20 16:21 pci-0000:09:00.1 -> ../controlC0
________________
> lsof /dev/snd/*
COMMAND   PID   USER   FD   TYPE DEVICE SIZE/OFF NODE NAME
pulseaudi 872 friska   16u   CHR 116,14      0t0  533 /dev/snd/controlC1
pulseaudi 872 friska   18u   CHR  116,9      0t0  521 /dev/snd/controlC0
________________
> jacks_do
card=0
numid=25,iface=CARD,name='HDMI/DP,pcm=10 Jack'
  ; type=BOOLEAN,access=r-------,values=1
  : values=off
numid=31,iface=CARD,name='HDMI/DP,pcm=11 Jack'
  ; type=BOOLEAN,access=r-------,values=1
  : values=off
numid=1,iface=CARD,name='HDMI/DP,pcm=3 Jack'
  ; type=BOOLEAN,access=r-------,values=1
  : values=off
numid=7,iface=CARD,name='HDMI/DP,pcm=7 Jack'
  ; type=BOOLEAN,access=r-------,values=1
  : values=off
numid=13,iface=CARD,name='HDMI/DP,pcm=8 Jack'
  ; type=BOOLEAN,access=r-------,values=1
  : values=off
numid=19,iface=CARD,name='HDMI/DP,pcm=9 Jack'
  ; type=BOOLEAN,access=r-------,values=1
  : values=off
card=1
numid=35,iface=CARD,name='Front Headphone Jack'
  ; type=BOOLEAN,access=r-------,values=1
  : values=off
numid=31,iface=CARD,name='Front Mic Jack'
  ; type=BOOLEAN,access=r-------,values=1
  : values=off
numid=33,iface=CARD,name='Line Jack'
  ; type=BOOLEAN,access=r-------,values=1
  : values=off
numid=34,iface=CARD,name='Line Out Jack'
  ; type=BOOLEAN,access=r-------,values=1
  : values=off
numid=32,iface=CARD,name='Rear Mic Jack'
  ; type=BOOLEAN,access=r-------,values=1
  : values=off
________________
> aplay -L
null
    Discard all samples (playback) or generate zero samples (capture)
samplerate
    Rate Converter Plugin Using Samplerate Library
speexrate
    Rate Converter Plugin Using Speex Resampler
jack
    JACK Audio Connection Kit
oss
    Open Sound System
pipewire
    PipeWire Sound Server
pulse
    PulseAudio Sound Server
speex
    Plugin using Speex DSP (resample, agc, denoise, echo, dereverb)
upmix
    Plugin for channel upmix (4,6,8)
vdownmix
    Plugin for channel downmix (stereo) with a simple spacialization
default
    Default ALSA Output (currently PulseAudio Sound Server)
hdmi:CARD=NVidia,DEV=0
    HDA NVidia, HDMI 0
    HDMI Audio Output
hdmi:CARD=NVidia,DEV=1
    HDA NVidia, HDMI 1
    HDMI Audio Output
hdmi:CARD=NVidia,DEV=2
    HDA NVidia, HDMI 2
    HDMI Audio Output
hdmi:CARD=NVidia,DEV=3
    HDA NVidia, HDMI 3
    HDMI Audio Output
hdmi:CARD=NVidia,DEV=4
    HDA NVidia, HDMI 4
    HDMI Audio Output
hdmi:CARD=NVidia,DEV=5
    HDA NVidia, HDMI 5
    HDMI Audio Output
usbstream:CARD=NVidia
    HDA NVidia
    USB Stream Output
sysdefault:CARD=Generic
    HD-Audio Generic, ALC887-VD Analog
    Default Audio Device
front:CARD=Generic,DEV=0
    HD-Audio Generic, ALC887-VD Analog
    Front output / input
surround21:CARD=Generic,DEV=0
    HD-Audio Generic, ALC887-VD Analog
    2.1 Surround output to Front and Subwoofer speakers
surround40:CARD=Generic,DEV=0
    HD-Audio Generic, ALC887-VD Analog
    4.0 Surround output to Front and Rear speakers
surround41:CARD=Generic,DEV=0
    HD-Audio Generic, ALC887-VD Analog
    4.1 Surround output to Front, Rear and Subwoofer speakers
surround50:CARD=Generic,DEV=0
    HD-Audio Generic, ALC887-VD Analog
    5.0 Surround output to Front, Center and Rear speakers
surround51:CARD=Generic,DEV=0
    HD-Audio Generic, ALC887-VD Analog
    5.1 Surround output to Front, Center, Rear and Subwoofer speakers
surround71:CARD=Generic,DEV=0
    HD-Audio Generic, ALC887-VD Analog
    7.1 Surround output to Front, Center, Side, Rear and Woofer speakers
usbstream:CARD=Generic
    HD-Audio Generic
    USB Stream Output
________________
> arecord -L
null
    Discard all samples (playback) or generate zero samples (capture)
samplerate
    Rate Converter Plugin Using Samplerate Library
speexrate
    Rate Converter Plugin Using Speex Resampler
jack
    JACK Audio Connection Kit
oss
    Open Sound System
pipewire
    PipeWire Sound Server
pulse
    PulseAudio Sound Server
speex
    Plugin using Speex DSP (resample, agc, denoise, echo, dereverb)
upmix
    Plugin for channel upmix (4,6,8)
vdownmix
    Plugin for channel downmix (stereo) with a simple spacialization
default
    Default ALSA Output (currently PulseAudio Sound Server)
usbstream:CARD=NVidia
    HDA NVidia
    USB Stream Output
sysdefault:CARD=Generic
    HD-Audio Generic, ALC887-VD Analog
    Default Audio Device
front:CARD=Generic,DEV=0
    HD-Audio Generic, ALC887-VD Analog
    Front output / input
usbstream:CARD=Generic
    HD-Audio Generic
    USB Stream Output
________________
> alsa_info_do
/usr/bin/alsa-info.sh: line 661: tree: command not found
/usr/bin/alsa-info.sh: line 661: tree: command not found
dmesg: read kernel buffer failed: Operation not permitted
upload=true&script=true&cardinfo=
!!################################
!!ALSA Information Script v 0.5.0
!!################################

!!Script ran on: Wed Oct 20 09:27:44 UTC 2021


!!Linux Distribution
!!------------------

ID_LIKE=arch


!!DMI Information
!!---------------

Manufacturer:      To Be Filled By O.E.M.
Product Name:      To Be Filled By O.E.M.
Product Version:   To Be Filled By O.E.M.
Firmware Version:  P4.30
System SKU:        To Be Filled By O.E.M.
Board Vendor:      ASRock
Board Name:        B450M-HDV R4.0


!!ACPI Device Status Information
!!---------------

/sys/bus/acpi/devices/AMDI0030:00/status 	 15
/sys/bus/acpi/devices/AMDIF030:00/status 	 15
/sys/bus/acpi/devices/PNP0103:00/status 	 15
/sys/bus/acpi/devices/PNP0501:00/status 	 15
/sys/bus/acpi/devices/PNP0A08:00/status 	 15
/sys/bus/acpi/devices/PNP0C01:00/status 	 15
/sys/bus/acpi/devices/PNP0C02:01/status 	 15
/sys/bus/acpi/devices/PNP0C02:03/status 	 15
/sys/bus/acpi/devices/PNP0C0C:00/status 	 11
/sys/bus/acpi/devices/PNP0C0F:00/status 	 11
/sys/bus/acpi/devices/PNP0C0F:01/status 	 11
/sys/bus/acpi/devices/PNP0C0F:02/status 	 11
/sys/bus/acpi/devices/PNP0C0F:03/status 	 11
/sys/bus/acpi/devices/PNP0C0F:04/status 	 11
/sys/bus/acpi/devices/PNP0C0F:05/status 	 11
/sys/bus/acpi/devices/PNP0C0F:06/status 	 11
/sys/bus/acpi/devices/PNP0C0F:07/status 	 11


!!Kernel Information
!!------------------

Kernel release:    5.13.19-2-MANJARO
Operating System:  GNU/Linux
Architecture:      x86_64
Processor:         unknown
SMP Enabled:       Yes


!!ALSA Version
!!------------

Driver version:     k5.13.19-2-MANJARO
Library version:    1.2.5.1
Utilities version:  1.2.5.1


!!Loaded ALSA modules
!!-------------------

snd_hda_intel (card 0)
snd_hda_intel (card 1)


!!Sound Servers on this system
!!----------------------------

PipeWire:
      Installed - Yes (/usr/bin/pipewire)
      Running - No

Pulseaudio:
      Installed - Yes (/usr/bin/pulseaudio)
      Running - Yes

Jack:
      Installed - Yes (/usr/bin/jackd)
      Running - No


!!Soundcards recognised by ALSA
!!-----------------------------

 0 [NVidia         ]: HDA-Intel - HDA NVidia
                      HDA NVidia at 0xfc080000 irq 88
 1 [Generic        ]: HDA-Intel - HD-Audio Generic
                      HD-Audio Generic at 0xfc400000 irq 90


!!PCI Soundcards installed in the system
!!--------------------------------------

09:00.1 Audio device [0403]: NVIDIA Corporation Device [10de:10fa] (rev a1)
	Subsystem: NVIDIA Corporation Device [10de:1f82]
0b:00.4 Audio device [0403]: Advanced Micro Devices, Inc. [AMD] Starship/Matisse HD Audio Controller [1022:1487]
	Subsystem: ASRock Incorporation Device [1849:d887]


!!Loaded sound module options
!!---------------------------

!!Module: snd_hda_intel
	align_buffer_size : -1
	bdl_pos_adj : -1,-1,-1,-1,-1,-1,-1,-1,-1,-1,-1,-1,-1,-1,-1,-1,-1,-1,-1,-1,-1,-1,-1,-1,-1,-1,-1,-1,-1,-1,-1,-1
	beep_mode : N,N,N,N,N,N,N,N,N,N,N,N,N,N,N,N,N,N,N,N,N,N,N,N,N,N,N,N,N,N,N,N
	dmic_detect : Y
	enable : Y,Y,Y,Y,Y,Y,Y,Y,Y,Y,Y,Y,Y,Y,Y,Y,Y,Y,Y,Y,Y,Y,Y,Y,Y,Y,Y,Y,Y,Y,Y,Y
	enable_msi : -1
	id : (null),(null),(null),(null),(null),(null),(null),(null),(null),(null),(null),(null),(null),(null),(null),(null),(null),(null),(null),(null),(null),(null),(null),(null),(null),(null),(null),(null),(null),(null),(null),(null)
	index : -1,-1,-1,-1,-1,-1,-1,-1,-1,-1,-1,-1,-1,-1,-1,-1,-1,-1,-1,-1,-1,-1,-1,-1,-1,-1,-1,-1,-1,-1,-1,-1
	jackpoll_ms : 0,0,0,0,0,0,0,0,0,0,0,0,0,0,0,0,0,0,0,0,0,0,0,0,0,0,0,0,0,0,0,0
	model : (null),(null),(null),(null),(null),(null),(null),(null),(null),(null),(null),(null),(null),(null),(null),(null),(null),(null),(null),(null),(null),(null),(null),(null),(null),(null),(null),(null),(null),(null),(null),(null)
	patch : (null),(null),(null),(null),(null),(null),(null),(null),(null),(null),(null),(null),(null),(null),(null),(null),(null),(null),(null),(null),(null),(null),(null),(null),(null),(null),(null),(null),(null),(null),(null),(null)
	pm_blacklist : Y
	position_fix : -1,-1,-1,-1,-1,-1,-1,-1,-1,-1,-1,-1,-1,-1,-1,-1,-1,-1,-1,-1,-1,-1,-1,-1,-1,-1,-1,-1,-1,-1,-1,-1
	power_save : 1
	power_save_controller : Y
	probe_mask : -1,-1,-1,-1,-1,-1,-1,-1,-1,-1,-1,-1,-1,-1,-1,-1,-1,-1,-1,-1,-1,-1,-1,-1,-1,-1,-1,-1,-1,-1,-1,-1
	probe_only : 0,0,0,0,0,0,0,0,0,0,0,0,0,0,0,0,0,0,0,0,0,0,0,0,0,0,0,0,0,0,0,0
	single_cmd : -1
	snoop : -1

!!Module: snd_hda_intel
	align_buffer_size : -1
	bdl_pos_adj : -1,-1,-1,-1,-1,-1,-1,-1,-1,-1,-1,-1,-1,-1,-1,-1,-1,-1,-1,-1,-1,-1,-1,-1,-1,-1,-1,-1,-1,-1,-1,-1
	beep_mode : N,N,N,N,N,N,N,N,N,N,N,N,N,N,N,N,N,N,N,N,N,N,N,N,N,N,N,N,N,N,N,N
	dmic_detect : Y
	enable : Y,Y,Y,Y,Y,Y,Y,Y,Y,Y,Y,Y,Y,Y,Y,Y,Y,Y,Y,Y,Y,Y,Y,Y,Y,Y,Y,Y,Y,Y,Y,Y
	enable_msi : -1
	id : (null),(null),(null),(null),(null),(null),(null),(null),(null),(null),(null),(null),(null),(null),(null),(null),(null),(null),(null),(null),(null),(null),(null),(null),(null),(null),(null),(null),(null),(null),(null),(null)
	index : -1,-1,-1,-1,-1,-1,-1,-1,-1,-1,-1,-1,-1,-1,-1,-1,-1,-1,-1,-1,-1,-1,-1,-1,-1,-1,-1,-1,-1,-1,-1,-1
	jackpoll_ms : 0,0,0,0,0,0,0,0,0,0,0,0,0,0,0,0,0,0,0,0,0,0,0,0,0,0,0,0,0,0,0,0
	model : (null),(null),(null),(null),(null),(null),(null),(null),(null),(null),(null),(null),(null),(null),(null),(null),(null),(null),(null),(null),(null),(null),(null),(null),(null),(null),(null),(null),(null),(null),(null),(null)
	patch : (null),(null),(null),(null),(null),(null),(null),(null),(null),(null),(null),(null),(null),(null),(null),(null),(null),(null),(null),(null),(null),(null),(null),(null),(null),(null),(null),(null),(null),(null),(null),(null)
	pm_blacklist : Y
	position_fix : -1,-1,-1,-1,-1,-1,-1,-1,-1,-1,-1,-1,-1,-1,-1,-1,-1,-1,-1,-1,-1,-1,-1,-1,-1,-1,-1,-1,-1,-1,-1,-1
	power_save : 1
	power_save_controller : Y
	probe_mask : -1,-1,-1,-1,-1,-1,-1,-1,-1,-1,-1,-1,-1,-1,-1,-1,-1,-1,-1,-1,-1,-1,-1,-1,-1,-1,-1,-1,-1,-1,-1,-1
	probe_only : 0,0,0,0,0,0,0,0,0,0,0,0,0,0,0,0,0,0,0,0,0,0,0,0,0,0,0,0,0,0,0,0
	single_cmd : -1
	snoop : -1


!!Sysfs card info
!!---------------

!!Card: /sys/class/sound/card0
Driver: /sys/bus/pci/drivers/snd_hda_intel
Tree:

!!Card: /sys/class/sound/card1
Driver: /sys/bus/pci/drivers/snd_hda_intel
Tree:


!!HDA-Intel Codec information
!!---------------------------
--startcollapse--

Codec: Nvidia GPU 94 HDMI/DP
Address: 0
AFG Function Id: 0x1 (unsol 0)
Vendor Id: 0x10de0094
Subsystem Id: 0x10de1f82
Revision Id: 0x100100
No Modem Function Group found
Default PCM:
    rates [0x0]:
    bits [0x0]:
    formats [0x0]:
Default Amp-In caps: N/A
Default Amp-Out caps: N/A
State of AFG node 0x01:
  Power states:  D0 D1 D2 D3 CLKSTOP EPSS
  Power: setting=D0, actual=D0
GPIO: io=0, o=0, i=0, unsolicited=0, wake=0
Node 0x04 [Pin Complex] wcaps 0x407381: 8-Channels Digital CP
  Pincap 0x09000094: OUT Detect HBR HDMI DP
  Pin Default 0x185600f0: [Jack] Digital Out at Int HDMI
    Conn = Digital, Color = Unknown
    DefAssociation = 0xf, Sequence = 0x0
  Pin-ctls: 0x00:
  Unsolicited: tag=01, enabled=1
  Devices: 4
     Dev 00: PD = 0, ELDV = 0, IA = 0, Connections [ 0x08* 0x09 0x0a 0x0b ]
     Dev 01: PD = 0, ELDV = 0, IA = 0, Connections [ 0x08* 0x09 0x0a 0x0b ]
     Dev 02: PD = 0, ELDV = 0, IA = 0, Connections [ 0x08* 0x09 0x0a 0x0b ]
    *Dev 03: PD = 0, ELDV = 0, IA = 0, Connections [ 0x08* 0x09 0x0a 0x0b ]
  Connection: 4
     0x08* 0x09 0x0a 0x0b
Node 0x05 [Pin Complex] wcaps 0x407381: 8-Channels Digital CP
  Pincap 0x09000094: OUT Detect HBR HDMI DP
  Pin Default 0x185600f0: [Jack] Digital Out at Int HDMI
    Conn = Digital, Color = Unknown
    DefAssociation = 0xf, Sequence = 0x0
  Pin-ctls: 0x00:
  Unsolicited: tag=05, enabled=1
  Devices: 4
     Dev 00: PD = 0, ELDV = 0, IA = 0, Connections [ 0x08* 0x09 0x0a 0x0b ]
     Dev 01: PD = 0, ELDV = 0, IA = 0, Connections [ 0x08* 0x09 0x0a 0x0b ]
     Dev 02: PD = 0, ELDV = 0, IA = 0, Connections [ 0x08* 0x09 0x0a 0x0b ]
    *Dev 03: PD = 0, ELDV = 0, IA = 0, Connections [ 0x08* 0x09 0x0a 0x0b ]
  Connection: 4
     0x08* 0x09 0x0a 0x0b
Node 0x06 [Pin Complex] wcaps 0x407381: 8-Channels Digital CP
  Pincap 0x09000094: OUT Detect HBR HDMI DP
  Pin Default 0x185600f0: [Jack] Digital Out at Int HDMI
    Conn = Digital, Color = Unknown
    DefAssociation = 0xf, Sequence = 0x0
  Pin-ctls: 0x00:
  Unsolicited: tag=09, enabled=1
  Devices: 4
     Dev 00: PD = 0, ELDV = 0, IA = 0, Connections [ 0x08* 0x09 0x0a 0x0b ]
     Dev 01: PD = 0, ELDV = 0, IA = 0, Connections [ 0x08* 0x09 0x0a 0x0b ]
     Dev 02: PD = 0, ELDV = 0, IA = 0, Connections [ 0x08* 0x09 0x0a 0x0b ]
    *Dev 03: PD = 0, ELDV = 0, IA = 0, Connections [ 0x08* 0x09 0x0a 0x0b ]
  Connection: 4
     0x08* 0x09 0x0a 0x0b
Node 0x07 [Pin Complex] wcaps 0x407381: 8-Channels Digital CP
  Pincap 0x09000094: OUT Detect HBR HDMI DP
  Pin Default 0x585600f0: [N/A] Digital Out at Int HDMI
    Conn = Digital, Color = Unknown
    DefAssociation = 0xf, Sequence = 0x0
  Pin-ctls: 0x00:
  Unsolicited: tag=00, enabled=0
  Devices: 4
    *Dev 00: PD = 0, ELDV = 0, IA = 0, Connections [ 0x08* 0x09 0x0a 0x0b ]
     Dev 01: PD = 0, ELDV = 0, IA = 0, Connections [ 0x08* 0x09 0x0a 0x0b ]
     Dev 02: PD = 0, ELDV = 0, IA = 0, Connections [ 0x08* 0x09 0x0a 0x0b ]
     Dev 03: PD = 0, ELDV = 0, IA = 0, Connections [ 0x08* 0x09 0x0a 0x0b ]
  Connection: 4
     0x08* 0x09 0x0a 0x0b
Node 0x08 [Audio Output] wcaps 0x62b1: 8-Channels Digital Stripe
  Converter: stream=0, channel=0
  Digital:
  Digital category: 0x0
  IEC Coding Type: 0x0
  PCM:
    rates [0x7f0]: 32000 44100 48000 88200 96000 176400 192000
    bits [0xe]: 16 20 24
    formats [0x5]: PCM AC3
  Unsolicited: tag=00, enabled=0
Node 0x09 [Audio Output] wcaps 0x62b1: 8-Channels Digital Stripe
  Converter: stream=0, channel=0
  Digital:
  Digital category: 0x0
  IEC Coding Type: 0x0
  PCM:
    rates [0x7f0]: 32000 44100 48000 88200 96000 176400 192000
    bits [0xe]: 16 20 24
    formats [0x5]: PCM AC3
  Unsolicited: tag=00, enabled=0
Node 0x0a [Audio Output] wcaps 0x62b1: 8-Channels Digital Stripe
  Converter: stream=0, channel=0
  Digital:
  Digital category: 0x0
  IEC Coding Type: 0x0
  PCM:
    rates [0x7f0]: 32000 44100 48000 88200 96000 176400 192000
    bits [0xe]: 16 20 24
    formats [0x5]: PCM AC3
  Unsolicited: tag=00, enabled=0
Node 0x0b [Audio Output] wcaps 0x62b1: 8-Channels Digital Stripe
  Converter: stream=0, channel=0
  Digital:
  Digital category: 0x0
  IEC Coding Type: 0x0
  PCM:
    rates [0x7f0]: 32000 44100 48000 88200 96000 176400 192000
    bits [0xe]: 16 20 24
    formats [0x5]: PCM AC3
  Unsolicited: tag=00, enabled=0
Codec: Realtek ALC887-VD
Address: 0
AFG Function Id: 0x1 (unsol 1)
Vendor Id: 0x10ec0887
Subsystem Id: 0x1849d887
Revision Id: 0x100302
No Modem Function Group found
Default PCM:
    rates [0x5f0]: 32000 44100 48000 88200 96000 192000
    bits [0xe]: 16 20 24
    formats [0x1]: PCM
Default Amp-In caps: N/A
Default Amp-Out caps: N/A
State of AFG node 0x01:
  Power states:  D0 D1 D2 D3 CLKSTOP EPSS
  Power: setting=D0, actual=D0
GPIO: io=2, o=0, i=0, unsolicited=1, wake=0
  IO[0]: enable=0, dir=0, wake=0, sticky=0, data=0, unsol=0
  IO[1]: enable=0, dir=0, wake=0, sticky=0, data=0, unsol=0
Node 0x02 [Audio Output] wcaps 0x41d: Stereo Amp-Out
  Control: name="Front Playback Volume", index=0, device=0
    ControlAmp: chs=3, dir=Out, idx=0, ofs=0
  Device: name="ALC887-VD Analog", type="Audio", device=0
  Amp-Out caps: ofs=0x40, nsteps=0x40, stepsize=0x03, mute=0
  Amp-Out vals:  [0x30 0x30]
  Converter: stream=0, channel=0
  PCM:
    rates [0x560]: 44100 48000 96000 192000
    bits [0xe]: 16 20 24
    formats [0x1]: PCM
  Power states:  D0 D1 D2 D3 EPSS
  Power: setting=D0, actual=D0
Node 0x03 [Audio Output] wcaps 0x41d: Stereo Amp-Out
  Control: name="Surround Playback Volume", index=0, device=0
    ControlAmp: chs=3, dir=Out, idx=0, ofs=0
  Amp-Out caps: ofs=0x40, nsteps=0x40, stepsize=0x03, mute=0
  Amp-Out vals:  [0x00 0x00]
  Converter: stream=0, channel=0
  PCM:
    rates [0x560]: 44100 48000 96000 192000
    bits [0xe]: 16 20 24
    formats [0x1]: PCM
  Power states:  D0 D1 D2 D3 EPSS
  Power: setting=D0, actual=D0
Node 0x04 [Audio Output] wcaps 0x41d: Stereo Amp-Out
  Control: name="Center Playback Volume", index=0, device=0
    ControlAmp: chs=1, dir=Out, idx=0, ofs=0
  Control: name="LFE Playback Volume", index=0, device=0
    ControlAmp: chs=2, dir=Out, idx=0, ofs=0
  Amp-Out caps: ofs=0x40, nsteps=0x40, stepsize=0x03, mute=0
  Amp-Out vals:  [0x00 0x00]
  Converter: stream=0, channel=0
  PCM:
    rates [0x560]: 44100 48000 96000 192000
    bits [0xe]: 16 20 24
    formats [0x1]: PCM
  Power states:  D0 D1 D2 D3 EPSS
  Power: setting=D0, actual=D0
Node 0x05 [Audio Output] wcaps 0x41d: Stereo Amp-Out
  Control: name="Headphone Playback Volume", index=0, device=0
    ControlAmp: chs=3, dir=Out, idx=0, ofs=0
  Amp-Out caps: ofs=0x40, nsteps=0x40, stepsize=0x03, mute=0
  Amp-Out vals:  [0x30 0x30]
  Converter: stream=0, channel=0
  PCM:
    rates [0x560]: 44100 48000 96000 192000
    bits [0xe]: 16 20 24
    formats [0x1]: PCM
  Power states:  D0 D1 D2 D3 EPSS
  Power: setting=D0, actual=D0
Node 0x06 [Audio Output] wcaps 0x611: Stereo Digital
  Converter: stream=0, channel=0
  Digital:
  Digital category: 0x0
  IEC Coding Type: 0x0
  PCM:
    rates [0x5f0]: 32000 44100 48000 88200 96000 192000
    bits [0xe]: 16 20 24
    formats [0x1]: PCM
  Power states:  D0 D1 D2 D3 EPSS
  Power: setting=D0, actual=D0
Node 0x07 [Vendor Defined Widget] wcaps 0xf00000: Mono
Node 0x08 [Audio Input] wcaps 0x10051b: Stereo Amp-In
  Control: name="Capture Volume", index=0, device=0
    ControlAmp: chs=3, dir=In, idx=0, ofs=0
  Control: name="Capture Switch", index=0, device=0
    ControlAmp: chs=3, dir=In, idx=0, ofs=0
  Device: name="ALC887-VD Analog", type="Audio", device=0
  Amp-In caps: ofs=0x10, nsteps=0x2e, stepsize=0x03, mute=1
  Amp-In vals:  [0x25 0x25]
  Converter: stream=0, channel=0
  SDI-Select: 0
  PCM:
    rates [0x560]: 44100 48000 96000 192000
    bits [0xe]: 16 20 24
    formats [0x1]: PCM
  Power states:  D0 D1 D2 D3 EPSS
  Power: setting=D0, actual=D0
  Connection: 1
     0x23
Node 0x09 [Audio Input] wcaps 0x10051b: Stereo Amp-In
  Control: name="Capture Volume", index=1, device=0
    ControlAmp: chs=3, dir=In, idx=0, ofs=0
  Control: name="Capture Switch", index=1, device=0
    ControlAmp: chs=3, dir=In, idx=0, ofs=0
  Device: name="ALC887-VD Alt Analog", type="Audio", device=2
  Amp-In caps: ofs=0x10, nsteps=0x2e, stepsize=0x03, mute=1
  Amp-In vals:  [0x80 0x80]
  Converter: stream=0, channel=0
  SDI-Select: 0
  PCM:
    rates [0x560]: 44100 48000 96000 192000
    bits [0xe]: 16 20 24
    formats [0x1]: PCM
  Power states:  D0 D1 D2 D3 EPSS
  Power: setting=D0, actual=D0
  Connection: 1
     0x22
Node 0x0a [Audio Input] wcaps 0x100711: Stereo Digital
  Converter: stream=0, channel=0
  SDI-Select: 0
  Digital:
  Digital category: 0x0
  IEC Coding Type: 0x0
  PCM:
    rates [0x560]: 44100 48000 96000 192000
    bits [0xe]: 16 20 24
    formats [0x1]: PCM
  Power states:  D0 D1 D2 D3 EPSS
  Power: setting=D0, actual=D0
  Connection: 1
     0x1f
Node 0x0b [Audio Mixer] wcaps 0x20010b: Stereo Amp-In
  Control: name="Front Mic Playback Volume", index=0, device=0
    ControlAmp: chs=3, dir=In, idx=1, ofs=0
  Control: name="Front Mic Playback Switch", index=0, device=0
    ControlAmp: chs=3, dir=In, idx=1, ofs=0
  Control: name="Rear Mic Playback Volume", index=0, device=0
    ControlAmp: chs=3, dir=In, idx=0, ofs=0
  Control: name="Rear Mic Playback Switch", index=0, device=0
    ControlAmp: chs=3, dir=In, idx=0, ofs=0
  Control: name="Line Playback Volume", index=0, device=0
    ControlAmp: chs=3, dir=In, idx=2, ofs=0
  Control: name="Line Playback Switch", index=0, device=0
    ControlAmp: chs=3, dir=In, idx=2, ofs=0
  Amp-In caps: ofs=0x17, nsteps=0x1f, stepsize=0x05, mute=1
  Amp-In vals:  [0x80 0x80] [0x80 0x80] [0x80 0x80] [0x80 0x80] [0x80 0x80] [0x80 0x80] [0x80 0x80] [0x80 0x80] [0x80 0x80] [0x80 0x80]
  Connection: 10
     0x18 0x19 0x1a 0x1b 0x1c 0x1d 0x14 0x15 0x16 0x17
Node 0x0c [Audio Mixer] wcaps 0x20010b: Stereo Amp-In
  Amp-In caps: ofs=0x00, nsteps=0x00, stepsize=0x00, mute=1
  Amp-In vals:  [0x00 0x00] [0x80 0x80]
  Connection: 2
     0x02 0x0b
Node 0x0d [Audio Mixer] wcaps 0x20010b: Stereo Amp-In
  Amp-In caps: ofs=0x00, nsteps=0x00, stepsize=0x00, mute=1
  Amp-In vals:  [0x80 0x80] [0x80 0x80]
  Connection: 2
     0x03 0x0b
Node 0x0e [Audio Mixer] wcaps 0x20010b: Stereo Amp-In
  Amp-In caps: ofs=0x00, nsteps=0x00, stepsize=0x00, mute=1
  Amp-In vals:  [0x80 0x80] [0x80 0x80]
  Connection: 2
     0x04 0x0b
Node 0x0f [Audio Mixer] wcaps 0x20010b: Stereo Amp-In
  Amp-In caps: ofs=0x00, nsteps=0x00, stepsize=0x00, mute=1
  Amp-In vals:  [0x00 0x00] [0x80 0x80]
  Connection: 2
     0x05 0x0b
Node 0x10 [Audio Output] wcaps 0x611: Stereo Digital
  Converter: stream=0, channel=0
  Digital:
  Digital category: 0x0
  IEC Coding Type: 0x0
  PCM:
    rates [0x5f0]: 32000 44100 48000 88200 96000 192000
    bits [0xe]: 16 20 24
    formats [0x1]: PCM
  Power states:  D0 D1 D2 D3 EPSS
  Power: setting=D0, actual=D0
Node 0x11 [Pin Complex] wcaps 0x400781: Stereo Digital
  Pincap 0x00000010: OUT
  Pin Default 0x40000000: [N/A] Line Out at Ext N/A
    Conn = Unknown, Color = Unknown
    DefAssociation = 0x0, Sequence = 0x0
  Pin-ctls: 0x40: OUT
  Unsolicited: tag=00, enabled=0
  Power states:  D0 D1 D2 D3 EPSS
  Power: setting=D0, actual=D0
  Connection: 1
     0x10
Node 0x12 [Pin Complex] wcaps 0x400401: Stereo
  Pincap 0x00000020: IN
  Pin Default 0x411111f0: [N/A] Speaker at Ext Rear
    Conn = 1/8, Color = Black
    DefAssociation = 0xf, Sequence = 0x0
    Misc = NO_PRESENCE
  Pin-ctls: 0x00:
  Power states:  D0 D1 D2 D3 EPSS
  Power: setting=D0, actual=D0
Node 0x13 [Vendor Defined Widget] wcaps 0xf00000: Mono
Node 0x14 [Pin Complex] wcaps 0x40058d: Stereo Amp-Out
  Control: name="Front Playback Switch", index=0, device=0
    ControlAmp: chs=3, dir=Out, idx=0, ofs=0
  Amp-Out caps: ofs=0x00, nsteps=0x00, stepsize=0x00, mute=1
  Amp-Out vals:  [0x80 0x80]
  Pincap 0x0001003e: IN OUT HP EAPD Detect Trigger
  EAPD 0x2: EAPD
  Pin Default 0x01014020: [Jack] Line Out at Ext Rear
    Conn = 1/8, Color = Green
    DefAssociation = 0x2, Sequence = 0x0
  Pin-ctls: 0x40: OUT
  Unsolicited: tag=05, enabled=1
  Power states:  D0 D1 D2 D3 EPSS
  Power: setting=D0, actual=D0
  Connection: 1
     0x0c
Node 0x15 [Pin Complex] wcaps 0x40058d: Stereo Amp-Out
  Amp-Out caps: ofs=0x00, nsteps=0x00, stepsize=0x00, mute=1
  Amp-Out vals:  [0x80 0x80]
  Pincap 0x00000036: IN OUT Detect Trigger
  Pin Default 0x411111f0: [N/A] Speaker at Ext Rear
    Conn = 1/8, Color = Black
    DefAssociation = 0xf, Sequence = 0x0
    Misc = NO_PRESENCE
  Pin-ctls: 0x20: IN
  Unsolicited: tag=00, enabled=0
  Power states:  D0 D1 D2 D3 EPSS
  Power: setting=D0, actual=D0
  Connection: 1
     0x0d
Node 0x16 [Pin Complex] wcaps 0x40058d: Stereo Amp-Out
  Amp-Out caps: ofs=0x00, nsteps=0x00, stepsize=0x00, mute=1
  Amp-Out vals:  [0x80 0x80]
  Pincap 0x00000036: IN OUT Detect Trigger
  Pin Default 0x411111f0: [N/A] Speaker at Ext Rear
    Conn = 1/8, Color = Black
    DefAssociation = 0xf, Sequence = 0x0
    Misc = NO_PRESENCE
  Pin-ctls: 0x20: IN
  Unsolicited: tag=00, enabled=0
  Power states:  D0 D1 D2 D3 EPSS
  Power: setting=D0, actual=D0
  Connection: 1
     0x0e
Node 0x17 [Pin Complex] wcaps 0x40058d: Stereo Amp-Out
  Amp-Out caps: ofs=0x00, nsteps=0x00, stepsize=0x00, mute=1
  Amp-Out vals:  [0x80 0x80]
  Pincap 0x00000036: IN OUT Detect Trigger
  Pin Default 0x411111f0: [N/A] Speaker at Ext Rear
    Conn = 1/8, Color = Black
    DefAssociation = 0xf, Sequence = 0x0
    Misc = NO_PRESENCE
  Pin-ctls: 0x20: IN
  Unsolicited: tag=00, enabled=0
  Power states:  D0 D1 D2 D3 EPSS
  Power: setting=D0, actual=D0
  Connection: 1
     0x0f
Node 0x18 [Pin Complex] wcaps 0x40058f: Stereo Amp-In Amp-Out
  Control: name="Center Playback Switch", index=0, device=0
    ControlAmp: chs=1, dir=Out, idx=0, ofs=0
  Control: name="LFE Playback Switch", index=0, device=0
    ControlAmp: chs=2, dir=Out, idx=0, ofs=0
  Control: name="Rear Mic Boost Volume", index=0, device=0
    ControlAmp: chs=3, dir=In, idx=0, ofs=0
  Amp-In caps: ofs=0x00, nsteps=0x03, stepsize=0x27, mute=0
  Amp-In vals:  [0x00 0x00]
  Amp-Out caps: ofs=0x00, nsteps=0x00, stepsize=0x00, mute=1
  Amp-Out vals:  [0x80 0x80]
  Pincap 0x00003736: IN OUT Detect Trigger
    Vref caps: HIZ 50 GRD 80 100
  Pin Default 0x01a19040: [Jack] Mic at Ext Rear
    Conn = 1/8, Color = Pink
    DefAssociation = 0x4, Sequence = 0x0
  Pin-ctls: 0x21: IN VREF_50
  Unsolicited: tag=03, enabled=1
  Power states:  D0 D1 D2 D3 EPSS
  Power: setting=D0, actual=D0
  Connection: 5
     0x0c* 0x0d 0x0e 0x0f 0x26
Node 0x19 [Pin Complex] wcaps 0x40058f: Stereo Amp-In Amp-Out
  Control: name="Front Mic Boost Volume", index=0, device=0
    ControlAmp: chs=3, dir=In, idx=0, ofs=0
  Amp-In caps: ofs=0x00, nsteps=0x03, stepsize=0x27, mute=0
  Amp-In vals:  [0x00 0x00]
  Amp-Out caps: ofs=0x00, nsteps=0x00, stepsize=0x00, mute=1
  Amp-Out vals:  [0x80 0x80]
  Pincap 0x0000373e: IN OUT HP Detect Trigger
    Vref caps: HIZ 50 GRD 80 100
  Pin Default 0x02a19050: [Jack] Mic at Ext Front
    Conn = 1/8, Color = Pink
    DefAssociation = 0x5, Sequence = 0x0
  Pin-ctls: 0x24: IN VREF_80
  Unsolicited: tag=02, enabled=1
  Power states:  D0 D1 D2 D3 EPSS
  Power: setting=D0, actual=D0
  Connection: 5
     0x0c* 0x0d 0x0e 0x0f 0x26
Node 0x1a [Pin Complex] wcaps 0x40058f: Stereo Amp-In Amp-Out
  Control: name="Surround Playback Switch", index=0, device=0
    ControlAmp: chs=3, dir=Out, idx=0, ofs=0
  Control: name="Line Boost Volume", index=0, device=0
    ControlAmp: chs=3, dir=In, idx=0, ofs=0
  Amp-In caps: ofs=0x00, nsteps=0x03, stepsize=0x27, mute=0
  Amp-In vals:  [0x00 0x00]
  Amp-Out caps: ofs=0x00, nsteps=0x00, stepsize=0x00, mute=1
  Amp-Out vals:  [0x80 0x80]
  Pincap 0x00003736: IN OUT Detect Trigger
    Vref caps: HIZ 50 GRD 80 100
  Pin Default 0x0181304f: [Jack] Line In at Ext Rear
    Conn = 1/8, Color = Blue
    DefAssociation = 0x4, Sequence = 0xf
  Pin-ctls: 0x20: IN VREF_HIZ
  Unsolicited: tag=04, enabled=1
  Power states:  D0 D1 D2 D3 EPSS
  Power: setting=D0, actual=D0
  Connection: 5
     0x0c* 0x0d 0x0e 0x0f 0x26
Node 0x1b [Pin Complex] wcaps 0x40058f: Stereo Amp-In Amp-Out
  Control: name="Headphone Playback Switch", index=0, device=0
    ControlAmp: chs=3, dir=Out, idx=0, ofs=0
  Amp-In caps: ofs=0x00, nsteps=0x03, stepsize=0x27, mute=0
  Amp-In vals:  [0x00 0x00]
  Amp-Out caps: ofs=0x00, nsteps=0x00, stepsize=0x00, mute=1
  Amp-Out vals:  [0x00 0x00]
  Pincap 0x0001373e: IN OUT HP EAPD Detect Trigger
    Vref caps: HIZ 50 GRD 80 100
  EAPD 0x2: EAPD
  Pin Default 0x02214030: [Jack] HP Out at Ext Front
    Conn = 1/8, Color = Green
    DefAssociation = 0x3, Sequence = 0x0
  Pin-ctls: 0xc0: OUT HP VREF_HIZ
  Unsolicited: tag=01, enabled=1
  Power states:  D0 D1 D2 D3 EPSS
  Power: setting=D0, actual=D0
  Connection: 5
     0x0c 0x0d 0x0e 0x0f* 0x26
Node 0x1c [Pin Complex] wcaps 0x400481: Stereo
  Pincap 0x00000024: IN Detect
  Pin Default 0x411111f0: [N/A] Speaker at Ext Rear
    Conn = 1/8, Color = Black
    DefAssociation = 0xf, Sequence = 0x0
    Misc = NO_PRESENCE
  Pin-ctls: 0x20: IN
  Unsolicited: tag=00, enabled=0
  Power states:  D0 D1 D2 D3 EPSS
  Power: setting=D0, actual=D0
Node 0x1d [Pin Complex] wcaps 0x400400: Mono
  Pincap 0x00000020: IN
  Pin Default 0x4026c629: [N/A] HP Out at Ext N/A
    Conn = Digital, Color = UNKNOWN
    DefAssociation = 0x2, Sequence = 0x9
  Pin-ctls: 0x20: IN
  Power states:  D0 D1 D2 D3 EPSS
  Power: setting=D0, actual=D0
Node 0x1e [Pin Complex] wcaps 0x400781: Stereo Digital
  Pincap 0x00000010: OUT
  Pin Default 0x411111f0: [N/A] Speaker at Ext Rear
    Conn = 1/8, Color = Black
    DefAssociation = 0xf, Sequence = 0x0
    Misc = NO_PRESENCE
  Pin-ctls: 0x40: OUT
  Unsolicited: tag=00, enabled=0
  Power states:  D0 D1 D2 D3 EPSS
  Power: setting=D0, actual=D0
  Connection: 1
     0x06
Node 0x1f [Pin Complex] wcaps 0x400681: Stereo Digital
  Pincap 0x00000020: IN
  Pin Default 0x411111f0: [N/A] Speaker at Ext Rear
    Conn = 1/8, Color = Black
    DefAssociation = 0xf, Sequence = 0x0
    Misc = NO_PRESENCE
  Pin-ctls: 0x20: IN
  Unsolicited: tag=00, enabled=0
  Power states:  D0 D1 D2 D3 EPSS
  Power: setting=D0, actual=D0
Node 0x20 [Vendor Defined Widget] wcaps 0xf00040: Mono
  Processing caps: benign=0, ncoeff=24
Node 0x21 [Vendor Defined Widget] wcaps 0xf00000: Mono
Node 0x22 [Audio Mixer] wcaps 0x20010b: Stereo Amp-In
  Amp-In caps: ofs=0x00, nsteps=0x00, stepsize=0x00, mute=1
  Amp-In vals:  [0x80 0x80] [0x00 0x00] [0x80 0x80] [0x80 0x80] [0x80 0x80] [0x80 0x80] [0x80 0x80] [0x80 0x80] [0x80 0x80] [0x80 0x80] [0x80 0x80] [0x80 0x80]
  Connection: 12
     0x18 0x19 0x1a 0x1b 0x1c 0x1d 0x14 0x15 0x16 0x17 0x0b 0x12
Node 0x23 [Audio Mixer] wcaps 0x20010b: Stereo Amp-In
  Amp-In caps: ofs=0x00, nsteps=0x00, stepsize=0x00, mute=1
  Amp-In vals:  [0x80 0x80] [0x00 0x00] [0x80 0x80] [0x80 0x80] [0x80 0x80] [0x80 0x80] [0x80 0x80] [0x80 0x80] [0x80 0x80] [0x80 0x80] [0x80 0x80]
  Connection: 11
     0x18 0x19 0x1a 0x1b 0x1c 0x1d 0x14 0x15 0x16 0x17 0x0b
Node 0x24 [Vendor Defined Widget] wcaps 0xf00000: Mono
Node 0x25 [Audio Output] wcaps 0x41d: Stereo Amp-Out
  Amp-Out caps: ofs=0x40, nsteps=0x40, stepsize=0x03, mute=0
  Amp-Out vals:  [0x40 0x40]
  Converter: stream=0, channel=0
  PCM:
    rates [0x560]: 44100 48000 96000 192000
    bits [0xe]: 16 20 24
    formats [0x1]: PCM
  Power states:  D0 D1 D2 D3 EPSS
  Power: setting=D0, actual=D0
Node 0x26 [Audio Mixer] wcaps 0x20010b: Stereo Amp-In
  Amp-In caps: ofs=0x00, nsteps=0x00, stepsize=0x00, mute=1
  Amp-In vals:  [0x00 0x00] [0x80 0x80]
  Connection: 2
     0x25 0x0b
--endcollapse--


!!ALSA Device nodes
!!-----------------

crw-rw----+ 1 root audio 116,  9 Oct 20 16:21 /dev/snd/controlC0
crw-rw----+ 1 root audio 116, 14 Oct 20 16:21 /dev/snd/controlC1
crw-rw----+ 1 root audio 116,  8 Oct 20 16:21 /dev/snd/hwC0D0
crw-rw----+ 1 root audio 116, 13 Oct 20 16:21 /dev/snd/hwC1D0
crw-rw----+ 1 root audio 116,  6 Oct 20 16:21 /dev/snd/pcmC0D10p
crw-rw----+ 1 root audio 116,  7 Oct 20 16:21 /dev/snd/pcmC0D11p
crw-rw----+ 1 root audio 116,  2 Oct 20 16:21 /dev/snd/pcmC0D3p
crw-rw----+ 1 root audio 116,  3 Oct 20 16:21 /dev/snd/pcmC0D7p
crw-rw----+ 1 root audio 116,  4 Oct 20 16:21 /dev/snd/pcmC0D8p
crw-rw----+ 1 root audio 116,  5 Oct 20 16:21 /dev/snd/pcmC0D9p
crw-rw----+ 1 root audio 116, 11 Oct 20 16:21 /dev/snd/pcmC1D0c
crw-rw----+ 1 root audio 116, 10 Oct 20 16:21 /dev/snd/pcmC1D0p
crw-rw----+ 1 root audio 116, 12 Oct 20 16:21 /dev/snd/pcmC1D2c
crw-rw----+ 1 root audio 116,  1 Oct 20 16:21 /dev/snd/seq
crw-rw----+ 1 root audio 116, 33 Oct 20 16:21 /dev/snd/timer

/dev/snd/by-path:
total 0
drwxr-xr-x 2 root root  80 Oct 20 16:21 .
drwxr-xr-x 3 root root 360 Oct 20 16:21 ..
lrwxrwxrwx 1 root root  12 Oct 20 16:21 pci-0000:09:00.1 -> ../controlC0
lrwxrwxrwx 1 root root  12 Oct 20 16:21 pci-0000:0b:00.4 -> ../controlC1


!!Aplay/Arecord output
!!--------------------

APLAY

**** List of PLAYBACK Hardware Devices ****
card 0: NVidia [HDA NVidia], device 3: HDMI 0 [HDMI 0]
  Subdevices: 1/1
  Subdevice #0: subdevice #0
card 0: NVidia [HDA NVidia], device 7: HDMI 1 [HDMI 1]
  Subdevices: 1/1
  Subdevice #0: subdevice #0
card 0: NVidia [HDA NVidia], device 8: HDMI 2 [HDMI 2]
  Subdevices: 1/1
  Subdevice #0: subdevice #0
card 0: NVidia [HDA NVidia], device 9: HDMI 3 [HDMI 3]
  Subdevices: 1/1
  Subdevice #0: subdevice #0
card 0: NVidia [HDA NVidia], device 10: HDMI 4 [HDMI 4]
  Subdevices: 1/1
  Subdevice #0: subdevice #0
card 0: NVidia [HDA NVidia], device 11: HDMI 5 [HDMI 5]
  Subdevices: 1/1
  Subdevice #0: subdevice #0
card 1: Generic [HD-Audio Generic], device 0: ALC887-VD Analog [ALC887-VD Analog]
  Subdevices: 1/1
  Subdevice #0: subdevice #0

ARECORD

**** List of CAPTURE Hardware Devices ****
card 1: Generic [HD-Audio Generic], device 0: ALC887-VD Analog [ALC887-VD Analog]
  Subdevices: 1/1
  Subdevice #0: subdevice #0
card 1: Generic [HD-Audio Generic], device 2: ALC887-VD Alt Analog [ALC887-VD Alt Analog]
  Subdevices: 1/1
  Subdevice #0: subdevice #0

!!Amixer output
!!-------------

!!-------Mixer controls for card NVidia

Card sysdefault:0 'NVidia'/'HDA NVidia at 0xfc080000 irq 88'
  Mixer name	: 'Nvidia GPU 94 HDMI/DP'
  Components	: 'HDA:10de0094,10de1f82,00100100'
  Controls      : 42
  Simple ctrls  : 6
Simple mixer control 'IEC958',0
  Capabilities: pswitch pswitch-joined
  Playback channels: Mono
  Mono: Playback [on]
Simple mixer control 'IEC958',1
  Capabilities: pswitch pswitch-joined
  Playback channels: Mono
  Mono: Playback [on]
Simple mixer control 'IEC958',2
  Capabilities: pswitch pswitch-joined
  Playback channels: Mono
  Mono: Playback [on]
Simple mixer control 'IEC958',3
  Capabilities: pswitch pswitch-joined
  Playback channels: Mono
  Mono: Playback [on]
Simple mixer control 'IEC958',4
  Capabilities: pswitch pswitch-joined
  Playback channels: Mono
  Mono: Playback [on]
Simple mixer control 'IEC958',5
  Capabilities: pswitch pswitch-joined
  Playback channels: Mono
  Mono: Playback [on]

!!-------Mixer controls for card Generic

Card sysdefault:1 'Generic'/'HD-Audio Generic at 0xfc400000 irq 90'
  Mixer name	: 'Realtek ALC887-VD'
  Components	: 'HDA:10ec0887,1849d887,00100302'
  Controls      : 39
  Simple ctrls  : 20
Simple mixer control 'Master',0
  Capabilities: pvolume pvolume-joined pswitch pswitch-joined
  Playback channels: Mono
  Limits: Playback 0 - 64
  Mono: Playback 48 [75%] [-16.00dB] [on]
Simple mixer control 'Headphone',0
  Capabilities: pvolume pswitch
  Playback channels: Front Left - Front Right
  Limits: Playback 0 - 64
  Mono:
  Front Left: Playback 64 [100%] [0.00dB] [on]
  Front Right: Playback 64 [100%] [0.00dB] [on]
Simple mixer control 'PCM',0
  Capabilities: pvolume
  Playback channels: Front Left - Front Right
  Limits: Playback 0 - 255
  Mono:
  Front Left: Playback 253 [99%] [-0.40dB]
  Front Right: Playback 253 [99%] [-0.40dB]
Simple mixer control 'Front',0
  Capabilities: pvolume pswitch
  Playback channels: Front Left - Front Right
  Limits: Playback 0 - 64
  Mono:
  Front Left: Playback 64 [100%] [0.00dB] [off]
  Front Right: Playback 64 [100%] [0.00dB] [off]
Simple mixer control 'Front Mic',0
  Capabilities: pvolume pswitch
  Playback channels: Front Left - Front Right
  Limits: Playback 0 - 31
  Mono:
  Front Left: Playback 0 [0%] [-34.50dB] [off]
  Front Right: Playback 0 [0%] [-34.50dB] [off]
Simple mixer control 'Front Mic Boost',0
  Capabilities: volume
  Playback channels: Front Left - Front Right
  Capture channels: Front Left - Front Right
  Limits: 0 - 3
  Front Left: 0 [0%] [0.00dB]
  Front Right: 0 [0%] [0.00dB]
Simple mixer control 'Surround',0
  Capabilities: pvolume pswitch
  Playback channels: Front Left - Front Right
  Limits: Playback 0 - 64
  Mono:
  Front Left: Playback 0 [0%] [-64.00dB] [off]
  Front Right: Playback 0 [0%] [-64.00dB] [off]
Simple mixer control 'Center',0
  Capabilities: pvolume pvolume-joined pswitch pswitch-joined
  Playback channels: Mono
  Limits: Playback 0 - 64
  Mono: Playback 0 [0%] [-64.00dB] [off]
Simple mixer control 'LFE',0
  Capabilities: pvolume pvolume-joined pswitch pswitch-joined
  Playback channels: Mono
  Limits: Playback 0 - 64
  Mono: Playback 0 [0%] [-64.00dB] [off]
Simple mixer control 'Line',0
  Capabilities: pvolume pswitch
  Playback channels: Front Left - Front Right
  Limits: Playback 0 - 31
  Mono:
  Front Left: Playback 0 [0%] [-34.50dB] [off]
  Front Right: Playback 0 [0%] [-34.50dB] [off]
Simple mixer control 'Line Boost',0
  Capabilities: volume
  Playback channels: Front Left - Front Right
  Capture channels: Front Left - Front Right
  Limits: 0 - 3
  Front Left: 0 [0%] [0.00dB]
  Front Right: 0 [0%] [0.00dB]
Simple mixer control 'Capture',0
  Capabilities: cvolume cswitch
  Capture channels: Front Left - Front Right
  Limits: Capture 0 - 46
  Front Left: Capture 37 [80%] [21.00dB] [on]
  Front Right: Capture 37 [80%] [21.00dB] [on]
Simple mixer control 'Capture',1
  Capabilities: cvolume cswitch
  Capture channels: Front Left - Front Right
  Limits: Capture 0 - 46
  Front Left: Capture 0 [0%] [-16.00dB] [off]
  Front Right: Capture 0 [0%] [-16.00dB] [off]
Simple mixer control 'Auto-Mute Mode',0
  Capabilities: enum
  Items: 'Disabled' 'Enabled'
  Item0: 'Enabled'
Simple mixer control 'Channel Mode',0
  Capabilities: enum
  Items: '2ch' '4ch' '6ch'
  Item0: '2ch'
Simple mixer control 'Input Source',0
  Capabilities: cenum
  Items: 'Front Mic' 'Rear Mic' 'Line'
  Item0: 'Front Mic'
Simple mixer control 'Input Source',1
  Capabilities: cenum
  Items: 'Front Mic' 'Rear Mic' 'Line'
  Item0: 'Front Mic'
Simple mixer control 'Loopback Mixing',0
  Capabilities: enum
  Items: 'Disabled' 'Enabled'
  Item0: 'Disabled'
Simple mixer control 'Rear Mic',0
  Capabilities: pvolume pswitch
  Playback channels: Front Left - Front Right
  Limits: Playback 0 - 31
  Mono:
  Front Left: Playback 0 [0%] [-34.50dB] [off]
  Front Right: Playback 0 [0%] [-34.50dB] [off]
Simple mixer control 'Rear Mic Boost',0
  Capabilities: volume
  Playback channels: Front Left - Front Right
  Capture channels: Front Left - Front Right
  Limits: 0 - 3
  Front Left: 0 [0%] [0.00dB]
  Front Right: 0 [0%] [0.00dB]


!!Alsactl output
!!--------------

--startcollapse--
state.NVidia {
	control.1 {
		iface CARD
		name 'HDMI/DP,pcm=3 Jack'
		value false
		comment {
			access read
			type BOOLEAN
			count 1
		}
	}
	control.2 {
		iface MIXER
		name 'IEC958 Playback Con Mask'
		value '0fff000000000000000000000000000000000000000000000000000000000000000000000000000000000000000000000000000000000000000000000000000000000000000000000000000000000000000000000000000000000000000000000000000000000000000000000000000000000000000000000000000000000000000000000000000000000000000000000000000000000000000000000000000000000000000000000000000000000000'
		comment {
			access read
			type IEC958
			count 1
		}
	}
	control.3 {
		iface MIXER
		name 'IEC958 Playback Pro Mask'
		value '0f00000000000000000000000000000000000000000000000000000000000000000000000000000000000000000000000000000000000000000000000000000000000000000000000000000000000000000000000000000000000000000000000000000000000000000000000000000000000000000000000000000000000000000000000000000000000000000000000000000000000000000000000000000000000000000000000000000000000000'
		comment {
			access read
			type IEC958
			count 1
		}
	}
	control.4 {
		iface MIXER
		name 'IEC958 Playback Default'
		value '0400000000000000000000000000000000000000000000000000000000000000000000000000000000000000000000000000000000000000000000000000000000000000000000000000000000000000000000000000000000000000000000000000000000000000000000000000000000000000000000000000000000000000000000000000000000000000000000000000000000000000000000000000000000000000000000000000000000000000'
		comment {
			access 'read write'
			type IEC958
			count 1
		}
	}
	control.5 {
		iface MIXER
		name 'IEC958 Playback Switch'
		value true
		comment {
			access 'read write'
			type BOOLEAN
			count 1
		}
	}
	control.6 {
		iface PCM
		device 3
		name ELD
		value ''
		comment {
			access 'read volatile'
			type BYTES
			count 0
		}
	}
	control.7 {
		iface CARD
		name 'HDMI/DP,pcm=7 Jack'
		value false
		comment {
			access read
			type BOOLEAN
			count 1
		}
	}
	control.8 {
		iface MIXER
		name 'IEC958 Playback Con Mask'
		index 1
		value '0fff000000000000000000000000000000000000000000000000000000000000000000000000000000000000000000000000000000000000000000000000000000000000000000000000000000000000000000000000000000000000000000000000000000000000000000000000000000000000000000000000000000000000000000000000000000000000000000000000000000000000000000000000000000000000000000000000000000000000'
		comment {
			access read
			type IEC958
			count 1
		}
	}
	control.9 {
		iface MIXER
		name 'IEC958 Playback Pro Mask'
		index 1
		value '0f00000000000000000000000000000000000000000000000000000000000000000000000000000000000000000000000000000000000000000000000000000000000000000000000000000000000000000000000000000000000000000000000000000000000000000000000000000000000000000000000000000000000000000000000000000000000000000000000000000000000000000000000000000000000000000000000000000000000000'
		comment {
			access read
			type IEC958
			count 1
		}
	}
	control.10 {
		iface MIXER
		name 'IEC958 Playback Default'
		index 1
		value '0400000000000000000000000000000000000000000000000000000000000000000000000000000000000000000000000000000000000000000000000000000000000000000000000000000000000000000000000000000000000000000000000000000000000000000000000000000000000000000000000000000000000000000000000000000000000000000000000000000000000000000000000000000000000000000000000000000000000000'
		comment {
			access 'read write'
			type IEC958
			count 1
		}
	}
	control.11 {
		iface MIXER
		name 'IEC958 Playback Switch'
		index 1
		value true
		comment {
			access 'read write'
			type BOOLEAN
			count 1
		}
	}
	control.12 {
		iface PCM
		device 7
		name ELD
		value ''
		comment {
			access 'read volatile'
			type BYTES
			count 0
		}
	}
	control.13 {
		iface CARD
		name 'HDMI/DP,pcm=8 Jack'
		value false
		comment {
			access read
			type BOOLEAN
			count 1
		}
	}
	control.14 {
		iface MIXER
		name 'IEC958 Playback Con Mask'
		index 2
		value '0fff000000000000000000000000000000000000000000000000000000000000000000000000000000000000000000000000000000000000000000000000000000000000000000000000000000000000000000000000000000000000000000000000000000000000000000000000000000000000000000000000000000000000000000000000000000000000000000000000000000000000000000000000000000000000000000000000000000000000'
		comment {
			access read
			type IEC958
			count 1
		}
	}
	control.15 {
		iface MIXER
		name 'IEC958 Playback Pro Mask'
		index 2
		value '0f00000000000000000000000000000000000000000000000000000000000000000000000000000000000000000000000000000000000000000000000000000000000000000000000000000000000000000000000000000000000000000000000000000000000000000000000000000000000000000000000000000000000000000000000000000000000000000000000000000000000000000000000000000000000000000000000000000000000000'
		comment {
			access read
			type IEC958
			count 1
		}
	}
	control.16 {
		iface MIXER
		name 'IEC958 Playback Default'
		index 2
		value '0400000000000000000000000000000000000000000000000000000000000000000000000000000000000000000000000000000000000000000000000000000000000000000000000000000000000000000000000000000000000000000000000000000000000000000000000000000000000000000000000000000000000000000000000000000000000000000000000000000000000000000000000000000000000000000000000000000000000000'
		comment {
			access 'read write'
			type IEC958
			count 1
		}
	}
	control.17 {
		iface MIXER
		name 'IEC958 Playback Switch'
		index 2
		value true
		comment {
			access 'read write'
			type BOOLEAN
			count 1
		}
	}
	control.18 {
		iface PCM
		device 8
		name ELD
		value ''
		comment {
			access 'read volatile'
			type BYTES
			count 0
		}
	}
	control.19 {
		iface CARD
		name 'HDMI/DP,pcm=9 Jack'
		value false
		comment {
			access read
			type BOOLEAN
			count 1
		}
	}
	control.20 {
		iface MIXER
		name 'IEC958 Playback Con Mask'
		index 3
		value '0fff000000000000000000000000000000000000000000000000000000000000000000000000000000000000000000000000000000000000000000000000000000000000000000000000000000000000000000000000000000000000000000000000000000000000000000000000000000000000000000000000000000000000000000000000000000000000000000000000000000000000000000000000000000000000000000000000000000000000'
		comment {
			access read
			type IEC958
			count 1
		}
	}
	control.21 {
		iface MIXER
		name 'IEC958 Playback Pro Mask'
		index 3
		value '0f00000000000000000000000000000000000000000000000000000000000000000000000000000000000000000000000000000000000000000000000000000000000000000000000000000000000000000000000000000000000000000000000000000000000000000000000000000000000000000000000000000000000000000000000000000000000000000000000000000000000000000000000000000000000000000000000000000000000000'
		comment {
			access read
			type IEC958
			count 1
		}
	}
	control.22 {
		iface MIXER
		name 'IEC958 Playback Default'
		index 3
		value '0400000000000000000000000000000000000000000000000000000000000000000000000000000000000000000000000000000000000000000000000000000000000000000000000000000000000000000000000000000000000000000000000000000000000000000000000000000000000000000000000000000000000000000000000000000000000000000000000000000000000000000000000000000000000000000000000000000000000000'
		comment {
			access 'read write'
			type IEC958
			count 1
		}
	}
	control.23 {
		iface MIXER
		name 'IEC958 Playback Switch'
		index 3
		value true
		comment {
			access 'read write'
			type BOOLEAN
			count 1
		}
	}
	control.24 {
		iface PCM
		device 9
		name ELD
		value ''
		comment {
			access 'read volatile'
			type BYTES
			count 0
		}
	}
	control.25 {
		iface CARD
		name 'HDMI/DP,pcm=10 Jack'
		value false
		comment {
			access read
			type BOOLEAN
			count 1
		}
	}
	control.26 {
		iface MIXER
		name 'IEC958 Playback Con Mask'
		index 4
		value '0fff000000000000000000000000000000000000000000000000000000000000000000000000000000000000000000000000000000000000000000000000000000000000000000000000000000000000000000000000000000000000000000000000000000000000000000000000000000000000000000000000000000000000000000000000000000000000000000000000000000000000000000000000000000000000000000000000000000000000'
		comment {
			access read
			type IEC958
			count 1
		}
	}
	control.27 {
		iface MIXER
		name 'IEC958 Playback Pro Mask'
		index 4
		value '0f00000000000000000000000000000000000000000000000000000000000000000000000000000000000000000000000000000000000000000000000000000000000000000000000000000000000000000000000000000000000000000000000000000000000000000000000000000000000000000000000000000000000000000000000000000000000000000000000000000000000000000000000000000000000000000000000000000000000000'
		comment {
			access read
			type IEC958
			count 1
		}
	}
	control.28 {
		iface MIXER
		name 'IEC958 Playback Default'
		index 4
		value '0400000000000000000000000000000000000000000000000000000000000000000000000000000000000000000000000000000000000000000000000000000000000000000000000000000000000000000000000000000000000000000000000000000000000000000000000000000000000000000000000000000000000000000000000000000000000000000000000000000000000000000000000000000000000000000000000000000000000000'
		comment {
			access 'read write'
			type IEC958
			count 1
		}
	}
	control.29 {
		iface MIXER
		name 'IEC958 Playback Switch'
		index 4
		value true
		comment {
			access 'read write'
			type BOOLEAN
			count 1
		}
	}
	control.30 {
		iface PCM
		device 10
		name ELD
		value ''
		comment {
			access 'read volatile'
			type BYTES
			count 0
		}
	}
	control.31 {
		iface CARD
		name 'HDMI/DP,pcm=11 Jack'
		value false
		comment {
			access read
			type BOOLEAN
			count 1
		}
	}
	control.32 {
		iface MIXER
		name 'IEC958 Playback Con Mask'
		index 5
		value '0fff000000000000000000000000000000000000000000000000000000000000000000000000000000000000000000000000000000000000000000000000000000000000000000000000000000000000000000000000000000000000000000000000000000000000000000000000000000000000000000000000000000000000000000000000000000000000000000000000000000000000000000000000000000000000000000000000000000000000'
		comment {
			access read
			type IEC958
			count 1
		}
	}
	control.33 {
		iface MIXER
		name 'IEC958 Playback Pro Mask'
		index 5
		value '0f00000000000000000000000000000000000000000000000000000000000000000000000000000000000000000000000000000000000000000000000000000000000000000000000000000000000000000000000000000000000000000000000000000000000000000000000000000000000000000000000000000000000000000000000000000000000000000000000000000000000000000000000000000000000000000000000000000000000000'
		comment {
			access read
			type IEC958
			count 1
		}
	}
	control.34 {
		iface MIXER
		name 'IEC958 Playback Default'
		index 5
		value '0400000000000000000000000000000000000000000000000000000000000000000000000000000000000000000000000000000000000000000000000000000000000000000000000000000000000000000000000000000000000000000000000000000000000000000000000000000000000000000000000000000000000000000000000000000000000000000000000000000000000000000000000000000000000000000000000000000000000000'
		comment {
			access 'read write'
			type IEC958
			count 1
		}
	}
	control.35 {
		iface MIXER
		name 'IEC958 Playback Switch'
		index 5
		value true
		comment {
			access 'read write'
			type BOOLEAN
			count 1
		}
	}
	control.36 {
		iface PCM
		device 11
		name ELD
		value ''
		comment {
			access 'read volatile'
			type BYTES
			count 0
		}
	}
	control.37 {
		iface PCM
		device 3
		name 'Playback Channel Map'
		value.0 0
		value.1 0
		value.2 0
		value.3 0
		value.4 0
		value.5 0
		value.6 0
		value.7 0
		comment {
			access 'read write'
			type INTEGER
			count 8
			range '0 - 36'
		}
	}
	control.38 {
		iface PCM
		device 7
		name 'Playback Channel Map'
		value.0 0
		value.1 0
		value.2 0
		value.3 0
		value.4 0
		value.5 0
		value.6 0
		value.7 0
		comment {
			access 'read write'
			type INTEGER
			count 8
			range '0 - 36'
		}
	}
	control.39 {
		iface PCM
		device 8
		name 'Playback Channel Map'
		value.0 0
		value.1 0
		value.2 0
		value.3 0
		value.4 0
		value.5 0
		value.6 0
		value.7 0
		comment {
			access 'read write'
			type INTEGER
			count 8
			range '0 - 36'
		}
	}
	control.40 {
		iface PCM
		device 9
		name 'Playback Channel Map'
		value.0 0
		value.1 0
		value.2 0
		value.3 0
		value.4 0
		value.5 0
		value.6 0
		value.7 0
		comment {
			access 'read write'
			type INTEGER
			count 8
			range '0 - 36'
		}
	}
	control.41 {
		iface PCM
		device 10
		name 'Playback Channel Map'
		value.0 0
		value.1 0
		value.2 0
		value.3 0
		value.4 0
		value.5 0
		value.6 0
		value.7 0
		comment {
			access 'read write'
			type INTEGER
			count 8
			range '0 - 36'
		}
	}
	control.42 {
		iface PCM
		device 11
		name 'Playback Channel Map'
		value.0 0
		value.1 0
		value.2 0
		value.3 0
		value.4 0
		value.5 0
		value.6 0
		value.7 0
		comment {
			access 'read write'
			type INTEGER
			count 8
			range '0 - 36'
		}
	}
}
state.Generic {
	control.1 {
		iface MIXER
		name 'Channel Mode'
		value '2ch'
		comment {
			access 'read write'
			type ENUMERATED
			count 1
			item.0 '2ch'
			item.1 '4ch'
			item.2 '6ch'
		}
	}
	control.2 {
		iface MIXER
		name 'Front Playback Volume'
		value.0 64
		value.1 64
		comment {
			access 'read write'
			type INTEGER
			count 2
			range '0 - 64'
			dbmin -6400
			dbmax 0
			dbvalue.0 0
			dbvalue.1 0
		}
	}
	control.3 {
		iface MIXER
		name 'Front Playback Switch'
		value.0 false
		value.1 false
		comment {
			access 'read write'
			type BOOLEAN
			count 2
		}
	}
	control.4 {
		iface MIXER
		name 'Surround Playback Volume'
		value.0 0
		value.1 0
		comment {
			access 'read write'
			type INTEGER
			count 2
			range '0 - 64'
			dbmin -6400
			dbmax 0
			dbvalue.0 -6400
			dbvalue.1 -6400
		}
	}
	control.5 {
		iface MIXER
		name 'Surround Playback Switch'
		value.0 false
		value.1 false
		comment {
			access 'read write'
			type BOOLEAN
			count 2
		}
	}
	control.6 {
		iface MIXER
		name 'Center Playback Volume'
		value 0
		comment {
			access 'read write'
			type INTEGER
			count 1
			range '0 - 64'
			dbmin -6400
			dbmax 0
			dbvalue.0 -6400
		}
	}
	control.7 {
		iface MIXER
		name 'LFE Playback Volume'
		value 0
		comment {
			access 'read write'
			type INTEGER
			count 1
			range '0 - 64'
			dbmin -6400
			dbmax 0
			dbvalue.0 -6400
		}
	}
	control.8 {
		iface MIXER
		name 'Center Playback Switch'
		value false
		comment {
			access 'read write'
			type BOOLEAN
			count 1
		}
	}
	control.9 {
		iface MIXER
		name 'LFE Playback Switch'
		value false
		comment {
			access 'read write'
			type BOOLEAN
			count 1
		}
	}
	control.10 {
		iface MIXER
		name 'Headphone Playback Volume'
		value.0 64
		value.1 64
		comment {
			access 'read write'
			type INTEGER
			count 2
			range '0 - 64'
			dbmin -6400
			dbmax 0
			dbvalue.0 0
			dbvalue.1 0
		}
	}
	control.11 {
		iface MIXER
		name 'Headphone Playback Switch'
		value.0 true
		value.1 true
		comment {
			access 'read write'
			type BOOLEAN
			count 2
		}
	}
	control.12 {
		iface MIXER
		name 'Loopback Mixing'
		value Disabled
		comment {
			access 'read write'
			type ENUMERATED
			count 1
			item.0 Disabled
			item.1 Enabled
		}
	}
	control.13 {
		iface MIXER
		name 'Front Mic Playback Volume'
		value.0 0
		value.1 0
		comment {
			access 'read write'
			type INTEGER
			count 2
			range '0 - 31'
			dbmin -3450
			dbmax 1200
			dbvalue.0 -3450
			dbvalue.1 -3450
		}
	}
	control.14 {
		iface MIXER
		name 'Front Mic Playback Switch'
		value.0 false
		value.1 false
		comment {
			access 'read write'
			type BOOLEAN
			count 2
		}
	}
	control.15 {
		iface MIXER
		name 'Rear Mic Playback Volume'
		value.0 0
		value.1 0
		comment {
			access 'read write'
			type INTEGER
			count 2
			range '0 - 31'
			dbmin -3450
			dbmax 1200
			dbvalue.0 -3450
			dbvalue.1 -3450
		}
	}
	control.16 {
		iface MIXER
		name 'Rear Mic Playback Switch'
		value.0 false
		value.1 false
		comment {
			access 'read write'
			type BOOLEAN
			count 2
		}
	}
	control.17 {
		iface MIXER
		name 'Line Playback Volume'
		value.0 0
		value.1 0
		comment {
			access 'read write'
			type INTEGER
			count 2
			range '0 - 31'
			dbmin -3450
			dbmax 1200
			dbvalue.0 -3450
			dbvalue.1 -3450
		}
	}
	control.18 {
		iface MIXER
		name 'Line Playback Switch'
		value.0 false
		value.1 false
		comment {
			access 'read write'
			type BOOLEAN
			count 2
		}
	}
	control.19 {
		iface MIXER
		name 'Auto-Mute Mode'
		value Enabled
		comment {
			access 'read write'
			type ENUMERATED
			count 1
			item.0 Disabled
			item.1 Enabled
		}
	}
	control.20 {
		iface MIXER
		name 'Input Source'
		value 'Front Mic'
		comment {
			access 'read write'
			type ENUMERATED
			count 1
			item.0 'Front Mic'
			item.1 'Rear Mic'
			item.2 Line
		}
	}
	control.21 {
		iface MIXER
		name 'Input Source'
		index 1
		value 'Front Mic'
		comment {
			access 'read write'
			type ENUMERATED
			count 1
			item.0 'Front Mic'
			item.1 'Rear Mic'
			item.2 Line
		}
	}
	control.22 {
		iface MIXER
		name 'Capture Volume'
		value.0 37
		value.1 37
		comment {
			access 'read write'
			type INTEGER
			count 2
			range '0 - 46'
			dbmin -1600
			dbmax 3000
			dbvalue.0 2100
			dbvalue.1 2100
		}
	}
	control.23 {
		iface MIXER
		name 'Capture Switch'
		value.0 true
		value.1 true
		comment {
			access 'read write'
			type BOOLEAN
			count 2
		}
	}
	control.24 {
		iface MIXER
		name 'Capture Volume'
		index 1
		value.0 0
		value.1 0
		comment {
			access 'read write'
			type INTEGER
			count 2
			range '0 - 46'
			dbmin -1600
			dbmax 3000
			dbvalue.0 -1600
			dbvalue.1 -1600
		}
	}
	control.25 {
		iface MIXER
		name 'Capture Switch'
		index 1
		value.0 false
		value.1 false
		comment {
			access 'read write'
			type BOOLEAN
			count 2
		}
	}
	control.26 {
		iface MIXER
		name 'Front Mic Boost Volume'
		value.0 0
		value.1 0
		comment {
			access 'read write'
			type INTEGER
			count 2
			range '0 - 3'
			dbmin 0
			dbmax 3000
			dbvalue.0 0
			dbvalue.1 0
		}
	}
	control.27 {
		iface MIXER
		name 'Rear Mic Boost Volume'
		value.0 0
		value.1 0
		comment {
			access 'read write'
			type INTEGER
			count 2
			range '0 - 3'
			dbmin 0
			dbmax 3000
			dbvalue.0 0
			dbvalue.1 0
		}
	}
	control.28 {
		iface MIXER
		name 'Line Boost Volume'
		value.0 0
		value.1 0
		comment {
			access 'read write'
			type INTEGER
			count 2
			range '0 - 3'
			dbmin 0
			dbmax 3000
			dbvalue.0 0
			dbvalue.1 0
		}
	}
	control.29 {
		iface MIXER
		name 'Master Playback Volume'
		value 48
		comment {
			access 'read write'
			type INTEGER
			count 1
			range '0 - 64'
			dbmin -6400
			dbmax 0
			dbvalue.0 -1600
		}
	}
	control.30 {
		iface MIXER
		name 'Master Playback Switch'
		value true
		comment {
			access 'read write'
			type BOOLEAN
			count 1
		}
	}
	control.31 {
		iface CARD
		name 'Front Mic Jack'
		value false
		comment {
			access read
			type BOOLEAN
			count 1
		}
	}
	control.32 {
		iface CARD
		name 'Rear Mic Jack'
		value false
		comment {
			access read
			type BOOLEAN
			count 1
		}
	}
	control.33 {
		iface CARD
		name 'Line Jack'
		value false
		comment {
			access read
			type BOOLEAN
			count 1
		}
	}
	control.34 {
		iface CARD
		name 'Line Out Jack'
		value false
		comment {
			access read
			type BOOLEAN
			count 1
		}
	}
	control.35 {
		iface CARD
		name 'Front Headphone Jack'
		value false
		comment {
			access read
			type BOOLEAN
			count 1
		}
	}
	control.36 {
		iface PCM
		name 'Playback Channel Map'
		value.0 0
		value.1 0
		comment {
			access read
			type INTEGER
			count 2
			range '0 - 36'
		}
	}
	control.37 {
		iface PCM
		name 'Capture Channel Map'
		value.0 0
		value.1 0
		comment {
			access read
			type INTEGER
			count 2
			range '0 - 36'
		}
	}
	control.38 {
		iface PCM
		device 2
		name 'Capture Channel Map'
		value.0 0
		value.1 0
		comment {
			access read
			type INTEGER
			count 2
			range '0 - 36'
		}
	}
	control.39 {
		iface MIXER
		name 'PCM Playback Volume'
		value.0 253
		value.1 253
		comment {
			access 'read write user'
			type INTEGER
			count 2
			range '0 - 255'
			tlv '0000000100000008ffffec1400000014'
			dbmin -5100
			dbmax 0
			dbvalue.0 -40
			dbvalue.1 -40
		}
	}
}
--endcollapse--


!!All Loaded Modules
!!------------------

acpi_cpufreq
aesni_intel
agpgart
ccp
cec
crc16
crc32_pclmul
crc32c_generic
crc32c_intel
crct10dif_pclmul
cryptd
crypto_simd
crypto_user
drm
drm_kms_helper
edac_mce_amd
ext4
fat
fb_sys_fops
fuse
ghash_clmulni_intel
gpio_amdpt
gpio_generic
hid_logitech_dj
hid_logitech_hidpp
i2c_piix4
intel_rapl_common
intel_rapl_msr
ip_tables
irqbypass
jbd2
joydev
k10temp
kvm
kvm_amd
ledtrig_audio
libphy
loop
mac_hid
mbcache
mdio_devres
mousedev
ns
nvidia
nvidia_drm
nvidia_modeset
pcspkr
pinctrl_amd
qrtr
r8169
rapl
realtek
rfkill
rng_core
snd
snd_hda_codec
snd_hda_codec_generic
snd_hda_codec_hdmi
snd_hda_codec_realtek
snd_hda_core
snd_hda_intel
snd_hwdep
snd_intel_dspcfg
snd_intel_sdw_acpi
snd_pcm
snd_timer
soundcore
sp5100_tco
squashfs
syscopyarea
sysfillrect
sysimgblt
uinput
usbhid
vfat
wacom
wmi
wmi_bmof
x_tables
xhci_pci


!!Sysfs Files
!!-----------

/sys/class/sound/hwC0D0/init_pin_configs:
0x04 0x185600f0
0x05 0x185600f0
0x06 0x185600f0
0x07 0x585600f0

/sys/class/sound/hwC0D0/driver_pin_configs:

/sys/class/sound/hwC0D0/user_pin_configs:

/sys/class/sound/hwC0D0/init_verbs:

/sys/class/sound/hwC0D0/hints:

/sys/class/sound/hwC1D0/init_pin_configs:
0x11 0x40000000
0x12 0x411111f0
0x14 0x01014020
0x15 0x411111f0
0x16 0x411111f0
0x17 0x411111f0
0x18 0x01a19040
0x19 0x02a19050
0x1a 0x0181304f
0x1b 0x02214030
0x1c 0x411111f0
0x1d 0x4026c629
0x1e 0x411111f0
0x1f 0x411111f0

/sys/class/sound/hwC1D0/driver_pin_configs:

/sys/class/sound/hwC1D0/user_pin_configs:

/sys/class/sound/hwC1D0/init_verbs:

/sys/class/sound/hwC1D0/hints:


!!ALSA/HDA dmesg
!!--------------