Wich package is needed before activing the sound service ?
For Odroid N2:
on2-post-install
For Odroid C4:
oc4-post-install
For Odroid C2:
oc2-post-install (I haven't tested this one, as it was the last one to actually get sound support in the kernel)
Thanks, I'll test it as soon as possible and back with my feedback, have a good day.
It's already done (I mean by default) on the N2

Hello, just wondering if anyone has had a chance to address this issue @Strit et al? I am still experiencing this issue and am unsure how to solve.
Yes. Then enable sound.service and reboot. Then it should be there. It is on mine.

Sound actived on Odroid C4, it works :-)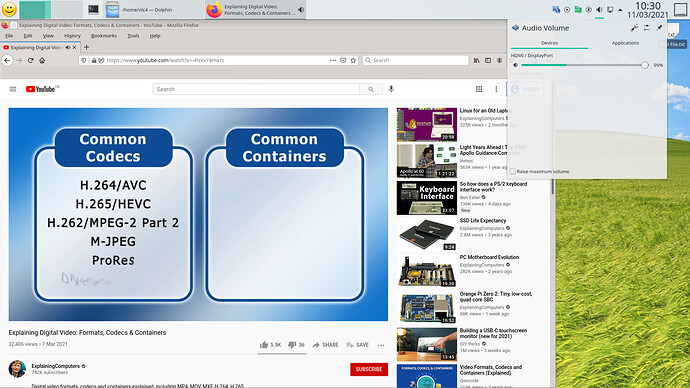 (I'll test it as soon as possible on the Odroid C2)
A last question, what is the state of the graphic drivers for those 3 devices C2, N2 and C4 ?
There is also one more issue on KDE Plasma after this or the one before this one update. When you use the presentation mode for a long time (or maybe not, I'm using it like for hours), then after disabling the presentation mode the screensaver will not work after idle, but screen will turn off eventually when you lock screen manually (e.g. by Super+L).
Updated successfully on GT King Pro and also upgraded linux-vim 5.11.2-1 to linux-vim 5.11.4-1.
Hi,
Something go wrong during the update with an x86 device, is it your repo or the manjaro world repo ?
[nls@nls ~]$ sudo pacman -Syyuu
[sudo] password for nls: 
:: Synchronising package databases...
 core                                  165,7 KiB  1507 KiB/s 00:00 [#####################################] 100%
 extra                                1982,0 KiB  2008 KiB/s 00:01 [#####################################] 100%
 community                               6,6 MiB  2008 KiB/s 00:03 [#####################################] 100%
 multilib                              181,1 KiB  2,11 MiB/s 00:00 [#####################################] 100%
error: failed retrieving file 'manjaro-strit.db' from www.strits.dk : The requested URL returned error: 404
error: failed to update manjaro-strit (failed to retrieve some files)
error: failed to synchronize all databases
[nls@nls ~]$ 

This after noon I'll try to test the sound on the Odroid C2…
That's because I have removed my repo. It no longer contained any useful packages, so you should remove it from your pacman.conf.
Ok, I did remove your repo…
Good news, I did the test, the sound is working on the Odroid C2 hdmi slot plug on tv :-)

I thought the issue with USB-C quick chargers was resolved for the Pinebook Pro.
I don't know if it happened with this release, but my Pinebook Pro doesn't charge with a USB-C quick charger.
In another thread, 2021-03-06 was labeled the "Factory" release, which will be on new Pinephones from Pine64. Where do I report problems with that release? And, what about more recent releases than 2021-03-09 that are not the -dev releases? Just start a new thread?
Anyway, I tried the Factory image:
Text input fails (used the trick of pulling down the notifications and back up to fix).
Often DIscovery fails to load. Reboot fixes this.
External dock doesn't work. Video on phone freaks out and then disappears. Reboot.
No default Mail program.
Adding account for Nextcloud doesn't provide data to any apps. Tried kaddressbook, too.
Haven't tried maps or phone apps.
I've read the "How to contribute" wiki page.
I've succeeded in building an image on my Manjaro Plasma laptop.
It would be great to have the convergence dock working. That's the best way for me to get details for troubleshooting, docked to kvm.
In our gitlab, but only after updating the system.

Same place. Just remember to mention what image was used.
Known upstream issue.
When it fails, please provide terminal output in a gitlab issue.
Please report in gitlab.
Correct. We have found no suitable solution yet.
I can add my Nextcloud account just fine and get my contacts to show up in Phonebook. Both on Stable and Dev images.