Hello!
A few days ago I started to run into a bug that occurred after the updates.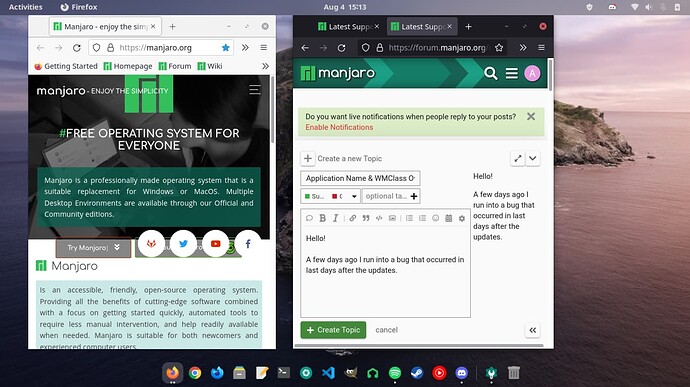 As you see, there are 2 different Firefox browsers (Firefox and Firefox Developer Edition) and they are no separated in dock and looking as only "Firefox" at top bar too. Name of application or WMClass does not change the active window name at the bar.
I've been using same desktop entry for a long time but it hadn't been working like that until these days.
    [Desktop Entry]
    Name = Firefox Developer Edition
    GenericName = Browser
    Terminal = false
    Icon = /opt/firefox-devedition/browser/chrome/icons/default/default128.png
    Type = Application
    Categories = Network; Web-Development;
    Comment = Web Browser
    Exec = /opt/firefox-devedition/firefox
    StartupWMClass = Firefox Developer Edition

I tried the other versions of Firefox (beta, nightly, esr) and all concluded same.